I have been, or can be if you click on a link and make a purchase, compensated via a cash payment, gift, or something else of value for writing this post. Regardless, I only recommend products or services I use personally and believe will be good for my readers.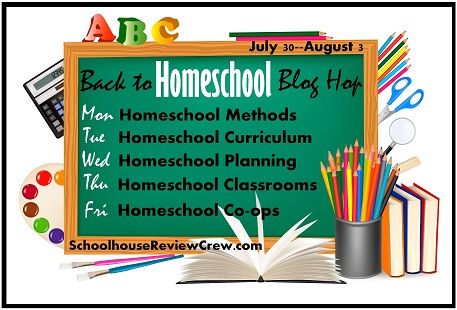 Welcome back to Day 4 of the Back to Homeschool Blog Hop.
Are you ready for Homeschool Classrooms? I know that I am eager to peek inside other homeschool spaces and see how people create an environment for learning in their homes.
Since we began our homeschooling journey, our family has been blessed with space we could dedicate for homeschooling. We don't always do schoolwork in just that room. But, it is very nice to have the books and materials in one area…well, most of the time!
Back in Ohio, we had what I'd call a semi-finished basement. Basically, they laid down tile in the large space with the intention being to finish it off. Hubby put in a woodstove insert down there in a set up approximating a freestanding wood stove. So, the basement became the toasty room in the house come wintertime. He salvaged some well worn, but quite sturdy, library shelving units from a demo site that gave us ample room to house books. We set up a small table with an old computer, also salvaged from a job site, for the boys to do educational games. And, we had old student desks arranged with me sitting between the oldest boys with a play table near by for son #3 to use while big brothers did school.
That's not to say that we didn't take school upstairs to the main living space on occasion. Science experiments were done outside or in the kitchen. The boys often listened to Story of the World in the living room with coloring pages while I cooked dinner in the adjacent room. And, of course, reading happened all over the house.
In Maryland, we had 2 different rentals. In the first, there was a small 'den' area on the lowest level that we set up for school. However, it was cold in there during the winter which had us finding excuses to drag books up to the main living space.
The second rental had an interesting layout of a gathering space with one bathroom and 3 bedrooms adjacent. We had a lovely wall of windows with a door to the deck and the stairs going up to the main living space opposite the outside door.
As the boys shared the largest room and the master was upstairs, we had a small room where we put the boys' computer and a twin bed. I could bring a child into that space for slightly quieter work time with mom. Or, we could be gathered around the table in the big space. Had we stayed in the house longer, that extra room would have become a nursery and lost that ability to segregate boys for work. But, it was wonderful when we had it.
Now, in our Alaskan home, we have a large 'rec room' that serves as combination school room and play space for the boys. Sometimes, I really do see it as a 'wreck' room as messes seem to grow quickly there. At the moment, it is undergoing another transition. Totes upon totes of clothing that does not currently fit a boy are found there as well as boxes of assorted stuff that hasn't a home. A new to us bookshelf is awaiting time for this mom to moves some of those boxes to create space along the wall for it.
In one corner, I have some bookshelves, the TV with DVD and VHS attached, and the one student desk we brought from Ohio. A recent addition to that space is an older couch that provides a great spot for either watching an educational video or reading. Nestled between another set of bookshelves is a pellet stove which makes the room quite comfortable during the long winter months. Then, we find one workstation, our communal table, with the computer armoire and old desktop computer nearby.
Continuing around the room, we have a few metal shelving units that hold games, art supplies, and the crates for each person that hold the current materials. Near the boxing station (which is perfect when boys need to vent their anger!), we have a desk for another workstation. Then, in the guest room just down the short hall, we have another desk where an older boy can go to work with more separation from everyone else.
I was going to snap photos of the new arrangement, but don't want to show off a messy space with camping stuff drying all over the place! Add that to my 'coming soon' list of posts. And, you can get an idea of how cluttered it gets from the picture below.
Even with this large room, we still end up with some schooling being done upstairs. Science experiments and even some art require closer proximity to a sink which the open concept upstairs allows for easily. And, if we have a really nice day, the outdoors beckons for us to enjoy.
For those that homeschool, how do you set up your learning environment?
Here are a few past posts that fit this theme and contain other photos:
The Strike of School Material Spread
Tight Quarters Present Challenges
Trying to get order out of the chaos
Check out what others have to say on this topic: