I have been, or can be if you click on a link and make a purchase, compensated via a cash payment, gift, or something else of value for writing this post. Regardless, I only recommend products or services I use personally and believe will be good for my readers.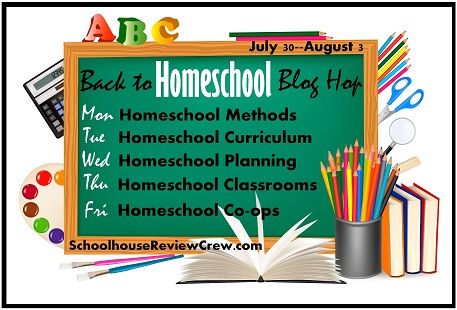 We're at the last day of this fun Back to Homeschool Blog Hop. Today's topic is all about homeschool co-ops.
We have been blessed to experience a variety of co-operative learning situations since we first began homeschooling. Each had its own benefits and negatives, but overall the experiences have been positive.
Our first year had us doing Story of the World (Vol. 1) in a small group setting. There were a handful of families that were interested, but after a short while it ended up being the hosting family and ours. We were both novice homeschoolers, although the other mom had taught social studies for years. Each time we got together, we would do some discussion and fun activities from the activity guide. The boys still talk about our cook like a Greek afternoon and how they didn't like some of the food.
Another learning experience we had in a group while living in Ohio was a geography club a homeschool mother set up with the local library meeting room for our meeting space. The kids voted on which country would be the next one up. Then, the families could study whatever they wanted about that particular country and share what they'd learned at the next gathering. We also agreed to bring a dish to share from that country. The children's librarians took note of how successful this was and ended up launching their own geography themed program on a monthly basis.
Once we had been in Maryland a short while and started making connections in the Catholic homeschool community, we heard about a small co-op group that would be starting a new school year with the Middle Ages as the selected history and literature focus. The boys were excited to learn about anything related to knights, although they were nervous about not knowing any of the kids. Each mom took a subject and grade level to teach so the work was spread out. Everything I'd planned for history, literature and science that year went on the shelf as they were learning so much and getting a wonderful experience in the process.
When we landed in Alaska the next school year, we quickly plugged into a local Christian homeschool community on base that was gearing up for a Spring co-op. The classes were a mixture of fun and more 'core' related topics. The boys enjoyed certain aspects of the classes. What they liked the most about it was the chance to quickly make some new friends. Sadly, that group saw the co-op interest and attendance dwindle as different parents stepped up into leadership roles. We participated in another year of it, with my teaching science. But, my heart wasn't in continuing when I couldn't predict who would be in my class each week to adequately prepare.
Right around the time we decided that co-op wasn't meeting our needs, we joined a new Catholic co-op in large part to connect with other Catholic homeschoolers. Some classes they loved (electronics last fall and 'man cooking' the spring prior), With most of the kids on the younger end and the need to have P focus more on his core subjects, we decided to bow out of that one after 2 semesters.
Of all the co-ops, the year long co-op in Maryland was our absolute favorite. The boys felt like they made friends and had a good 'classroom' experience. Not all subjects were taught by me, an opportunity for growth in a safe environment. D was able to have circle time with other kids around his age and experience something akin to kindergarten like his older brothers had done. P loved the discussions and R enjoyed doing science with other kids. And, this mama loved having to only prep for 1 subject for lower elementary instead of all of the classes and levels.
If you homeschool, what has your experience been with a co-op for learning?
Related Posts to this topic:
Hamlet for Homeschoolers (put on by the co-op we did in Maryland)
Friendly Chemistry Review talks about using the program with the co-op kids
TOS Crew Blog Cruise: To Co-op or Not to Co-op
Physical Science in a Co-operative Setting the start of the series about teaching physical science for middle and high school students in a co-op setting.
Check out what others have to say on this topic: