Quite a while back, I shared a favorite family recipe for chocolate chip pumpkin cake. Today, I was inspired to make a double batch into pumpkin chocolate chip muffins to help stock the freezer for a quick breakfast treat or a snack. What a fabulous aroma in the kitchen on a blustery day here in Alaska!
Making them is super, duper easy to do. You will find the recipe after these photos from our recent baking process. Just alter the baking time based on the muffin size (mini, regular, extra large, or muffin top.)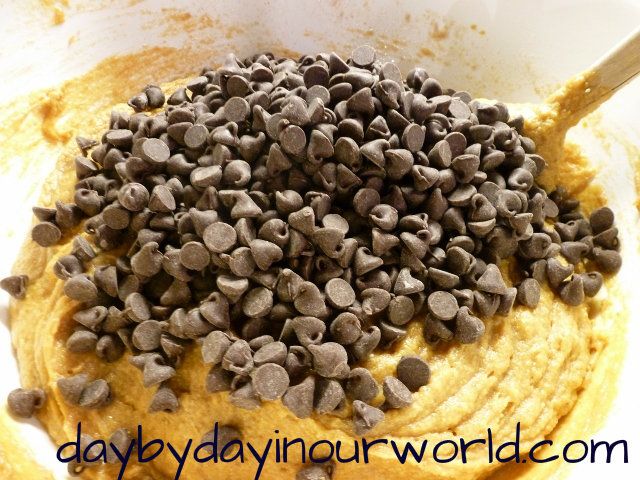 A cup of tea helps to complete a wonderful snack.
Pumpkin Chocolate Chip Muffins
30 minPrep Time
22 minCook Time
52 minTotal Time
Ingredients
3 cups flour
4 eggs
2 cups sugar
1 cup oil
1 can pumpkin (small can)
12 oz. chocolate chips
2 tsp. cinnamon
2 tsp. baking soda
2 tsp. baking powder
1 tsp. salt
Instructions
Preheat oven to 350 degrees.
Mix all the ingredients by hand, folding in the chocolate chips at the end.
Pour into a greased tube pan.
Bake for 22 to 26 minutes or until toothpick comes out clean.
Notes
Typically, I cut back the amount of sugar and chocolate chips in the recipe a little without any loss of flavor. Also, I usually do all soft whole wheat flour or a blend of the whole wheat and white flour to up the nutritional value. You can make mini-muffins as well, just cutting down the cooking time to around 18 minutes.
http://daybydayinourworld.com/2012/09/pumpkin-chocolate-chip-muffins/
What do YOU like to bake when fall arrives?