I have been, or can be if you click on a link and make a purchase, compensated via a cash payment, gift, or something else of value for writing this post. Regardless, I only recommend products or services I use personally and believe will be good for my readers.
We have been exploring the world week by week with a new Kids Homeschool Geography curriculum. It was made possible with a subscription from Let's Go Geography for review as part of the Homeschool Review Crew.
If you've ever watched late night TV, you might have seen different personalities take to the streets to see what people really know about our world. Watching those segments, I feel that many have a poor command of our world including culture, geography, and history.
This is something I want to make sure my boys do not suffer from ignorance of where things are or the history of those places. Homeschooling allows parents to include a nice dose of subjects like geography which may have minimal exposure in school systems.
Let's Go Geography: Kids Homeschool Geography Curriculum
Let's Go Geography is a kids homeschool geography curriculum written for students in grades K through 4.
Carol Henderson is a mom who has spent years teaching geography in homeschool co-operative settings. She loves seeing the kids light up when they learn about other places in our world. Through those experiences, she has put together this new curriculum so that other homeschool families can experience the wonder of learning about our world and its diversity.
Rather than being a heavy investment of time for the parent, this program sends you a weekly reminder to grab the next pdf file and get learning. Each weekly plan is meant to be done in as little as an hour.
This fits well with families who enjoy a unit study approach. Each weekly lesson includes a cross-section of material used and topics covered.
What Lessons Typically Include
Mapping skills
Watching & listening to songs fitting the week's theme
Coloring Country Flags
Read highlights & view images in the Scrapbooking Pages section
Hands-on reinforcement through notebooking, coloring, and crafts
Each week of the program has its own page where you download the pdf file. There is also the ability to leave comments for the company related to the particular lesson.

Mapping skills include looking at the region of the world being studied or a close-up of the country/state. Students find and mark key landmarks (e.g. major bodies of water, cities) on each map.
Music is included, often featuring a national anthem for the country. The pdf file will have a link to a video for them to experience the selection.
Country flags are made ready to color and then placed either in a separate passport or on provided pages showing your tour of the world.
The Scrapbooking Pages section has short snippets about the country or state(s) being studied. Images that support the information are provided as well.
Hands-on activities include a notebooking page to record what they are learning, a coloring page for that region, and a craft to complete. Depending on your student's interest, you may complete one or all of these each week.
Putting it All Together
Let's Go Geography has a 3-year plan for students to tour the world. At the moment, it is just Year 1 which is available. Parents can purchase by semester or year. You can see the overall plan below.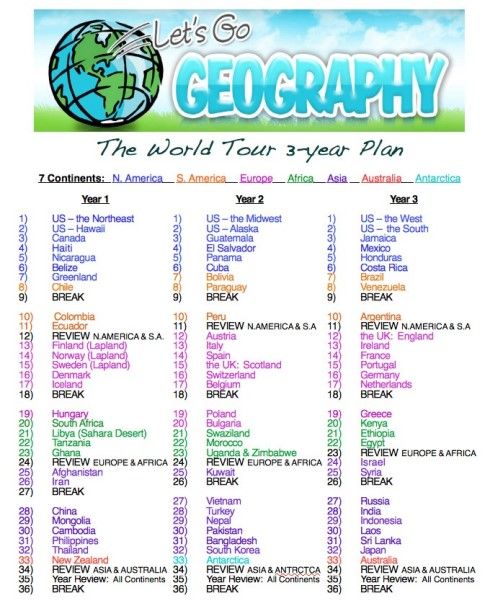 At week 12, 24, 34, and 25, students complete review weeks. This helps tie together the areas being studied. Additionally, students can use the time to finish projects they did not have time to do earlier.
As you work through the material, your student creates a geography book. All the pages they complete can be compiled into this book. Some of the crafts may fit inside or you can snap photos and do pages showing the finished projects.
Included with the subscription is a pdf of Free Bonus Travel Journal Covers. They are in color and won't look as good printed with just black ink. Then you have the option of a binder or saving everything to be bound.
Our Thoughts on this Kids Homeschool Geography Curriculum
My youngest son (grade 2) is the one who has been walking through this curriculum for the review period.
At first, he was hesitant to start a new course of study. His only exposure to the idea of geography had been through our travels and locating different places on the globe.
However, the mix of reading, watching videos, coloring pages, and recording what is learned on notebooking pages is something he is enjoying.
Something I like is that the United States only gets 2 weeks each year. Each of those weeks covers a region. For the first year, it is the Northeast (New England and the Mid-Atlantic States) and Hawaii. After week 2, it is time to travel the globe!
J was excited that he has been to some of the Northeast states as well as Hawaii. That meant parts of the information was review while other stuff was new. And, we talked about how I plan to visit New England in the next 2 years so I can reach the goal 50 states in 50 years.
As much as he enjoyed the 2 weeks of United States locations, he became very interested when we began studying other countries. Some, like Haiti, are in a region that's been in the news (all those hurricanes!)
For the most part, I would definitely say this is written for the younger grades to complete. However, I started thinking more about how the Let's Go Geography curriculum could become a family affair. There are plenty of resources both through the local library and online to have an older student dig deeper into the studies. And, I know that something my boys LOVE to do is experience a culture through their food.
Do you include geography studies in your homeschool?
Would this weekly approach to Kids Homeschool Geography be of interest to you and your family?
Don't just take my word for how we found this to be. Visit the Let's Go Geography review post on the Homeschool Review Crew website to see what other homeschooling parents thought about this book.