I have been, or can be if you click on a link and make a purchase, compensated via a cash payment, gift, or something else of value for writing this post. Regardless, I only recommend products or services I use personally and believe will be good for my readers.
This post, Home School in the Woods Ancient Greece Study, was made possible with a copy of HISTORY Through the Ages Project Passport World History Study: Ancient Greece from Home School in the Woods for review as part of the Homeschool Review Crew.
Do you remember being bored by history in school?
Did you feel like all it became was a list of dates and names?
While timelines (matching events and people to dates) are a great part of history studies, they shouldn't be the primary focus.
Rather, I recognize that learning history does not have to be boring. Plus, a side benefit of homeschooling my boys is learning alongside them.
Home School in the Woods Ancient Greece Study
Home School in the Woods is the 'child' of the Pak homeschool family. Amy (the mom) began the company after she realized that timelines could help guide their family's learning. She drew illustrations that would have a classic feel and be realistic looking.
While the company began with those timeline figures, it wasn't long before they offered project packs which shared fun, hands-on ways to learn history. At all times, their eye is on ministering to other homeschool families.
We've used several of Home School on the Wood's project packs through the years. You can read more about:
Olde World Style United States & World Maps
Hands-On History Lap-Pak: The 20th Century in America
New Testament Activity Pak
Project Passport World History Study: The Middle Ages
HISTORY Through the Ages Project Passport World History Study: Ancient Greece
Like other hands-on studies from Home School in the Woods, the Ancient Greece one has
several stops (25 in total) which blend background reading with timeline creation and other activities.
Everything is accessed through a digital interface which works through your chosen browser. (So Mac and PC users can utilize the files!) When you start the interface, you will see a LONG page listing all the components by stop. Selecting any highlighted text opens a new page with the document.
Working through the study will have the child create their own notebook where everything lives. This is called a"Scrapbook of Sights" with a cover page they can customize. (The photo below is from their website showing all aspects of the study.
Components of the Ancient Greece Study
"Snapshot Moments in History", a timeline of the period being studied.
A Newspaper "Greek Weekly" where they write articles on the different parts of the study.
"Postcards from Famous Folks" with pre-written notes on one side and the chance to illustrate the flip side.
"Souvenirs & Gifts" encompass a variety of 3-D projects they will make.
Additionally, there are
templates for a passport and suitcase
which can be used for multiple studies.
As many of us love to learn through food, the Pak's include a "Dining Out Guide" of recipes. Plus, there is a file folder game to make for play that reinforces learning in a fun manner.
Finally, at certain stops in the study, you will find audio files. These "Trojan Horse Tours" feature Graham (your tour guide) and Blaine (your coach driver) taking you on various excursions. These visits cover major cities of Ancient Greece, a trip to the Olympic Games, and interviews with important people of history.
The teacher has their own notebook that can be generated. This is where the Guide Book Text, the Travel Itineraries of project directions, as well as Travel Tips, teacher keys, and any of the other teacher helps are placed. IF you prefer to have more things left digitally, you can read everything on the computer.
Our Thoughts on the Home School in the Woods Ancient Greece Study
My primary user of this study is actually a little younger than the target range of grades 3 to 8. However, we are enjoying the learning adventure at a slower pace than an older student could do.
So far, J is excited about a few things.

First off, he knows his eldest brother has a love of Ancient Greece. So, he wants to learn more about it to then 'talk' with his brother on the topic. There is a wealth of information in each stop's reading.
Secondly, he enjoys being able to make memories while creating the different maps and booklets. As there is a lot of cutting involved, I am doing more prep work on the studies.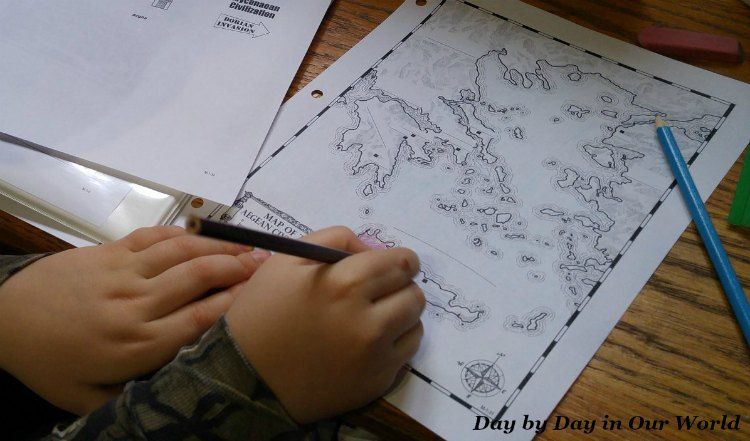 This homeschool mom is very grateful that many of the activities do not require a lot of writing. Some of my older boys dreaded the physical act of writing, especially when they had messy handwriting. Being able to cut and paste labels for maps and having the postcard prewritten is a huge help.
He is excited to raid both our bookshelves and the library for books on Ancient Greece. There is a list of additional resources they recommend. By no means is the list exhaustive. But, it does give you a starting place.
Given his younger grade level, we are going through the study very slowly. Each stop's background to read is split over a few days. And, I limit the number of activities done each day so he is not overwhelmed.
The end result?
He is eager to continue learning about Ancient Greece. And, he now wants to learn Greek with his older brother.
Have you studied Ancient History with the kids in a hands-on approach?
How would your child enjoy doing a HISTORY Through the Ages Project Passport World History Study?

Don't just take my word for how we found this to be. Visit HISTORY Through the Ages Project Passport World History Study Reviews on the Homeschool Review Crew website to see what other homeschooling parents thought about this course and other ones.