I have been, or can be if you click on a link and make a purchase, compensated via a cash payment, gift, or something else of value for writing this post. Regardless, I only recommend products or services I use personally and believe will be good for my readers.
This post, Travel Books For Kids: Colorado By The Way, was made possible with a copy of Colorado ~ By the Way from By the Way Book Series for review as part of the Homeschool Review Crew.
Does your family enjoy traveling?
Do the kids love to learn about either the state where you live or other states?
The By the Way Book Series is one that can appeal to families seeking to meet either of those needs.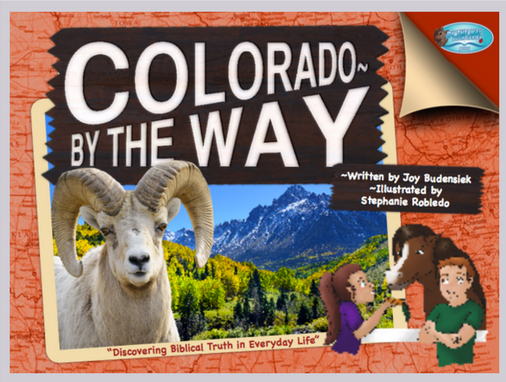 Travel Books For Kids: By The Way Book Series
At first glance, the By the Way Book Series is a travel book for kids to learn about a set geographic area. And, it does do just that. Reading any of the titles will provide some history of the state. Additionally, the books include more about the cultures, natural habitats, and other things you might find.
However, the series was born from a desire to include discussion of God's hand in all that surrounds us. Hence the tagline on their titles "Discovering Biblical Truth in Everyday Life."
Readers follow the adventures of Alex and Lexi as they travel through each state, recording what they see.
Titles include:
Florida's Treasure Coast ~ Here We Come!
Smoky Mountains ~ Here We Come!
Pennsylvania ~ Here We Come!
Ohio ~ Here We Come!
Washington ~ Here We Come!
Colorado ~ By the Way
If all you do is read the pages like a storybook, the resource will have minimal impact. Rather, it is a great launching point for discussion and further investigation into the facts presented. Just the basic facts or something especially interesting are presented.
However, it can be enough to whet a child's curiosity and desire to learn more. You can take the things which most intrigue the kids and then dig further.
Our Thoughts on Colorado By The Way
Both J and I eagerly awaited the arrival of this book. We enjoy digging into history and learning more about places in our country.
But, that isn't the reason for our excitement. Rather, Colorado is the state which will become our new home later this year. So, learning more about our new home state is something we were eager to start.
There are many different animals mentioned in this title. Animals featured in this title include cougars, marmots, shetland ponies, beavers, short-horned lizards, pronghorns, and weasels. The are discussed as they are encountered on the journey through Colorado.
Colorado has many locations that draw people each year. Rocky Mountain National Park and the Great Sand Dunes are two of the natural attractions featured. Others are man-made ones like the Cadet Chapel at the United States Air Force Academy and the Four Corners marker where the states of Arizona, Colorado, New Mexico and Utah meet.
J commented on how the Cadet Chapel looked 'ugly' on the outside, but stunning inside. I'm thinking seeing it in person will have even more of an impact than just reading about it.
With a trip to Colorado scheduled for next month, we are eager to do some first hand exploring. Most of our time will be in the Denver area, although a trip to Colorado Springs is possible as well. Some adventures will be on dock for later in the summer after we've moved.
Thanks to Colorado ~ By The Way we have ideas of where to start on our adventures.
Have you read titles like this to prepare a child for a trip?
Does your family enjoy learning state history?

Don't just take my word for how we found this to be. Visit By the Way Book Series Reviews on the Homeschool Review Crew website to see what other homeschooling parents thought about this course and other ones.