I have been, or can be if you click on a link and make a purchase, compensated via a cash payment, gift, or something else of value for writing this post. Regardless, I only recommend products or services I use personally and believe will be good for my readers.
It seems like there is a day for just about anything under the son. I heard that February 4th is Homemade Soup Day. With winter weather in full swing, it is the perfect time to do a round-up of recipes for homemade soup.

I have grouped them by loose categories to help you find what you need. And there are some suggestions of items you may want for making and serving your soup. Amazon links are present for your shopping convenience and may net us a small commission if you purchase through them.
Use this Table of Contents to jump around easily!

50+ Delicious Recipes for Homemade Soup
How to make Soup and Stocks is a very informative post over at Kids Cooking Activities. I'll admit that I am not the best at making stocks. So, I can learn alongside my boys!
Before you get started, make sure you have all that you need. The Nessie Soup Ladle lets you serve up soups and not worry about where you'll put it. And, I love to use soup bowls that can go into the microwave or oven as needed.
Friendly Chef Premium Nessie Soup Ladle, Blue
OXO Good Grips Brushed Stainless Steel Ladle
Stoneware Soup Bowls By Mikasa – Set of 6
Creative Co-op Round Stoneware Mini Baker
&
Recipes for Homemade Soup with Chicken
I am all for quick and easy. My Chicken Taco Soup is made in a pressure cooker for speed without sacrificing flavor.
Travel to the Orient when you make Longevity Noodles with Chicken Meatballs. (See about getting a FREE ebook of Chinese Recipes in this post.)
We all love a great soup to banish the sniffles and this Slow Cooker Chicken Noodle Soup from A Pinch of Joy makes it easy to have ready.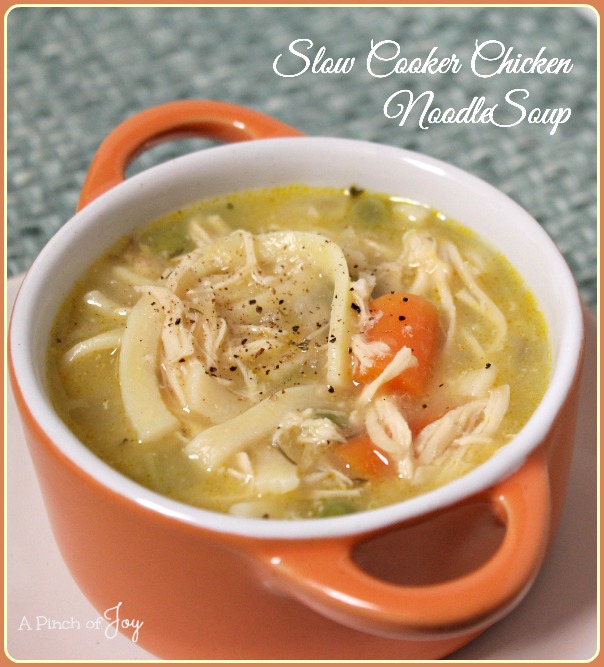 Chicken Tortellini Soup at Window on the World is one that looks perfect for my Italian heritage.
Thrify T's Treasures has a wonderful looking recipe: Creamy Crockpot Chicken Potato Soup.
Want something in a hurry? Pressure Cooker Chicken Noodle Soup at Pressure Cook Recipes gives you a staple in short order.
Expand your culinary horizons with Masala Herb's Mulligatawny Soup.
Smashed Peas and Carrots' has an awesome looking Slow Cooker Chicken Tortilla Soup (Paleo and Whole 30 Approved.)
Recipes for Homemade Soup with Beef or Pork
Hearty and Delicious Beef Barley Soup at The Quiet Grove brings protein and a great balance of vegetables.
If you love Olive Garden's Zuppa Toscana Soup, then check out the copycat recipe at The Jenny Evolution.  This is not one I've tried, but I am intrigued after looking at the ingredients.
Our family loves the combination of ham and beans. So, Racking in the Saving's recipe for Tuscon Ham & Bean Soup should be a hit here.
One Pot Cheeseburger Soup at The Starving Chef Blog brings the flavors of a cheeseburger and fries to a single bowl.
Masala Herb's Easy Hungarian Goulash Soup is a great dish when you aren't sure what to make.
For nights when you want some Mexican flavor, Ginger Casa's Three Bean Taco Soup would work well.
My boys love a good meatball and will probably love Paleo Meatball Soup In The Slow Cooker at Recipe This.
Recipes for Homemade Soup with Fish or Seafood
Spicy Fish and Sweet Potato Chowder at Philzendia is one that I'd love to make this Lent. I am always looking for variety during that season and this one looks awesome.
Moqueca de Camarão: Brazilian Shrimp Soup at Bacon is Magic looks wonderful. Besides Lent, this would be great for a study in cultures.
I am a sucker for New England Clam Chowder, especially when Lent arrives. The recipe over at The Starving Chef Blog is now pinned for me to do that this year.
As I might need to eliminate gluten from my diet for a while, I was drawn to The Wholesome Yum's 5-Ingredient Low Carb Clam Chowder (Gluten-Free.)
Recipes for Homemade Soup that are Creamy
Sometimes you want something a little creamy for your meal. This Mama's Potato Broccoli Soup in a Crockpot at Food & Forte is just that. Broccoli, Cheese, and Potatoes yield a finished product to delight your taste buds and stick to your ribs.
There are so many recipes which call for Cream of Mushroom Soup. I don't mind the canned stuff for an ingredient, but it isn't appealing on its own. Thanks to Veena Azmanov, you can make a homemade one perfect on its own or in other dishes.
Veena also shares a wonderful looking Creamy Homemade Split Pea Soup that I'm sure my husband would adore.
There is another Split Pea Soup over at Geeks Who Eat that looks wonderful as well.
This Creamy Broccoli Soup at Zesty Olive has no cheese in it. But, I bet it tastes wonderful.  She also has a Roasted Cauliflower Soup which has me intrigued to try. That one does have cheese in it.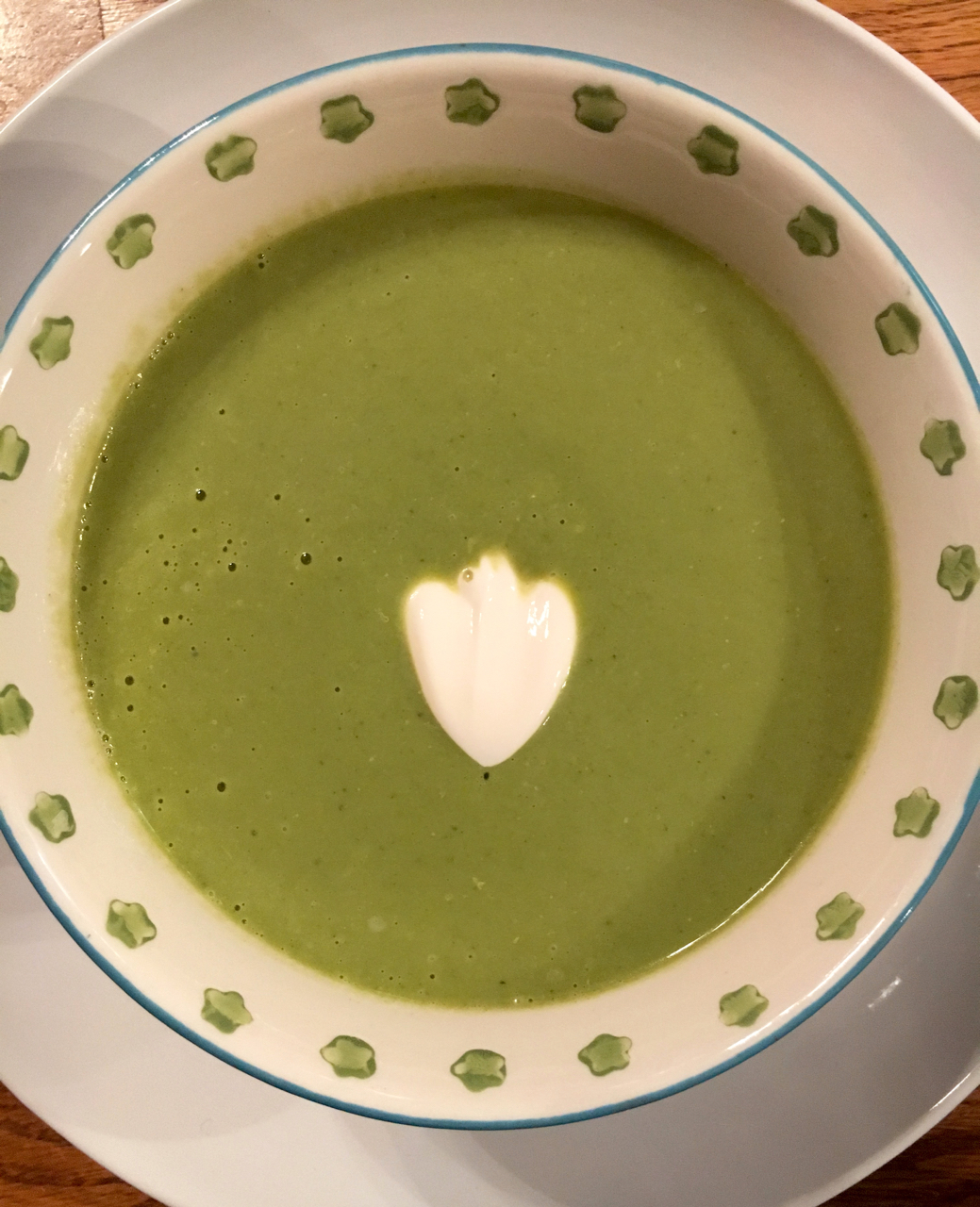 This Leek and Potato Soup at The PinterTest Kitchen looks fabulous. I enjoy the melding of leeks with potatoes, but somehow skip making these kinds of soups.
Cincy Shopper has a CopyCat Panera Broccoli Cheddar Soup which I know my boys will want to test out.
Savory Tooth has a recipe for Creamy potato soup with bacon and cheddar that looks divine.
Making Hearty Bacon and Corn Chowder Soup in the crockpot as shown at Honey & Lime would make for an easy meal any day of the week.
The Cream Potato, Leek & Bacon Soup at Kreatery has a surprise ingredient for a topping. It's something I'd never thought of doing, but love the idea.
I love a good winter squash in the fall or winter. The Starving Chef Blog's Roasted Butternut Squash looks amazing.  She also has a scrumptious looking Beer Cheese Soup that I'm sure my family will love.
Homemade Cream Of Chicken Soup with Broccoli at Fun Happy Home looks super easy to pull together on a cool night.
The Inspiration Edit has a wonderful post for kids in the kitchen featuring Yummy Mummy Lentil Soup. The lentils look like they melt into the soup making it creamy.
Creamy Pressure Cooker Cauliflower Potato Soup at Pressure Cook Recipes.

Some of my sons' favorite ingredients are in EmmaFrancisatHome's Potato Chowder with Corn and Ham.
Easy Butternut Squash Soup at Thrifty Jinxy looks super thick and filling.
Ginger Casa shares her Homemade Cream of Mushroom Soup.
Try Sweet Potato and Peanut Soup from Healthy Seasonal Recipes when you want something a little different. It's Vegan & Gluten-Free, too!
Ham and Cheddar Chowder at The Mandatory Mooch looks scrumptious.
Recipes for Homemade Soup Packed with Vegetables
Every Lent, I make a Vegetarian Lentil Soup. I rarely have leftovers when bringing it to our church's Soup and Stations.
For when you want a serious bump in your vegetable intake, consider making a batch of Heather's Vegetable Soup compliments of sloCooking. I love veggies soups, although I know my boys might balk at mushrooms. However, the adults in this house love them.
Roasted Tomato Herb Soup from Window on the World looks perfect to pair with a grilled cheese sandwich on a cold winters day.
When I heard the title Halloween Soup, I was intrigued as to what might be in it. Well, this family tradition from Food and Forte looks like a great one including meat, pasta and plenty of vegetables.
An Italian in My Kitchen is another woman after my own heart (or is that stomach?) Her Italian Vegetable Soup looks wonderful.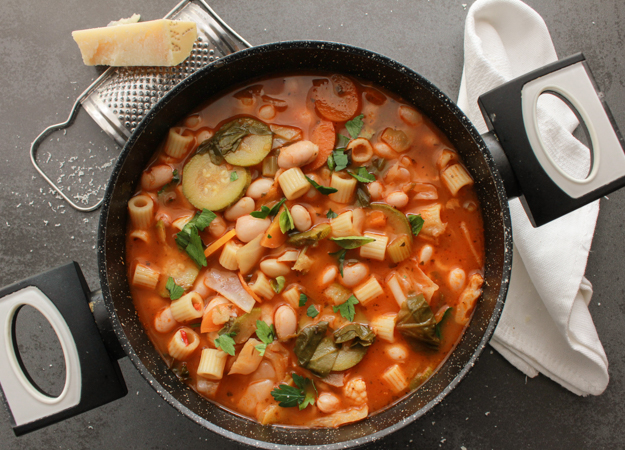 If you want a vegetable rich soup that can freeze well, then check out Gluten Free Roasted Vegetable Soup at Raking in the Savings. 
Get a big dose of beta carotene with the Curried Carrot Soup at The Starving Chef Blog.
Veggies meet beans in Slow Cooker Navy Bean Soup at Fun Happy Home.
Wanna Bite has a Vegetable Cheddar Chowder sure to stick to your ribs while giving you a nice dose of vegetation.
Between wanting to stretch my budget and increase the vegetables my boys eat, Black Bean Soup with Lime Salsa at The Fit Blog is super appealing to me.
Also at The Fit Blog is a Chilled Beet Soup packed with a nutritional punch. While I love hot soup this time of year, I'd be remiss to not include this one.
There are several Vegetarian Lentil Soups at My Yellow Apron with an Indian flair.

Do any of these soups look like ones you'd like to try?
What are your favorite soups to eat?