I have been, or can be if you click on a link and make a purchase, compensated via a cash payment, gift, or something else of value for writing this post. Regardless, I only recommend products or services I use personally and believe will be good for my readers.
This post, High School Spanish II Middlebury Interactive Languages, was made possible with the chance to review their Spanish Courses.
Although I took 2 years of Spanish in high school, I do not feel equipped to be the sole educator of this subject with my sons. I didn't have a problem refreshing my vocabulary a little when it was to use an elementary program. High school is a completely different ball game, though. P asked for a different method of learning for Spanish II this year and Middlebury Interactive Languages looked like it could fit our needs well. And, we were blessed with the opportunity to review the first semester of their Spanish II program.
About Middlebury Interactive Languages
Middlebury Interactive Languages offers course from elementary through high school, including the option for AP Spanish. This online lanugage learning option seeks to incorporate the immersive language pedagogy and teaching methodology used at Middlebury College's Language Schools used for years to allow adults to master languages and make connections with the cultures.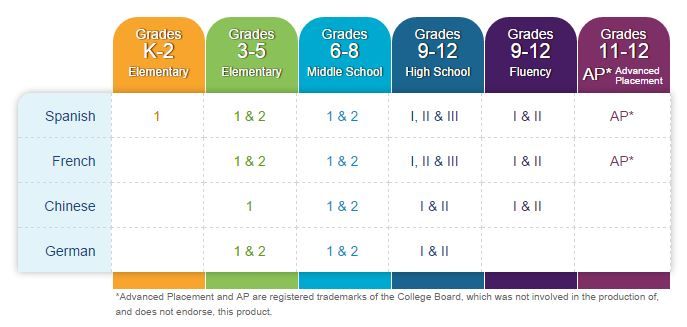 The courses have a multimedia approach to engage the student in learning through the use of text, audio, video and images. They use what is coined a 'task based approach' which has the student moving beyond a textbook level and incorporating real-life activities. Key to the program is their attention to world culture and helping to foster understanding across cultures. All of this is done with consideration to age appropriate material and themes.
At the high school level, there is the option to have a competency or fluency approach. Both courses emphasize reading, writing, listening and speaking skills. However, the fluency courses possess a discovery approach which they define as "Application of language skills is practiced through observation and intuition within a context, task-based and project-based activities". For this review, we had access to the competency course. There is also an AP option for French and Spanish which are based on the College Board's standards and are comparable to a third year college level course.
Courses can be purchased by the semester. High School level courses are $119 per semester for independent learning or you can pay an additional $175 per semester to have the course with a teacher ($294 in total.) If used, the teachers provide ongoing support, communication and encouragement, as well as personalized feedback on speaking and writing assignments. It is also required for the high school course to be transcripted. For this review, we did not have the teacher option added to the course.
Follow Middlebury Interactive Languages on Social Media
Facebook
Twitter
Pinterest
Google +
Set Up of Middlebury Interactive Languages
First off, once your account is established you will need to have a headset with microphone at the ready to fully complete the lessons. If you have the teacher added, then you absolutely need it.
When you log into the program, there is a pre-filled calendar which spaces out the course's lessons from the day of purchase. Major US holidays are automatically excluded. Alternatively, you can access a table of contents view which has each lesson nested in folders.
Lessons include several different activities that include watching video lessons and doing matching exercises on vocabulary.
Grades can be viewed which include the date they were completed. You do have to click a little box to show ALL coursework to see this, though. There's also a spot to see ungraded work which is where things would show up for courses with a teacher. As a note, we discovered that if you go back to a previous section it will override the original date with the last date accessed.
Our Thoughts on Middlebury Interactive Languages
As a homeschooling parent, I am quite impressed with this program. Everything is laid out quite well and to me seemed intuitive on how to use it. Rather than a flat page to look at in a textbook and possibly an audio CD to help demonstrate proper pronunciation, this course makes full use of technology to have it all readily available.
P did not completely agree on how easy this was to use. He did not notice that some of the segments had an option for a 'script' which was the material in pdf format which you could print and have at the ready as you progress through the material. He also felt like some lessons took a long time to complete. This made it discouraging to get it done with the need to do at least a lesson per day to be on schedule for completion in early January. As this is one of his least favorite college prep classes, I can see that the only way he will be progressing in the future is if I'm sitting alongside him for the work. The upside, though, is that I'll get reacquainted with Spanish as well.
If there is one thing that I did long for in this review, it would be the addition of the teacher support. I can easily imagine that purchasing the course with a teacher would take Middlebury Interactive Language beyond a comparison of other computer driven language courses. And, I know that for my boys they are more motivated to get things done in a timely fashion when a person other than mom is involved in the equation. However, I can also tell that son #2 may very well enjoy this particular program when he begins Spanish I next year as he enjoys computer based work.
Check out their Overview Video for Middlebury Interactive Languages

.
How do you handle the teaching of a foreign language for your homeschooled child?
Does the multimedia approach of video, online quizzes and written responses appeal to you?

Don't just take my word for how we found this to be. Visit the Middlebury Interactive Languages post on the Schoolhouse Review Crew website to see what other homeschooling parents thought about this and other self-paced courses.