I have been, or can be if you click on a link and make a purchase, compensated via a cash payment, gift, or something else of value for writing this post. Regardless, I only recommend products or services I use personally and believe will be good for my readers.
This post, Energy Bar: Targeted Nutrition for Your Body, was facilitated through product samples we were sent for review from Greens Plus. All opinions are my own.
They say you are what you eat. And, I totally agree that when your nutrition is optimal, your body will function at a more optimal level. So, when I start feeling a bit sluggish both mentally and physically, I start to take stock.  This includes looking for products that fit into my busy life and offer me the whole foods packed with nutrition that my body needs.  I really like a good energy bar for a quick boost in the afternoon or when on the run in the morning.
Greens Plus is a company I was recently introduced to which takes that same approach to their products.  The story behind it all is one of creating a product to meet a need. Specifically, these products were developed for a young woman left paralyzed after a car accident. She required small portions of food that would deliver the maximum nutrition to her body. The bars and powders created to meet her nutritional needs formed the base of the wholefood products now known as Greens Plus.


If you recall any of your past biology courses, then you should recall that the human body is a complex network of millions and millions of cells. Within each cell, you will find thousands of chemical reactions are continually taking place. Each of these reactions depends upon a diet rich in vitamins, minerals, and enzymes. When properly supplied, these cells produce loads of energy and give the body an abundance of vitality, endurance, and strength. However, being that the modern American diet is high in fat, cholesterol, and sugar, we are actually depleting the body of these essential nutrients.
Is it any wonder that when I eat terribly that I feel terrible??  
Superfoods like those found in Greens Plus help to support the body's cells for optimum energy, superior well-being, and peak performance.  Greens Plus contains only the finest 100% natural, premium quality and organically-grown ingredients, plus they protect the integrity of their product's nutrient value using a proprietary handling process that is crafted in the USA.  You will not find soy, gluten or GMO sourced ingredients in their products, many of which are certified organic.
Wow!  THAT is the kind of company and product I am willing to put our hard earned money behind.
Our family was sent a box of product to sample including a Greens Plus Superfood Raw, Greens Plus Advanced Multi Wild Berry Superfood, Greens Plus Bar Protein in Peanut Butter, and Greens Plus Bar Energy in Chocolate.
Both the Superfood Raw and Advanced Multi Superfood deliver every vibrant color in the dietary food spectrum. Nutritionists have been saying we should eat that variety of color in our daily diet, but I know how challenging it can be. While I still eat as many fresh fruits and vegetables as I can, I do like knowing in one quickly made a smoothie I can get a boost in my nutrition. Bonus for those of us with gut issues, these products includes dairy-free probiotic cultures.
Greens Plus Bars are what really caught my eye, though. Having taken a few trips in the recent past, I like to have something that is easily portable (small and shelf stable) while packing a nutritional punch. Energy bars are one of my go-to items for those times, yet I've found some to be lacking in the area of nutrition. And I want to have my calories pack a real punch rather than be ho-hum.

You will find a variety of flavors (Chocolate, Blueberry, Peanut Butter, Greens, Almond, Chia) flavors in the Greens Plus Bars, product line. Additionally, your senses can be tantalized through the textures of  Plain Protein, Energy, Krisp bars.  Each of the bars is packed with protein, antioxidants, fibers, and vitamins.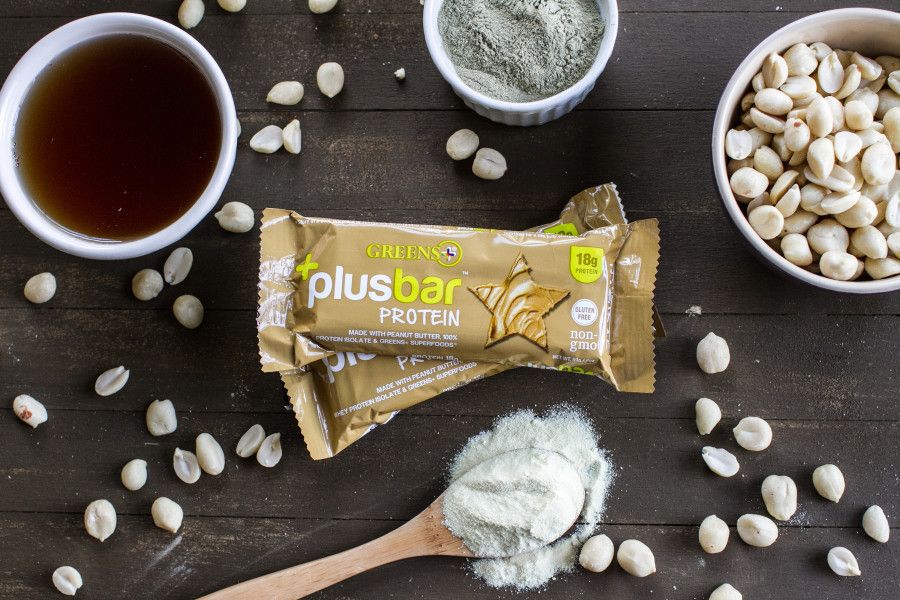 I can't say I am surprised to learn that the chocolate energy plus bar is their #1 selling bar. Chocolate is a must have substance for me every day and the flavor of energy bar I tend to prefer. This one is packed with real whole foods, including their green superfood and energy blend, which supports energy, performance, and nutritional balance. Organic dates, organic dark chocolate, organic almond butter & Greens+ Superfoods = power packed nutrition!
Having tasted both of the bars we were sent, I definitely prefer the Chocolate Energy bar.  The Peanut Butter Protein bar tastes fine, but the peanut butter is rather subdued in flavor against the greens.  Both are coated in chocolate, though, which is a win in my book.
Note ~ you WILL taste the greens coming through in the flavor.  One of my boys couldn't get past it whereas my 6-year-old was ready to eat an entire chocolate energy bar on his own.
Want to give some (or all) of these products a try in your house?  
You can find these products at Whole Foods, Trader Joe's, Vitamin Shoppe, Safeway, and Publix.  Use their store finder to determine which location is closest to you.  Better yet, download a coupon or two to save on that initial purchase.
I am looking forward to a boost in my overall well-being thanks to these products from Greens Plus. I want to enjoy life, not just muddle through it.  Targeted Nutrition for the Total Body is the way I want to go about it.