I have been, or can be if you click on a link and make a purchase, compensated via a cash payment, gift, or something else of value for writing this post. Regardless, I only recommend products or services I use personally and believe will be good for my readers.
Conquer the Morning Rush with a Breakfast Station has been compensated by Collective Bias, Inc. and its advertiser. All opinions are mine alone. #MorningWin #Target #CollectiveBias
Do you find your mornings a bit rushed? When I was driving my 3rd son to school every day, I found we often needed to have quick breakfast options. Even now with all the boys homeschooling again, we have some days where my high school student needs to be somewhere shortly after they all rise for the day. That means we have to make morning time run more smoothly and a breakfast station is just the answer to our solution.
I actually have 2 different set ups for a breakfast station ~ one in the house and a bag to corral items that work well for breakfast on the run. That way if the boys are having a hard time waking up on one of our infamous short, winter days here in Alaska or we have to head out the door at an early hour, we have an option that offers the boys nutrition and a way to stay fueled for their day.
Now that our spring semester is in full swing, I decided it was time to restock our supply of easy breakfast options. A recent trip to the local Target included picking up several packages of belVita Breakfast Biscuits.
What I particularly love is that belVita breakfast biscuits provide nutritious steady energy all morning. Each serving provides a combination of grains that will release energy regularly so that you can fuel your body throughout the morning. What you won't find is high fructose corn syrup, hydrogenated oils, artificial flavors or artificial sweeteners. Finally, they are easy to store and have on hand.
Into my cart went belVita Blueberry Breakfast Biscuits (1.76 oz. packs), belVita Golden Oat Breakfast Biscuits (1.76 oz. packs), belVita Bites Chocolate Breakfast Biscuits (8.8 oz.) and belVita Soft Baked Cinnamon Breakfast Biscuits ( 8.8 oz.) We've purchased and enjoyed both the blueberry and golden oat varieties, but not the newer options.


Once I had them home, I decided to repurpose an older metal bread pan to hold an assortment of the belVita Breakfast Biscuits that can live on the sideboard next to our fruit stand.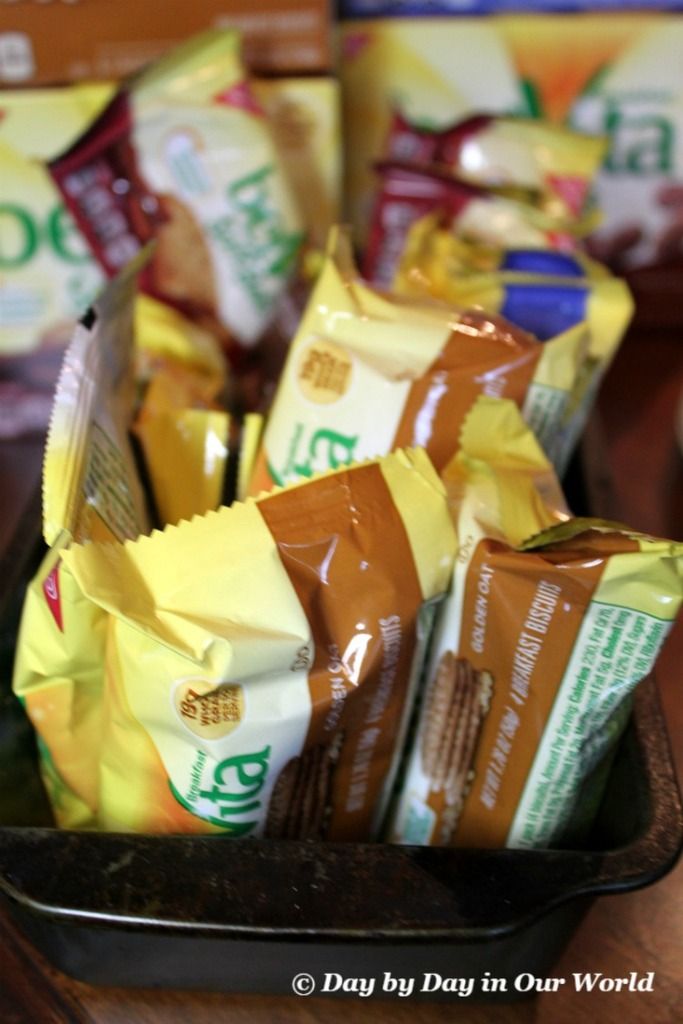 That way all the boys need to do is pour a glass of milk, make some hot chocolate with milk or grab a small container of yogurt to go along with the fruit and belVita Breakfast Biscuits for a complete breakfast.
I can even join the boys with my latte and some orange slices for a delicious, quick breakfast on a busy homeschool day. While I usually am up an hour or more before them, there are days when the long darkness gets the better of me.


On those days when we need to hit the road early, I have a small bag to house a few of the belVita Breakfast Biscuits with room to include fresh fruit like apples. Plus, I have a handy portable insulated bottle for the younger boys to use for housing their milk. Grab and go…how easy is that!
What are some of your favorite solutions for quick breakfast options in your home?
Do you or your family enjoy belVita Breakfast Biscuits? If so, which ones?