I have been, or can be if you click on a link and make a purchase, compensated via a cash payment, gift, or something else of value for writing this post. Regardless, I only recommend products or services I use personally and believe will be good for my readers.
Like many moms, my life can get rather chaotic. Unlike a few ladies in my life, I seem to have the ability to turn a blind eye to the chaos closing in on the house until it reaches a critical point which demands immediate attention. It isn't that I like a messy house. I'd prefer to have a calm environment where I could open the door to welcome an unexpected guest without cringing. Organization is something that I crave, even if I struggle to get it. Knowing I could use some help, I was thrilled to have the opportunity to review Motivated Moms.
What is Motivated Moms?
Motivated Moms is basically a (affiliate) chore schedule in checklist format to make the task of homemaking a little less daunting. Some chores are considered daily ones, such as making your bed and wiping the kitchen counters. Others go on a rotating schedule. Things like changing bed linens and swapping out the hand towels in the bathroom occur on a more regular basis than changing a furnace filter or sweeping the porch.
With the idea of doing set daily chores and a few additional chores per day, the mom should feel both a sense of accomplishment while looking at a cleaner house and a sense of freedom to not spend several intensive days doing nothing but cleaning.
Motivated Moms Ebooks are available in several options based on page size, whether the weekly list includes Bible readings, color versus black and white, and also a daily or weekly format for each page. Daily formats include a section with times of the day to mark out appointments instead of keeping a separate calendar.The price for the ebooks is $8, regardless of style chosen.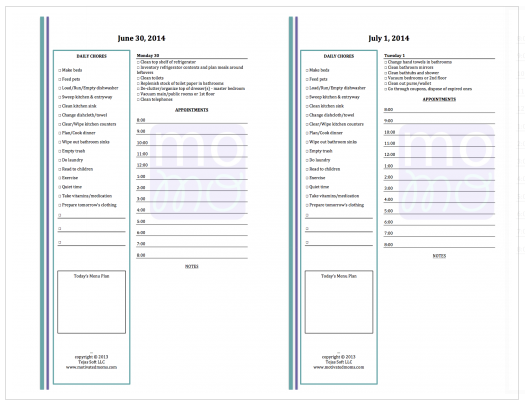 For the tech savy, there is also a Motivated Moms app for either iPhone/iPad and Android devices. (You can see an example of it below.)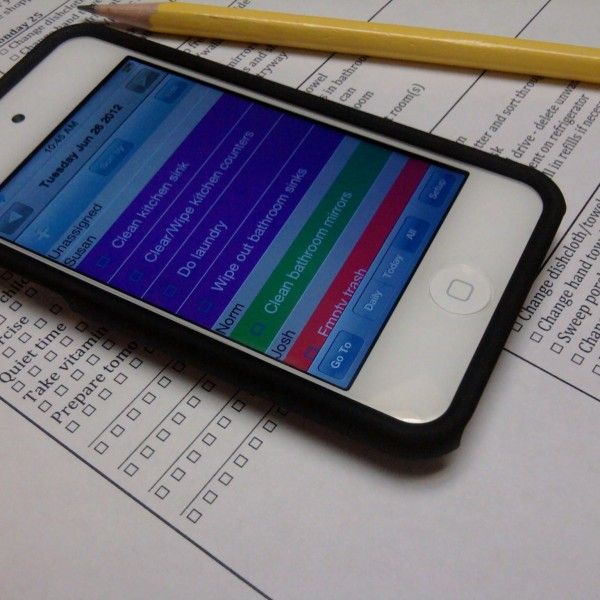 My Thoughts on Motivated Moms
As I shared, I felt like I needed something to give me a push in the right direction to get a better handle on the house. Life with 4 boys means a LOT of messes and 4 pairs of eyes that seem to not see the messes around them. If I want calm in my life and a husband who feels like the house is an oasis rather than a train wreck we tolerate, then I have to be the one to make the changes.
The ebook I received had the chores for one week on a single page. Along with the daily and weekly chores, there was a weekly plan for reading the Bible.
I felt almost like a school girl off to the first day of school when I printed, hole-punched, and then placed my year long Motivated Moms planner into a small binder. I was excited to do something productive which in turn should be a blessing to myself and my family.
Sadly, the euphoria only lasted so long.
For the first few weeks, I did great with the Bible reading in the quiet moments each morning before waking up the boys. Before they brought noise and activity to the house, I could check off that I'd made the bed, taken my vitamins/medication, and done my Bible reading. By evening, I could check off my exercise and dinner. As a list maker, I love to make those little check marks and get that sense of accomplishment.
However, I found it challenging to get to all the tasks for not just the day (which honestly, I don't do laundry every day as the older boys are supposed to do their own) but also the ones for that particular day. Some of those chores were more easily completed that others. Changing out the bath towels is something I didn't always think about until I noticed they looked grungy. Having it on a weekly schedule in my Motivated Moms planner made it something I actually thought about and did. Same with cleaning the microwave. But, other things like cleaning light fixtures or cleaning out the pantry didn't get done.
The perfectionist in me did not have that failure sitting well. So, I took it to God in prayer and had planted on my heart that making a change like this will NOT happen overnight. Instead, I need to keep making those baby steps and give the system several months of regular use before writing it off. If nothing else, I have spent more time in The Word in the last 2 months and no longer have yucky towels hanging in the bathrooms. It might be small, but it is still a victory!
While I was given an ebook for review, I have since downloaded the free version of the app for my Android phone. It's more portable than the binder for me and it doesn't add to the feeling of clutter in my home with one more item needing a designated space to reside. If after long term use I come to love Motivated Moms I'll most likely purchase the full version of the app.
Curious about what other homeschooling moms had to say about this resource? Check out the Motivated Moms tour page to see.
What approach do you take to homemaking?
Do you follow a schedule/plan or just 'wing it' as the needs arise?