I have been, or can be if you click on a link and make a purchase, compensated via a cash payment, gift, or something else of value for writing this post. Regardless, I only recommend products or services I use personally and believe will be good for my readers.
For those that homeschool, there are always going to be subjects where you feel a bit overwhelmed. While I might be considered by some to be a 'good' writer, I have to admit that I struggle with teaching that subject to the boys. However, writing is a crucial skill to have out in the world and one that I will jump between programs trying to find a good fit for my time commitment and the child's learning style. Essentials in Writing is one curriculum program that allows you to bring a writing instructor into your homeschool.
About Essentials in Writing
This curriculum was founded by former middle school teacher, Matthew Stephens. It can be considered a complete language arts curriculum with an emphasis on composition. Each grade level has some basic grammar included with the focus shifting from using them for better communication in the early grades to be woven into the instruction and writing activities for the upper grades. The DVD set for each grade level presents Mr. Stephens recorded as he lectures on the concepts being taught or reviewed. You'll see him in front of a white board as if sitting in on a class. The material is presented in small chunks to not overwhelm the students and is often reinforced with assignments for that given lesson.
Programs for grades 1 through 12 are available for Essentials in Writing. For this review, we were sent the Grade 10 Essay/ Research Paper Curriculum. Each level costs $40 and includes both the DVD set and a downloadable pdf worksheet file. There is also the option to have a printed workbook (same as the pdf file) for $20.
Here is a summary of the topics covered in Grade 10:
Our Experience with Essentials in Writing (Grade 10)
For this program, the suggested schedule is to first look at the worksheets for the day, watch the lesson on DVD, complete that day's assignment, and then glance at the next lesson's worksheets in preparation for the next day. Some of the lesson worksheets are labeled with A, B, or C after the lesson number. That indicates when a given lesson has multiple days of assignments with the video lecture being watched just on the first day.
P was my 'tester' for this product and I held high hopes that having an instructor led course would help him keep better on track. Instead, I found that he preferred to just see the worksheets, if left to his own devices, and attempt the assignments. So, I ended up watching each lecture with him before giving him the associated worksheet for his assignment.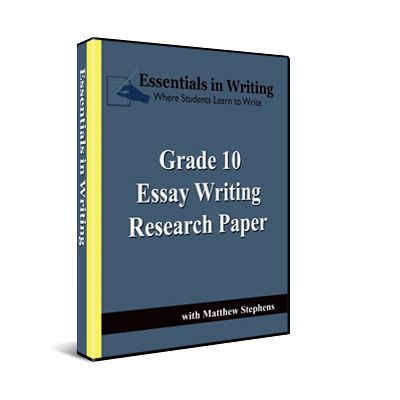 As P tends to be a 'how quickly can I get done' kind of guy, I can see that Mr. Stephens' thorough explanations could grate on his nerves. P also expressed his annoyance at having to watch the instructor write onto the white board in many of the lessons (compared to having it all there from the get go.) This actually provided us with a wonderful teachable moment about how many classroom settings have lectures happen and that what seems like downtime is considered instructional time. Also, unlike this program where the worksheets already contain the sentences or paragraphs read and waiting, in a classroom setting you would be expected to take notes and need that time to get things written down. With college looming in the not too distant future, I found this a great learning experience in and of itself for P.
Regarding the writing assignments, we found them to be quite manageable. Since we had just over a month to use the curriculum which is intended for a complete year time frame, we sampled the first lessons from each section to get a feel for the program. P found them to be manageable which I took to be the intention of the program. Having clear expectations for the assignments and sometimes good planning materials to help you lay out the work before you start the actual writing helped with his focus, even if he occasionally questioned the need to spend that time on 'pre-writing' activities.
As a homeschool educator, I appreciate that Mr. Stephens includes rubrics or checklists to help you with grading. Assigning a grade has been one of the more difficult tasks I've had when teaching writing to the boys and I am happy to take all the guidance I can get. Without that structure, I tend to be a tougher grader on him than others might be (which we learned when he did a distance learning program for writing last year.) However, this program does not leave things wide open for my own interpretation and I can feel better about mentoring my son without him feeling a given grade is a reflection on personal taste.