I have been, or can be if you click on a link and make a purchase, compensated via a cash payment, gift, or something else of value for writing this post. Regardless, I only recommend products or services I use personally and believe will be good for my readers.
For many of my friends, when their children reach the age of 3 or 4 they are enrolled in a preschool program where the foundations of learning are laid for future educational experiences. My boys have not really experienced this structured learning as preschoolers (although D had a preschool class complete with circle time when we were in a co-op years ago.) However, I do try to give the boys the chance to encounter all those early learning opportunities. J's been tickled to be learning numbers and shapes using the homeschool Pre-Kindergarten program from TouchMath.

What is TouchMath?
In a nutshell, TouchMath is a multisensory program which helps the students take the concrete (2 cookies on the plate) and connect it with the abstract (written numerals and equations.) The program was developed by a long time educator who saw that the physical act of touching with verbal counting helped to solidify those abstract ideas and allow them to more easily learn basic operations. The company offers programs from pre-K through 2nd grade which cover everything from counting to the basic functions of addition and subtraction.
Pricing for each unit is $59.95 as a downloadable product with a discount for an entire year's 4 unit program ($199.95.) Pre-K, which we received, is a single unit and priced at $59.95.
TouchMath offers a variety of manipulatives including 3-D Numerals ($79), Texture Cards ($99) and TouchShapes ($30).
What is Covered in the Pre-Kindergarten Program by TouchMath?
Within the single unit, there are six modules (topics) for this level of TouchMath.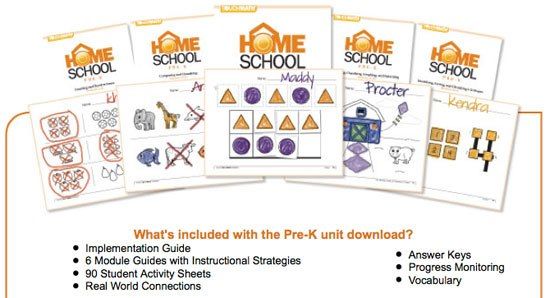 Topics covered include:
Counting and Number Sense

Comparing and Classifying

Sorting, Classifying, Graphing and Patterning

Identifying, Sorting and Classifying 2-D shapes

Identifying, Sorting and Classifying 3-D shapes and coins

Representing Quantities and Shapes
My Thoughts about the Pre-Kindergarten Program by TouchMath
For this particular review, it was suggested that we spend approximately 2 minutes per year of age on using the program every day. As J is 3, that put us at 6 minutes per day. Some days we stuck to that limit, but other times he would beg to do a little more or just take a little longer to work on the particular concept being taught.
J was thrilled to be having math time with mom and was really excited when a large box containing different manipulative that supplement the program arrived at our house. The manipulatives we received are 3-D Numerals, Texture Cards and TouchShapes. These are considered optional for the program, but can definitely enhance the learning.
Initially, we began at the start of the first module and progressed to the next workmat each day. However, I found that J is still struggling a bit with keeping numbers in order. So, we actually spent more than a day on a few of those workmats and did lots of counting. As he was anxious to use the manipulatives, I would also line up the first few numbers and do lots of counting with us alternating who did the counting.
To get a better flavor of the later part of the program, J and I left our actual numbers behind to do a bit more focus upon shapes. He's loved identifying shapes and colors of different objects in our environment as well as having the chance to take colored pencils to paper with TouchMath.
Overall, we have really enjoyed this experience with a math program for preschoolers. J is still on the young side and will not reach 'official' kindergarten age for another 2 years given his late in the year birthday. I plan to continue using this program with him at a slow pace with plenty of reinforcement with the hope that he'll have that necessary connection between the concrete and abstract before we start his 'formal' schooling. As the main program is a pdf file, I can print as many copies of the same workmat as necessary.