I have been, or can be if you click on a link and make a purchase, compensated via a cash payment, gift, or something else of value for writing this post. Regardless, I only recommend products or services I use personally and believe will be good for my readers.
Our family has been blessed with the opportunity to review products from Classical Academic Press in the past. Last year, P and I started delving into the study of logic with their Art of Argument curriculum. Now, we have been experiencing the study of formal logic while reviewing The Discovery of Deduction: An Introduction to Formal Logic.
What is The Discovery of Deduction: An Introduction to Formal Logic?
This is the program for someone who wants to learn formal, deductive logic, or essentially the form or structure of an argument. You will find methods such as Socratic dialogue, ample discussion, and integration of other subjects used throughout its pages which allows an advanced middle school student or high school student to tackle a subject many do not see until college. Beyond the student book ($26.95 retail), you will want a copy of The Discovery of Deduction Teacher's Edition ($29.95)to help with determining good responses to the questions asked throughout the student text.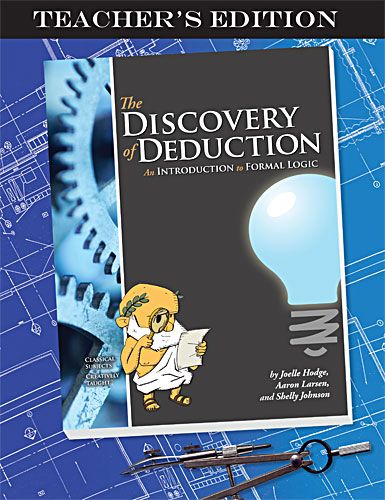 Within the program, there are 4 units (Introduction, Propositions and their Relationships, Categorical Syllogisms, and Terms and Definitions.) Each of the units are further divided into chapters and the chapters into manageable lessons. In the lessons, you will find key points covered in multiple ways ~ listed at the start of the lesson, highlighted throughout the text and then covered in worksheet format with the opportunity to define terms in their own words and answers questions that get you 'thinking.'
From the product page, you can find a suggested schedule for completing The Discovery of Deduction within either a semester or year long time frame. The schedule does mention quizzes and tests in the schedule, however those are not made available by the company at this time.
Our Experience with The Discovery of Deduction to Learn Formal Logic
P and I have been working together through the program at a pace similar to the year long schedule. This works really well for us given that the teacher's edition has all of the student material included (along with the suggested answers to questions) and did not set a pace that interferred with his core course schedule.. While I could have just passed the book to him and graded his responses, I wanted to have more of a dialog rather than a fill in the blank approach.
For each lesson, I would give him time to read through the material and then orally do the definitions and questions with me. Knowing his propensity for abbreviated answers, this manner of verbal answering helped him to flesh out his own responses better than if he'd just written them on paper. Doing it all orally also allowed us to read the skit sections (e.g. the dialog from Monty Python and the Holy Grail in lesson 1.3) with each taking parts. (Just watch out for when they enjoy the taste of something like that and start asking to watch the movie!)
The first three chapters did not provide a huge challenge beyond his constant struggle to use few words without additional prodding. As much as he might want to deny it, P seems to be wired for logic and aside from not knowing the formal names for aspects of logic he gets how it fits together. However, being able to make deductions is not the same as having the depth of formal logic to state an argument. And, so we are plodding along learning not only the history behind logic, but also how to construct an effective argument or dissect a poor argument someone else is making.