I have been, or can be if you click on a link and make a purchase, compensated via a cash payment, gift, or something else of value for writing this post. Regardless, I only recommend products or services I use personally and believe will be good for my readers.
This shop, 12 Days of Romance to Enhance Intimacy in Marriage, has been compensated by Collective Bias, Inc. and its advertiser. All opinions are mine alone.#KYTrySomethingNew #CollectiveBias
Relationships are tricky business. You can't just fall in love one day, get married and expect to have the fairy tale just happen. Nope. Marriage takes work – a LOT of work – to have a thriving relationship that lasts.
This past August, my husband and I marked our 20th anniversary. In our modern culture, 20 years is something to celebrate. And, we do celebrate that milestone and the wonderful boys we've brought into the world as a result of our marriage.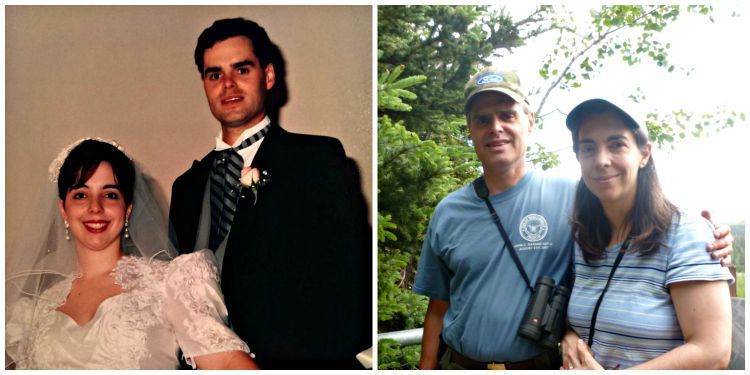 That does NOT mean we have a fairytale life where all is easy and problems do not exist. I can pretty much guarantee that there isn't a marriage without their struggles. Or, if there is it isn't a very fulfilling relationship.
Earlier this fall, my husband and I attended a marriage retreat with a primary focus on fostering communication and working to build the relationship. A key takeaway from our time there is that you have to MAKE the time to WORK on your relationship if you want it to not only survive, but thrive.
How can that happen?
ROMANCING your spouse.
Yep… I just said we need to romance our spouses (not just go on a date!)
Think back to those early days of dating when everything was fresh and new. I bet you did some things that were not your cup of tea, just because you knew it would be pleasing to your beloved. Yet, did you continue down that path after saying "I do" and having kids join the family? My guess is that many of us fall into that trap of doing things for the kids and everyone except your spouse. The whole idea of romance may have flown out the window.
But, it doesn't have to be that way.
Thankfully, you can always do something to improve things. For today, I want to share ideas for 12 Days of Romance to enhance intimacy in marriage with the final result being a better relationship. These are easy to implement ideas that can be done even during the busy holiday season. If you use even a few of the ideas, you'll most likely reap positive reward for your effort.
12 Days of Romance to Enhance Intimacy in Marriage: Love Notes
Okay, this might seem a bit cheesy to some. Trust me, a little note slipped into their briefcase, left by the coffee if you're leaving the house first or sent via text can help brighten their day and lets them know you are thinking about them and LOVE them. Say it IN the message: "I LOVE You!" If cutesy writing is your style, draw a little heart for love.
While you could do this for just ONE of the days, I'd highly recommend doing it daily and see how your intimacy grows.
12 Days of Romance to Enhance Intimacy in Marriage: Do a Good Deed for Your Spouse
Ideally, this should be something that you know they don't like to do and you've eased their burden by doing it for them. One friend told me that she hates to pump gas. Considering how brutally cold the weather can get here in Alaska, I am right there with her during those arctic days. Her husband recognizes this distaste and fills her tank when he sees it is getting low. For others it could be cleaning the dishes so the sink is empty in the morning. A simple act of service goes a long way to making deposits in the love bank we all keep.
12 Days of Romance to Enhance Intimacy in Marriage: Hold Hands in Public
When you look at pictures that just about scream romance, you might notice that the couple is often holding hands. This might be something that came naturally in those early days, but fell by the wayside with so many other things. Yet, this very simple physical connection helps to foster bonds regardless of how many years you have been together. It also broadcasts to the world that THIS is that special person in your life. He is mine and I am his…what's not romantic about that?
12 Days of Romance to Enhance Intimacy in Marriage: Go for a Walk or Drive
This could be as simple as a stroll around the block or more involved like a hike up the mountainside. Take time to be physically moving with them and maybe even do it holding hands.
Alternatively, if the weather outside is frightful, take a drive around to see the sights or admire the evening sky. The holidays usually offer the opportunity to look at lights on the houses. Here in Alaska, we also have the possibility of driving to a good spot for viewing the Northern Lights.
12 Days of Romance to Enhance Intimacy in Marriage: Give Them a Hug and Kiss Upon Returning Home
Like the love notes, this is something that takes almost no time, but can have a huge impact on their day. Bonus if you set aside all that you are doing to take a few minutes to just reconnect rather than slamming them with a long honey do list.
12 Days of Romance to Enhance Intimacy in Marriage: Cook Together
Working together on a common goal is a great way to help build a relationship. What better way than to meet up in the kitchen to make a dish or entire meal together. A sorority sister shared that making homemade pizza is a favorite at home date night for she and her husband. We are partial to my garlic herb pizza crust and almost always make one stuffed crust pizza with it. So, pick something to make…like maybe a batch of cookies for the holidays….and have fun in the process.
12 Days of Romance to Enhance Intimacy in Marriage: Share Your Dreams for the Future
Thinking back to those early days again, you probably spent a fair amount of time talking about your dreams for the future, whether personal or as a couple. Maybe you dreamt of traveling to different countries or going scuba diving. Or you wanted to learn an instrument or other skill that got set by the wayside. Regardless of what they were, dreams are something that we all have and sharing them with your spouse can be considered a cornerstone to your relationship. After all, if you can't share your dreams within your most intimate relationship, where can you share them?
Take the time to first write it out as a letter to your spouse. As much as I'd like to think I am a good communicator, I know that sometimes it is easier to put the words down onto paper and then share it with him. You don't have to make it super long…even just sharing one dream you have for the upcoming year is a great start.
There have been times in our married life where there didn't seem to be a quiet spot in the house. Or, you'd find a quiet spot and a child would quickly find you and stick their nose into your business. If you have kids at that stage of life, it might be a late night proposition. Find the space and time to do it. This is an activity we did during our retreat which had us realizing there were common dreams that can become goals and put into action in our future. Talking about it is the first step in the process.
12 Days of Romance to Enhance Intimacy in Marriage: Sit by the Fire or Get Your Dance Moves On

If you have a fireplace, light it on up and enjoy some quiet time admiring the flickering flames with or without music on in the background. Alternatively, pick some music you both like and get dancing. It could be fast paced tunes that help you relive your youth or something slow to just stand in a close embrace and sway. Don't forget your beverages and snacks, too! This is like a mini date night, but could be done any time of the day.
12 Days of Romance to Enhance Intimacy in Marriage: Pick Up a Special Gift
This could be the traditional flowers or chocolates or maybe something a little more intimate like new jewelry or sleepwear. Or, even a book or CD they've been wanting and downplayed the desire as a waste of financial resources.


I'll admit that I went years without receiving flowers from my husband. That was MY fault for asking him to not waste money on something that would just be dead in a few days. It wasn't that I didn't appreciate the gesture or the aesthetic appeal the flowers provided. Rather, I implied they were a waste as at that particular point in time as money was tight and I'd rather forgo niceties for my boys to have things. Finances are no longer that tight, plus we've discovered that warehouse clubs have lovely bouquets at more affordable prices than a traditional florist. So, we do periodically splurge on flowers to brighten the environment.
12 Days of Romance to Enhance Intimacy in Marriage: Date Night
This could be actually going out to a restaurant or having a quiet meal at home when the kids are in bed. The key is to do something together without the kids and have conversations that do not revolve around the kids or household concerns. And, it doesn't have to be a complete meal out! You could go to an ice cream shop or coffee shop to have a special treat and time for conversation. A while back, I shared about making a gift bag for my husband with date night coupons. There are other ideas there, too.
12 Days of Romance to Enhance Intimacy in Marriage: Massage
Okay, I'll admit that this is most definitely a part of MY love language. Whether it is a full body rub down or just massaging my feet, I love, love, love when my husband does this. Find a good massage oil or blend your own together. Play some relaxing music in the background. A bit of essential oil can add a little twist to the whole experience, too.
If you live in a colder climate like we do, you might fall in love with K-Y® TOUCH®. This is a warming cream that can be used pretty much from head to toe. Their warming oil has been a favorite of mine for years during the winter as a massage oil as it helps me keep from feeling cold.
I used this $2 off one K-Y® product coupon to pick up a package. You can find all of the K-Y® products in the pharmacy department of your local Walmart. (Note: Women who are pregnant or nursing should consult their healthcare provider before using this product. And, as always, please consult a healthcare provider with additional concerns or questions.)
12 Days of Romance to Enhance Intimacy in Marriage: Set the Mood for Love
Most of the 12 Days of Romance suggestions are things that all build up to those intimate moments in the bedroom (or hotel room if you opt to splurge.) Romance is far more than grand gestures and focusing on things that foster feelings of love will work in concert with those moments of physical connection to build intimacy.
Consider the ambiance you want to set. Dim the lights or turn off the overhead lighting in favor of something more soothing like candles or even a small pre-lit tree. Put in music that has you thinking romance. Make sure you have everything you need for this special time including drinks, snacks, and a container of K-Y® TOUCH® for massage or as lubricant if dryness is an issue.
Turn off all distractions, putting cell phones to vibrate or silent, and lock the door if there's anyone that might interrupt your quiet time alone. Then just be present with your spouse and enjoy the evening.
To make this easier to do, I created a 12 Days of Romance printable which contains coupons for some of the ideas and a blank sheet to write out your own. Alternatively, you can use them for your love notes with a seasonal graphic.
What are some ways that you romance your spouse to enhance intimacy?
What's a favorite date night activity for you?