For any one planning to go to college, there is that little necessity of taking the SAT or ACT exam for entrance.  Part of those tests is vocabulary, which can be learned through targeted practice.  Vocab Videos was initially launched to target words found on the SAT to help students boost their verbal score.  It has grown  and is now applicable to other popular tests including the ACT, ISEE, SSAT, and GRE.
The student watches humorous, memorable videos that teach vocabulary in a contextual format. Using both auditory and visual cues, each video includes a real-world representation of the meaning of a word in a way that you can easily relate to and understand.   Groupings of 20 words are found in each video lasting approximately 10 minutes.
Beyond the videos, you will find quizzes, worksheets, a multimedia flashcard maker and many other tools. The vocabulary platform also includes a number of special educator features that allow teachers to monitor student usage and progress. 
And, they offer a special workbook ($11.99 retail) with all 500 words in the program.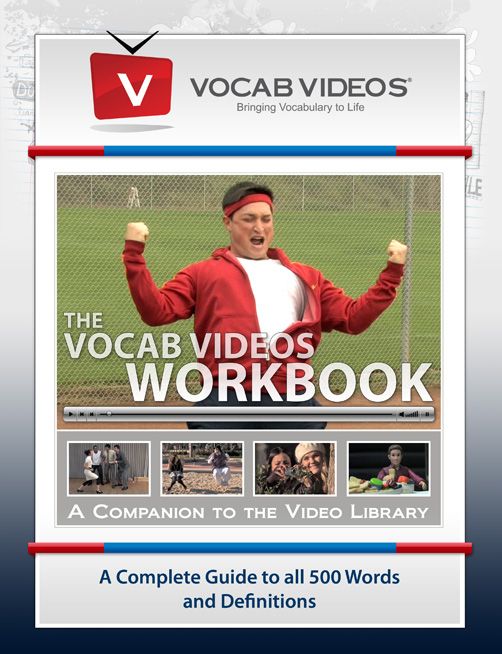 All in all, Vocab Videos could be a painless way to study.  Not sure if dedicating some school time for studying vocabulary is worth it?  Check out this graphic showing the impact it could have for your student.
Our Thoughts on Vocab Videos~
So far, the results are mixed.  P has commented that he finds the work a bit 'boring.'  I found the videos a little corny at times, however I think that's the point.  Humor can make work seem less tedious.  I do feel that it helps bring to life the definitions with both visual and auditory components which can engage the student in learning beyond a traditional workbook approach.
One thing I am finding is that P's results on the quizzes after viewing the videos is not stellar.  While he's occasionally mastered a section, he's also had times when the percentage correct is 70%.  That means he definitely has room for improvement!  I'm thinking this might also be a springboard for more targeted studies as he begins preparing for standardized tests like the PSAT, SAT and ACT in the next few years.  One thing I am considering is going through the missed words on his quizzes and having him do things more 'old school' by writing sentences using them with proper context.
While Vocab Videos is geared more for the high school student, I plan to have the younger boys work with it some to boost their vocabulary.  It might even translate into higher scores for reading comprehension and writing sections on the standards based assessments they take each March for Alaska.
Vocab Videos offers both individual student accounts or education accounts with multiple students under the one account.  A one year small educator subscription (up to 20 students) retails for $74.99.   A single student account can be purchased for either 6 months ($24.99) or 12 months ($39.99).  Educators can sample Vocab Videos for one month, a great way to assess how this would work for you.
Disclaimer ~ We were provided with a subscription to this service to facilitate a review as a member of the Schoolhouse Review Crew. No monetary compensation occurred and all opinions are my own. You can see what other Crewmates had to say about this product and others by visiting the Schoolhouse Review Crew website.