I have been, or can be if you click on a link and make a purchase, compensated via a cash payment, gift, or something else of value for writing this post. Regardless, I only recommend products or services I use personally and believe will be good for my readers.
My School Year: Online Homeschool Record Keeping was made possible with an annual subscription to My School Year (Homeschool Record Keeping) from MySchoolYear.com for review as part of the Schoolhouse Review Crew.
As important as what you teach is to homeschooling, how you stay organized is equally important for success. You not only need to plan out what is going to be covered, but depending upon where you live and the ages of your children, the need for a good homeschool record keeping system could be even more important.
What My School Year (Homeschool Record Keeping) Provides
My School Year offers a variety of features to help streamline the organization of all you are doing in your homeschool.
The Teacher's Aid feature guides you through all the possible things you would want to do or remind you about something you added and needs you to pay some attention.
Lesson Plan Generators give the option of doing rapid repeat or quick splits to make set up a breeze. The Quick Split is great when you have a set number of lessons that will be completed and just need them mapped out. Rapid repeat is better for things like practice, music lessons, PE classes, etc. as you set the total number of lessons generated.
Automated Attendance Tracking and Automated Grading helps to save you time. You can still go back in and adjust as needed. Life happens and sometimes a day earmarked for school ends up not having any schoolwork done. Through the attendance tab under your student(s), you can change the record to read for a half day or none at all. If you are tracking time spent, the total for the day is there as well.
Activity Tracking allows you to cover things like field trips, reading logs and volunteer work.
Lesson Plan Sharing is a feature that can potentially save you some real time. This will be an option when you are setting up the class or later when adding a class for another child. Doing the share during set up on one child with set dates will put the assignments on the same dates for the other child. Using the Copy Classes/Lessons tool instead will allow you to assign different dates for your other student(s).
From the Copy Classes/Lessons tool, you can find shared lesson plans from other users for a particular grade and subject or just look at your own. Scanning the results may show someone has already set up everything for your particular program. If you opt to copy their lesson plan, it will prompt you through the process to get it set up for your own child.
Using My School Year (Homeschool Record Keeping) for School
I will admit that I have multiple platforms going right now for my homeschool efforts. Beginning this review at the end of a homeschool year, I decided to use this to help pre-plan the upcoming school year.
You begin by setting up your students, the details for your school year (start and end dates) and then add classes for each of them.

Initially, you are just putting in the title of the class for each student. This can be adjusted throughout the year as needed. Something that we haven't done in recent years, but I hope to do this coming year, is having some set class times. Putting this into the system will pull the time for your attendance records, too.
I have to admit that the set up of the classes took me a bit of time. But, I think it is more having to take a different approach because of the software. I opted to pick a total number of lessons for a class and then go back in to adjust each one as some classes (e.g. math) I like to weight and needed 'lessons' to have a different type of work (e.g. daily work versus test.)
For most of the subjects, I used the Quick Split as I knew how many total lessons there were (e.g. 180). The number used to divide them up is the number of assignments you want to generate. You can determine a start date during this process. As I like flexibility, I always picked to allow rescheduling. You are given a chance to see the dates where work will be assigned before clicking submit. (Make sure your school calendar is set up well for any days you know will not have work before entering this process.)
Once the framework is set (e.g. 180 'lessons' for math), I went into the lesson plans to edit each. This is where I can customize everything. And, I can remove the number of the lesson and title it as desired.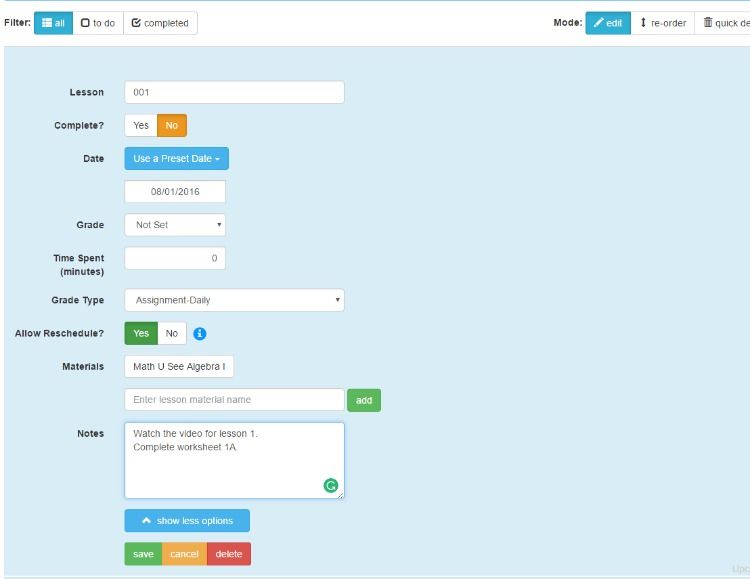 So, for Algebra, I can put in the lesson number as well as the topic if desired. The program we use has several sheets per 'lesson', so I can name the lesson by the worksheet to be completed or indicate it is a test. The type of work can then be selected by assignment so the proper weighting is used.
Using My School Year (Homeschool Record Keeping) Beyond School
I do like the extras like reading logs and tracking extracurricular activities. I can see this being very useful for sharing books my youngest has read when we turn in quarterly reports. Additionally, my older boys need volunteer hours for Boy Scouts and this can help me remember what they've done should they fail to mark it in their books.
Something I noticed on the My School Year blog is how some people are using this platform to schedule chores. Now I want to give that a test as well. Our house and my sanity could use it!
Overall, I found MySchoolYear.com to offer a great product for homeschool parents. It covers all the basics with a very clean platform. Like any software program, there is a learning curve involved. However, I love the ease of access compared to being tied to a paper planner or something which lives only on MY computer.
How do you approach homeschool record keeping and planning?
Does My School Year (Homeschool Record Keeping) as an online option appeal to you?

Don't just take my word for how we found this to be. Visit the MySchoolYear.com Review post on the Schoolhouse Review Crew website to see what other homeschooling parents thought about this title and other grade level ones.