I have been, or can be if you click on a link and make a purchase, compensated via a cash payment, gift, or something else of value for writing this post. Regardless, I only recommend products or services I use personally and believe will be good for my readers.
Wonderful Outfits for Holiday Occasions from Monroe and Main is a Fashionista Event Opportunity, and is hosted by Still Blonde after all these YEARS and Modly Chic. (The giveaway is at the bottom of this post!)
Do you have parties to attend during the holiday season? Or, maybe special events where you want to look your best even if it is just your child's holiday party at school? I know that I do and have a few new key pieces helps to make me shine just in time for the different holiday occasions. I truly love this time of year and want to look my best while enjoying time with friends and family.
Just over a month ago, I received the latest Monroe and Main catalog in the mail. I have to admit that this is one piece of mail I love to read through and start dreaming. Yes, I can look at photos online. However, there is nothing like sitting curled up on the couch or my bed and browsing with flips of the page. Plus, I love that Monroe and Main offers something for everyone with sizes ranging from size 6 – 24 or S – 3X.
One piece in particular that caught my eye was the Lace Inset Top which comes in a gorgeous red. The color is perfect for winter holidays (even to Valentine's Day!) and distinct with the lacy sections in front, on the sides and down the back. The fabric drapes beautifully around my curves while the vibrant red helps to draw the eye up away from my more full figured areas.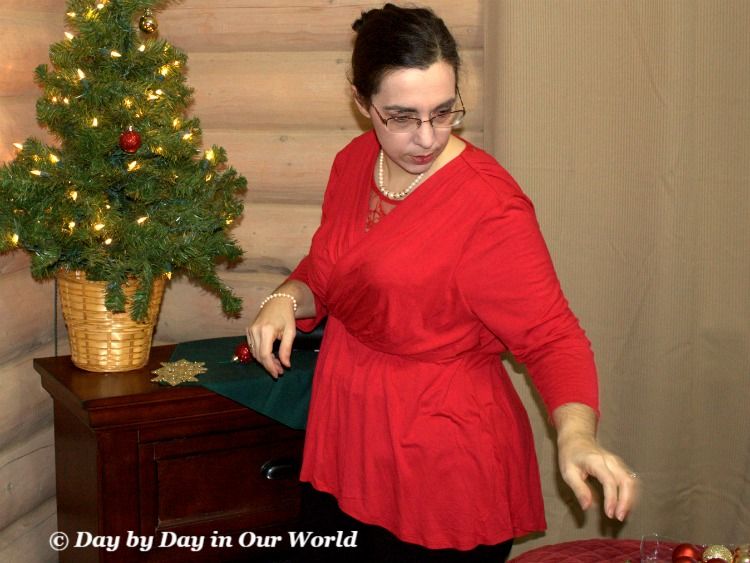 The lace inset on the back does go down low, so I pulled out a bustier style bra from my lingerie drawers which sits at my waist in back for this one. Alternatively, you can buy a low back strap bra converter or other alternatives that will not have you showing off a bra strap.


Sometimes I like to have a piece in my wardrobe which is quite multipurpose. The Crossover Rib Sweater in black is one such item that can be dressed up or dressed down. This is a cashmere cotton blend which needs to be hand washed. Normally that would be a deal breaker for me as life with 4 boys means messes and the desire to toss items into the wash without much thought. However, the way this sweater feels against my skin makes that totally worth the extra time it will take to launder it.
For a recent Sunday, I paired the sweater with a plaid skirt hanging in my closet and dark brown boots. I had been wanting something in black for a top that wasn't a plain turtleneck to go with this skirt for a while. This sweater works great with it!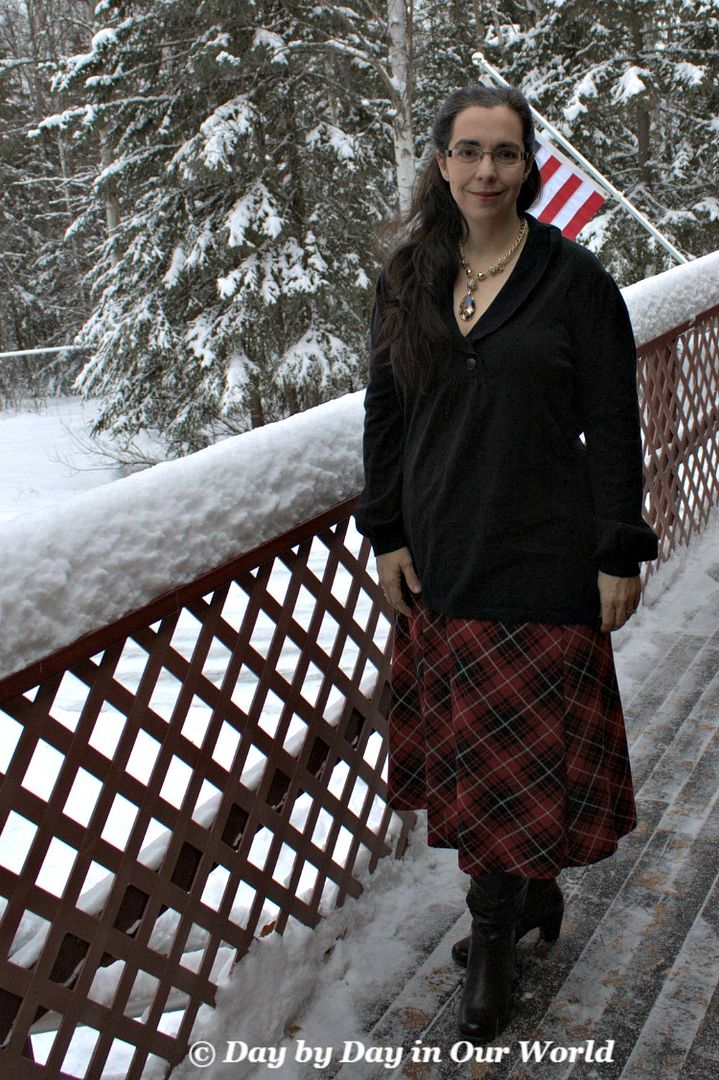 I couldn't resist doing a little 'kick' for the camera as those boots just seemed to call me to do it. Who says you have to stop having a bit of fun just because you are in your 40's!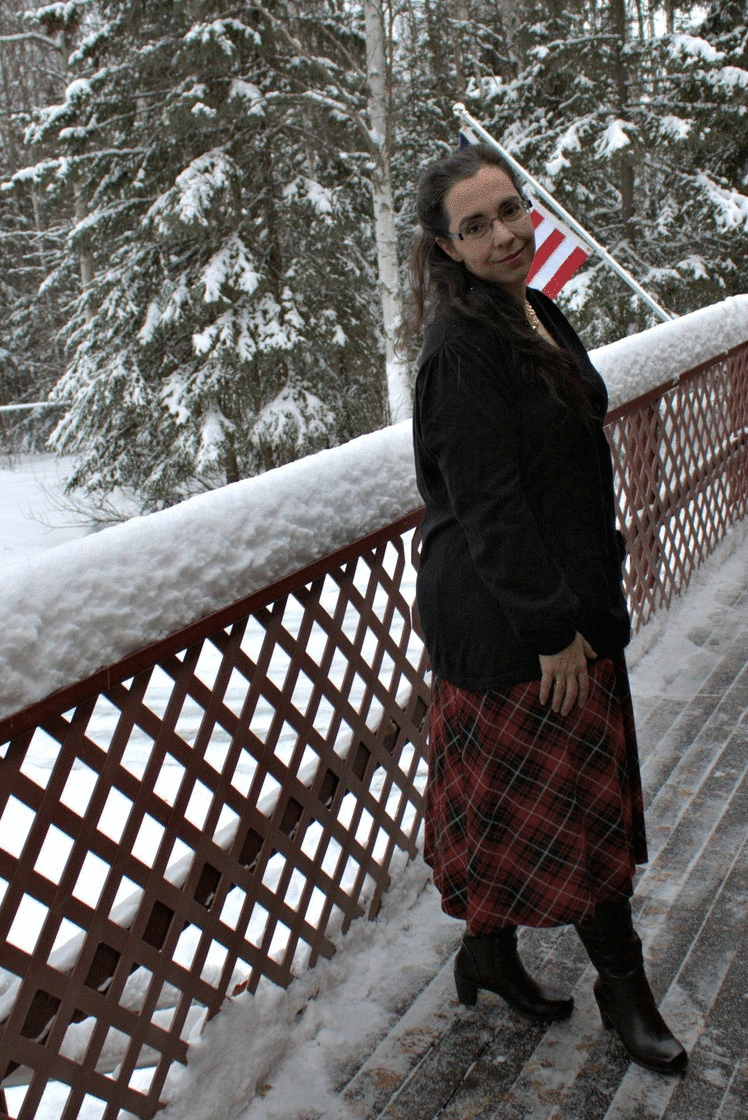 Adding some sparkle to the outfit was the Pear/Crystal Necklace and Earring Set in goldtone. This set is also available in silvertone and gunmetal. I decided that gold seemed fitting for not only the rapidly approaching holiday occasions in my life, but throughout the year.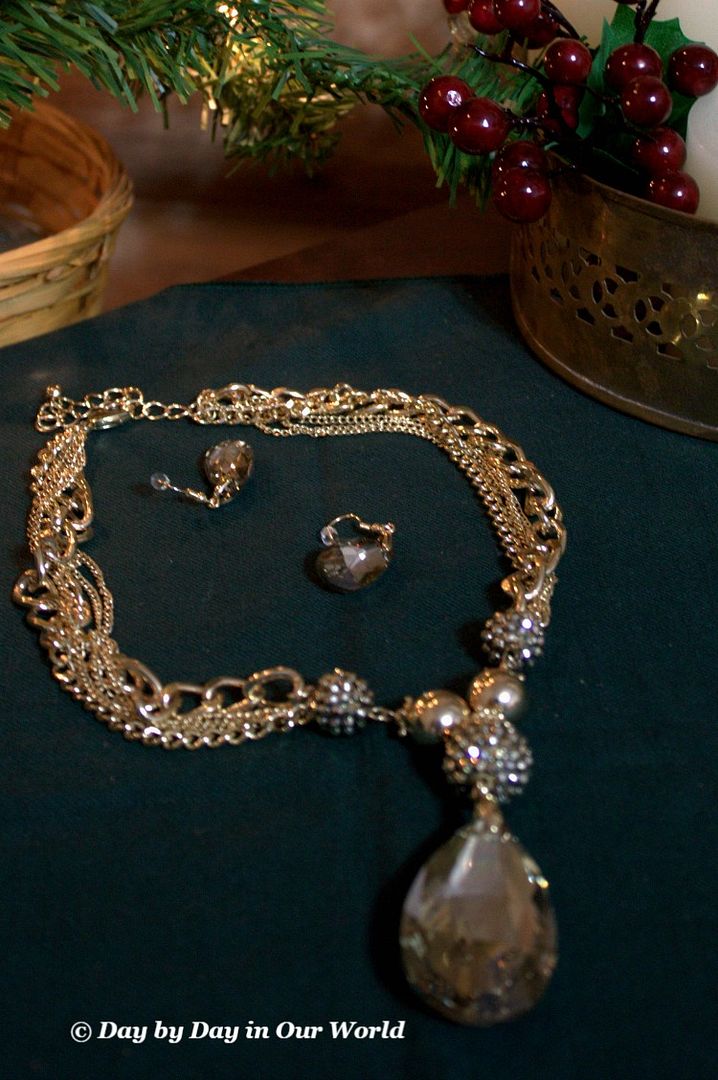 The necklace adds a wonderful sparkle and life to my outfit. Even my 6 year old son is in love with this necklace!
Seeing this photo, I can see why my husband told me I looked beautiful that day.
I am thinking this will also be a perfect sweater to wear a bit more casual, pairing it with jeans. Whether snuggled up on my couch watching the fire or layered under a wool coat while popping in and out of our annual Merry Merchants event each December, I can see it being a great addition to my wardrobe.
When it comes to heading out the door, life in Alaska dictates the need for a coat during the winter. How heavy of a coat can vary, but the need is still there. I am totally loving the pairing of my 'antique' (as I've had it for over 20 years) long wool coat with the Accented Scarf in red.
Along with my leather gloves, I feel rather polished and ready to hit the town! No need to look frumpy just because it is Alaska. (We do NOT all wear ugly boots and coats!)
I am just loving these new pieces and will admit to having a wish list started of other items they offer. More digging through my closet to continue mixing and matching with items I already own is on my list of things to do over the long weekend as well.
What are some ways that you pull together outfits for the holidays?
Win a Stylish New Handbag just in time for your Holiday Occasions!
One lucky blog reader will win their own bag valued at $49.95. Enter through the Gleam widget below by December 9th for your chance to win. The mandatory entry is a comment here…so no comment, no chance to win.
MONROE AND MAIN HOLIDAY OCCASIONS
Still Blonde after all these Years, Modly Chic, and Fashionista Events bloggers are not responsible if prize is not delivered. We will make every attempt to help you claim your prize. Increase your chances of winning this gorgeous purse!! Visit all of the Monroe and Main Holiday Occasions Event Bloggers to enter each blog's giveaway.
This post is linked up with Fresh Fashion Forum, Style Me Wednesday, Turning Heads Tuesday,