I have been, or can be if you click on a link and make a purchase, compensated via a cash payment, gift, or something else of value for writing this post. Regardless, I only recommend products or services I use personally and believe will be good for my readers.
Wonderful Assorted Items in the FabFitFun Fall 2015 Box was made possible through Pollen-8 network. Links are affiliate ones for convenience at no cost to you.
Do you like getting surprises in the mail? I certainly do, but have not jumped onto the subscription box bandwagon thus far. However, I was quite pleased with my recent experience receiving an array of wonderful items in the FabFitFun Fall 2015 Box.
FabFitFun is a quarterly subscription box. Each time, for the cost of $49.99, you will receive a box of assorted goodies fitting the criteria of being fabulous, fitness oriented or just fun. The products are not just a bunch of samples, but typically full-sized products. The total retail value is guaranteed to be at minimum $200. Orders for the Winter Box are being accepted now and there are limited quantities available, so secure yours today if you are interested. (And you can save a little $$ if you pre-pay for a year.)
$5 off + a free fruit infuser water bottle – Code: SNOWY5
FabFitFun Fall 2015 Box: A Video Unboxing
I thought it would be fun to share me opening the box on video. As I was the camera operator, I am not ON the camera with everything. But, it is me sharing my thoughts and information as I uncovered each item in the box.
FabFitFun Fall 2015 Box: More of My Thoughts
Like I said, I have not joined the bandwagon for subscription boxes. I like surprises, but don't want to find a bunch of things I won't ever use. Opening the FabFitFun Fall 2015 box was almost like a secret gift exchange where you hope that you'll be blown away with what is inside, but bracing for disappointment.
When I opened this box, it was NOT disappointment that hit me. Rather, I was amazed at the variety and quality of the items included in the box.

I have some serious respect for the individuals who are packaging each of the boxes. They do a great job making it all fit together. Below you can see everything placed back into the box to showcase what there is.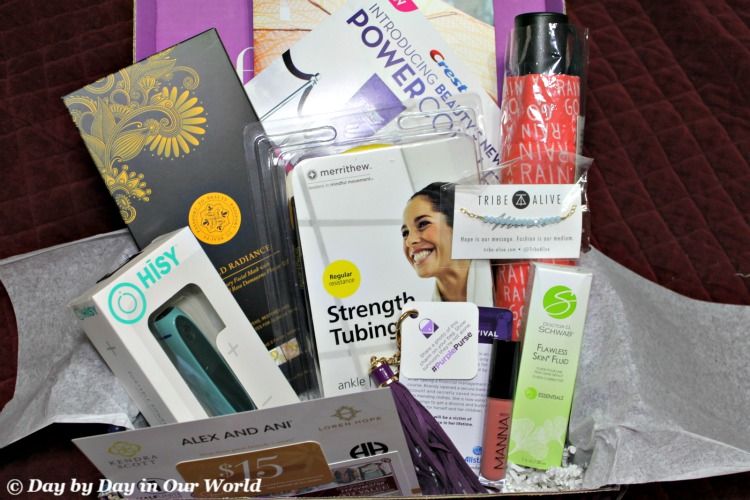 I am really loving the purse dangle in support of Purple Purse as well as the delicate bead bracelet from Tribe Alive. The lip gloss from Manna also looks like an amazing addition for me.
Have you ordered a subscription box in the past?
If so, did you LOVE what you received or feel disappointed?
What item(s) in the FabFitFun Fall 2015 box caught your eye?