I have been, or can be if you click on a link and make a purchase, compensated via a cash payment, gift, or something else of value for writing this post. Regardless, I only recommend products or services I use personally and believe will be good for my readers.
For those that have already read earlier posts on this blog, you might remember my mentioning just how much the boys love art. They enjoy creating things as well as observing art works by others. I've even begun to try my hand at creating rather than just appreciating the work of others.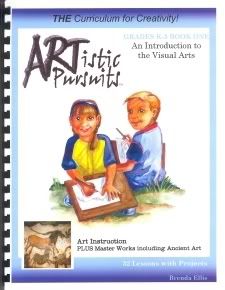 The latest art curriculum we were provided to review is Artistic Pursuits Grades K-3 Book 1: An Introduction to the Visual Arts. This thick book walks the students through what artists do with the focus on visual artists. Each lesson provides an opportunity to use art supplies while making their own work tied with the specific lesson. Sometimes, the book includes a piece of art as the focus to get their creative juices flowing. Those pieces of art are accompanied by questions to help guide the child in thinking about the piece and what is being represented. So, in essence, this particular book has a taste of basic art appreciation while learning new techniques.
Even though P is beyond this grade level book, he's been enjoying the projects with his brothers. Having had little in the way of formal art education since we began homeschooling almost 3 years ago, I can see how this book might fill in the gaps and still allow for challenges. The first lesson had us drawing something we saw around us. While D and R were energetically drawing away their scenes, P sat for a long time at a loss of what to draw. Eventually, he decided to draw his slice of pizza on a plate from dinner the night before. I think the long pause for reflection was to determine what he could draw with no people in the picture.
Beyond the cost of the book ($42.95), you do need several items to stock your art supply 'box'. The publishers have a list on the website for each book and even offer multiple ways to purchase the art supplies you'll need. I opted to go 'bargain hunting' for the supplies around the area and was soon met with frustration. Big box retailers, e.g. Wal-Mart or Target, do not carry any of the needed materials. My success came when I visited A.C. Moore. Other chain stores that might have the supplies include Michael's and JoAnn's. Given that A.C. Moore is about an hour from our house which costs both time and money (for gas), I think I would have been better off pursuing one of the on-line ordering options. That they offer the ability to order through a third party retailer at a discount is a great benefit when it comes to implementing this program. I sometimes forget to value my time and driving about to find supplies for this is one time when I could have 'saved' by ordering through the website.
Overall, we've really enjoyed testing out this program and hope to continue with it through the spring. Art is one of the few subjects that the boys truly love to do, so the motivation is definitely there.
Disclaimer ~ Our family was provided with a copy of this book for the purpose of completing this review as a member of the TOS Homeschool Crew. No other compensation was provided and opinions expressed are our own.