I have been, or can be if you click on a link and make a purchase, compensated via a cash payment, gift, or something else of value for writing this post. Regardless, I only recommend products or services I use personally and believe will be good for my readers.
My youngest son is digging into different subjects using a great resource for Worksheets for Elementary Students. This was made possible with an individual membership to Super Teacher Worksheets for review as part of the Homeschool Review Crew.
Part of me would love to approach learning with my youngest using the absolute minimum pieces of paper possible. And I do incorporate things like reading books, visits to museums, and watching educational shows. However, that just doesn't work for all his subjects. Plus, there is the need to have work samples for our homeschool entity.
While there are plenty of workbook-style texts, I like to do more picking and choosing of what to use. This is why Super Teacher Worksheets is a great fit for me.
About Super Teacher Worksheets for Elementary Grades


This is the second time we have been privileged to review Super Teacher Worksheets.  I used it with my youngest 2 years ago when he was in kindergarten.  I needed to have things he could do while I worked with his older brothers (then in 7th and 10th grades.)
This subscription-based site provides a wide variety of printables for teachers to use in their classroom. The worksheets are gears for pre-K through 5th grade, although you may be able to stretch some for a 6th grader.
You can use the left sidebar to navigate the site by subject. Alternatively, you can use the search bar for a particular topic. All of the worksheets are labeled by grade level (usually over multiple grades instead of just one.)
The site has the following main subject areas:
Math
Reading & Writing
Phonics & Early Literacy
Handwriting
Grammar
Spelling
Chapter Books (for reading comprehension)
Science
Social Studies
Holidays
Puzzles & Brain Teasers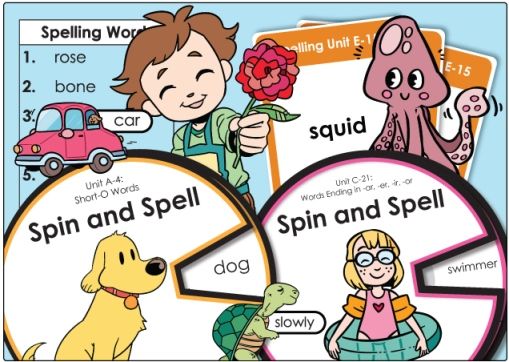 Teacher resources include:
Award certificates
Lined paper
Music worksheets
Sticker charts
Templates
Word walls
Another option is to use their worksheet generator. This is a great resource for the homeschool parent!
There are several types of worksheets you can make including:
Math Worksheets by skill level
Bingo Games
Flashcards
Puzzle Generators
Quiz Generators.
There is even a calendar generator. The image below is one I generated 2 years ago. With my older boys constantly asking what is on the schedule each day, I plan to make one for October. That way they know where time is already dedicated (e.g. science labs at our home or Academic Decathlon study groups) during the week.
Using Super Teacher Worksheets for Elementary Grades
For the review period, I have been consistently drawing from 2 areas with my 2nd-grade son: spelling and science.
He has been very eager to work on spelling as it is a subject we did not really tackle in the past. He will sit down to write notes to his best friend. However, it is always alongside me asking how to spell most of the words.
So far, he enjoys doing the worksheets for each week. We are using grade 2 as the base words are not too challenging for him. When he works with me to orally do the words, he typically gets them correct. However, his written test scores are not as good. This tells me he needs more practice writing on paper during the week.
For science, I have been teaching an elementary science lab class. Recently, we were on the theme of plants. I had some hands-on learning opportunities already planned. However, I like to over plan in case they take less time than expected.
Super Teacher Worksheets helped fill the time for that session with a great "anatomy of a flower" sheet. The kids could color the sheet (I printed b&w) while we looked at the parts on a rose I had in the house.
As he works his way through the spelling this year, I plan to add more of the language arts worksheets like reading comprehension and writing prompts.
Final Takeaway for Super Teacher Worksheets for Elementary Grades
Overall, I find this to be a great resource for the homeschool parent.
The license is for the individual using it. So, I can use the pages for my science class and for my own son's needs. What I can not do is give a friend a ton of printed sheets for her to use.
I appreciate the annual fee which is quite affordable for most families ($19.95 per year.) Unlike some subscriptions I have used in the past, this one does not auto-renew.
Do you use worksheets or other printables in your home?
Would this resource be great for someone in your family?
Don't just take my word for how we found this to be. Visit  Super Teacher Worksheets review post on the Homeschool Review Crew website to see what other homeschooling parents thought about this book.