I have been, or can be if you click on a link and make a purchase, compensated via a cash payment, gift, or something else of value for writing this post. Regardless, I only recommend products or services I use personally and believe will be good for my readers.
This shop, Simple Hacks for the Best Road Trip Ever, has been compensated by Collective Bias, Inc. and its advertiser. All opinions are mine alone. #RoadTripHacks #CollectiveBias #Carrs Affiliate links are present and may result in a commission if you purchase through them.
Ever since I was a little girl, I have been making road trips. Most of the time it was to visit family members in another state. As it usually involved 2 LONG days of driving, my parents would schedule a short stop somewhere along the way. Not quite a vacation, but something to break up the drive and expand our horizons. The rare exception was when we visited Disney World during my freshman year of college.
Since marrying and having my own family, I've continued the road trip tradition to see family. And, when we are able, we accompany my husband to his annual conference.
This summer we took what many could describe as an EPIC road trip.
We drove the RV from Alaska to the east coast and back. That is a total of 8,000 miles. Weeks of driving were involved.
When preparing for a long road trip, planning ahead is crucial.
You need to plan so that the adults stay sane and the kids happy.
Pulling from my experience, I am happy to share some simple hacks for the best road trip ever.
Road Trip Hack #1: Map Out Your Route
You have your starting point and final destination. But, do you know how to get from point A to point B?
Life on the road is a lot nicer when you have an inkling of where you are going.
Plan Your Route in Advance
Today's technology provides many ways to map out your route.
A GPS system, built into your vehicle or freestanding, can be programmed with your destination.
Or, you can get routes mapped out by a service such as AAA. If you really want to be 'old school', you can just use print maps. I keep a Road Atlas of the United States with me in case technology decides to fail me.
Garmin Nuvi 57LM GPS Navigator System with Spoken Turn-By-Turn Directions,5 inch display, Lifetime Map Updates, Direct Access, and Speed Limit Displays
TomTom VIA 1535TM 5-Inch Bluetooth GPS Navigator with Lifetime Traffic & Maps and Voice Recognition
2018 Rand McNally EasyFinder® Midsize Road Atlas
For our epic RV trip, we did the initial planning using AAA's online TripTik. This gave us an overview of how we would get to our final destination.
On a daily basis, we entered each night's destination into the RV GPS system. In some areas, the Google Maps app on my phone was the better choice to make sure we knew where we were and where we were headed. The app also alerted me to traffic issues which a GPS cannot do.
Break Up The Trip with Planned Stops
This could include knowing where a great rest stop with picnic tables and room to run are located. Either the TripTik or Google Maps app showed me rest areas on our path.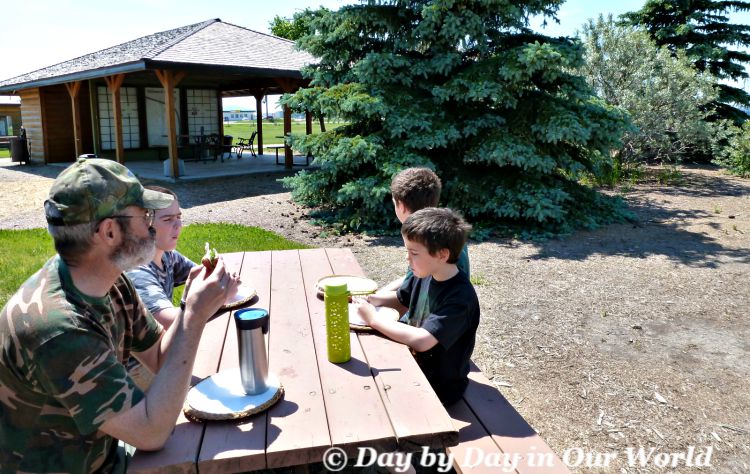 Driving is so much nicer when everyone has time to get up and stretch.
Or, it could be a place that you'd like to visit which happens to be on your driving itinerary.
Part of our trip included time in Maryland. With D.C. so close by, we made a day trip to visit a few of the Smithsonian Museums on the Mall.
Although we had long days of driving through Canada, we picked a few spots to stop and enjoy the local attractions.
I even got the younger boys to cooperate with goofy photo shoots!
Road Trip Hack #2: Bring Activities for All Riders
Some areas have a lot to observe out your window. However, long stretches of road can create monotony after a while.
My boys have even less patience than I do. They need things that will help them remain entertained or occupied while we are moving.
You can determine what to bring with these few simple questions:
"What do the kids enjoy?"
"How much room do I have?"
and "Will sibling issues be more of a problem by bringing this particular item?"
If the answer to that last question was probably, then having a timer at the ready was essential for peace on the road. After all, you want the driver to be happy, too!
Favorite activity options that can be enjoyed by multiple individuals at once are:
audio books
music CDs
movies
portable games
I have many fond memories of driving my three oldest boys from Ohio to visit my family in Louisiana listening to group favorites like Harry Potter and Artemis Fowl.
Individual entertainment options are quite varied:
books to read
handheld game systems Nintendo 3DS(My guys like the with multiplayer games)
an iPad or tablet
iPods or other mp3 capable device
smartphones
eReaders (I adore both the Kindle Fire and Kindle Paperwhite)
Handiwork items like crochet or knitting projects
Kindle Paperwhite E-reader – Black, 6
All-New Fire 7 Tablet with Alexa, 7
Apple MGKL2LL/A iPad Air 2 64GB, Wi-Fi, (Space Gray)
Nintendo New 3DS XL Red
Apple Ipod Nano 7th Generation 16 GB Space Gray
Apple iPod and Accessories 32GB Blue (6th Generation)
Some of these items have also been used when we are not moving, especially games like chess. The one we keep in the RV is small, stores all of the pieces inside the board when closed, and everything is magnetic.
Road Trip Hack #3: Plan Meals and Stock Up on Snacks
Have you noticed that when on a long drive your kids are suddenly hungry around the clock?
That is how my boys are!
It may be boredom or it could be that their timing isn't your timing for eating.
The solution is to have plenty of snack options on hand.
Some of the snacks I will purchase for long road trips are 'treats' compared to normal times at home.
Single serving packages, especially for things like chips, are easier for containing messes and cleaning up.
Alternatively, you can pick up snack sized containers to pack the day's options from a larger container. In the long run, this approach will save you money.
Fit & Fresh Stak Pak Portion Control 1-Cup Container Set, 4 BPA-Free
Rubbermaid TakeAlongs 1.2 Cup Twist & Seal Food Storage Container, 4 Pack
Fit & Fresh Smart Portion 1/2 Cup Chilled Containers, Set of 4
Pack Your Own Food for Meals!
If you stay in a hotel, choose one with breakfast included. That's one less meal to plan! Some are carb heavy, but you can usually find some protein options like eggs, bacon, and yogurt.
Stretch your budget by having sandwich fixings for lunches kept in a cooler. Then plan a rest stop to pull the meal together.
For the epic RV trip this summer, I included dinners and precooked our entrees and froze them to be thawed as needed. A few (e.g. tacos) were portioned large enough to provide an alternative to sandwiches at lunch time.
If you are going to be in a hotel for the night, see if they include an evening light meal. Or, find accommodations where you can heat up food or cook an entire meal.
Doing this can save your sanity as well as some serious cash and lost drive time.
Using these tips will have you looking forward to hitting the road again and seeing what adventures you will find.
I'd love to hear about your dream travels, whether in the past or planned for the future!