I have been, or can be if you click on a link and make a purchase, compensated via a cash payment, gift, or something else of value for writing this post. Regardless, I only recommend products or services I use personally and believe will be good for my readers.
There are a few subjects I always hesitate to 'farm out' for instruction with my boys. Sending the boys for private piano instruction is one area that I hesitate to do as I feel I have the skills to teach them. However, I do not have the time to spend with them doing the one on one instruction I would desire. Thanks to our latest product to review as a member of the Schoolhouse Review Crew, I might have found a good solution for now: MusIQ HomeSchool from Adventus.

Piano Lessons in the Home with Adventus
MusIQ HomeSchool is a 7 year instructional program that can be begun by a student as young as 4 or used by high school students with the end result being competency at an advanced intermediary level. The program capitalizes upon the ability to both present instruction via the computer in a consistent manner AND to record a student's actual performance via the MIDI connection. Lesson plans are available to the parent to know what activities the child should do on a given day. MusIQ Library is an online resource with more activities (e.g. coloring pages for the younger levels) which can be utilized to expand a child's studies.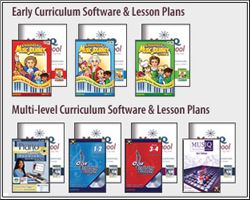 There are actually 2 options for using the MusIQ HomeSchool program from Adventus. You can purchase the software outright or you can subscribe monthly ($10.95) to use the software which requires an internet connection. For this review, we were supplied with the subscription to all levels of MusIQ HomeSchool. Lesson plans can be purchased separately. The purchases can by specific level or in a bundle for either early elementary or multi-level along with a M-Audio KeyRig 49 MIDI piano keyboard if you do not already own a MIDI keyboard. The boys have been using this with my full sized digital piano, although I am now seeing that I might prefer a separate, smaller keyboard for them to use for the learning.
Experiencing Piano Lessons in the Home with Adventus
For this review, I had all hands on deck. P is the only one who's done any real instruction with me in the past using different materials. However, his younger brothers have been chomping at the bit to learn a bit of piano and have a legitimate reason to touch use my digital piano.
Although P has had some training, it had been a while since he sat with his previous materials to continue building skills. I opted to have him start on Piano Suite Premier Level 1 like R was doing.
Initially, I was going to have D and J use Children's Music Journey Volume 1. However, we had some technical difficulties with that one the first time we tried to use it (which were resolved quickly by my going into the settings menu and making sure the devices showed up.) Having watched R and P using Piano Suite Premier Level 1, I realized that he was ready for that level as well.
J has such a short attention span for the activities, as he is only 3 and not near the recommended 4th birthday, that we have taken a while longer per lesson for him. However, he is getting the basic concepts taught (high and low notes which they call birds and whales.) D has occasionally volunteered to help J with the lessons which warmed my heart to see the older child wanting to teach the younger.
For all of the levels, there are lesson plans to accompany the level which makes it very easy to implement the program. Each lesson lists any suggested materials you might need (e.g. musical alphabet flashcards) and the amount of time each portion of the lesson should take. Any worksheets for the student are found by lesson as well. Topics covered by each lesson include theory as well as ear training. Games are a part of the programs to help the student develop better keyboard skills in a fun environment.
With Children's Music Journey, there are coloring pages by lesson in addition to worksheets to help reinforce the concepts being used. In Lesson 1, the worksheet has the child coloring high and low notes as well as circling the groupings of black keys. That lesson has a suggested time frame of approximately 55 minutes. With J, we broke it up into several sessions so he would not be overwhelmed with the work.
Given P's past exposure, I opted to have him just start at the beginning of Theory Thinker and spend a set amount of time on it (15 minutes) before switching to Piano Player for a chance to practice the tunes included for that level. As they make their way through Theory Thinker, the sections are 'checked off' as they are completed.
As someone who has taken lessons from three different individuals in my lifetime (including one professor at college) along with self-teaching some aspects of playing piano when it comes to accompaniament, I have to say that I am really impressed with the MusIQ HomeSchool program from Adventus. Following the lessons will give the student time for theory (which P has fought me on in the past) as well as practice time, history and even some 'fun' time (which R loves to do.) The lesson plans do not assume that the home educator has any background in the material and yet makes it simple enough to implement.
I especially like the feature of recording the child's 'performance' to play back. This is especially helpful with my boys as they can usually get the correct notes, but are challenged with keeping the correct pace. Hearing the program 'play' the selection first helps to a degree. However, hearing how different their recording sounds really helps it 'hit home.'
We did encounter a challenge with using my digital piano for the game section as the instructions did not 'work' for us. However, I discovered that the the MusIQ HomeSchool program is optimized for the 47 key MIDI keyboard and mine is a full 88 keys. That just meant having to play around for a few minutes to find which keys produced the desired effect and then making a note of it.
If you have several children wanting piano lessons, then I would highly recommend the complete bundle of MusIQ HomeSchool program products.
The price of $489.95, include all levels of the program as well as the keyboard. Depending upon how dedicated my boys are to continuing this program, I am seriously considering going with that option. Considering the going rate for private lessons here range from $20 to $30 per half hour, I would have 'paid' for the whole package in under 8 lessons for 3 boys. I call that a bargain!
Did you take piano lessons as a child or adult OR do you have children who have taken lessons?
What are YOUR thoughts about this in home option for learning how to play the piano?