I have been, or can be if you click on a link and make a purchase, compensated via a cash payment, gift, or something else of value for writing this post. Regardless, I only recommend products or services I use personally and believe will be good for my readers.
This post, Phonetic Zoo: A Simplistic Program for Spelling, was made possible with a copy of Phonetic Zoo Spelling Level B [Starter Set] which we were sent to review from the Institute for Excellence in Writing.
For years, the Institute for Excellence in Writing has been used by homeschool families, including ours, to teach writing to the kids. We've used Student Writing Intensive both in our home and within a cooperative learning setting. What that program did not provide was a way to help a child learn spelling and instead had the parent or teacher serving as a walking dictionary for the child. While I don't mind helping my sons out, I do want to see them become more independent and able to quickly do certain tasks like spelling a common word on their own. This is where Phonetic Zoo enters the picture as it fills that gap for families.
How Phonetic Zoo Works to Teach Spelling
Many of us are familiar with the use of phonics to teach reading. However, these same rules used in the process of reading can be used to teach spelling to a student. Phonetic Zoo is a spelling curriculum for students working at the equivalent of a 3rd grade level and up. It compliments IEW's writing and provides a different approach compared to many programs out there in the market. The key difference is Phonetic Zoo relies upon auditory learning instead of a workbook approach. Based on the "Blended Sound-Sight Program of Learning" approach of Mrs. Anna Ingham, students have what they see reinforced by hearing and what they hear reinforced by being seen.
For this review, we were sent the starter set package of Level B which includes:
5 audio CDs (includes MP3 downloads)

Lesson Cards with all three levels of spelling words and jingles
Personal Spelling Cards to keep track of your student's typical misspellings
Zoo Cards that serve as a way to practice jingles or as rewards
Downloadable Phonetic Zoo Teacher's Notes PDF file
Spelling and the Brain video seminar (link to stream it)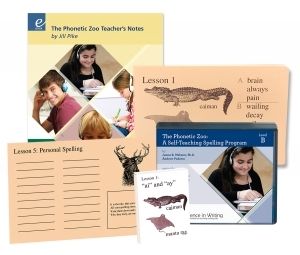 The 47 lesson cards are used with all three levels and are meant to be used by the parent to do a short lesson in advance of the student's first attempt to spell the lesson's words. What changes for each level is the complexity / sophistication of the words included for that particular rule. In other words, you will find shorter, more simplistic words in level A than what is found in levels B and C. IEW offers a placement test on the website to determine which level your student needs.
Zoo cards have illustrations that fit with the particular phonics rule. These can be used flashcard style as a reminder for the student. Alternatively, IEW provides a template for creating what I'd call a lapbook to house all the cards in a secure manner for the child the review as needed.
The Spelling and the Brain video seminar is a wonderful bonus included in the package. If you are unfamiliar with this style of teaching spelling and how the brain processes the approach, then you'll want to watch this before diving into the program. Even for those who are familiar with the concepts, it can be a great refresher.
The process is simple for this teacher guided program. At the start of a given lesson, the parent will use the lesson card to go over the particular phonic rule for the child. Using headphones to fully concentrate the audio tracks, the student sits with paper and pen at the ready to do their first pass through the spelling list. That first track has the words spoken for them to spell while the next track spells out each word for them to check their work. If they did not miss any words, then the next day will find them doing the next lesson. Missing any of the words means that the next day will have them repeating the process for the same lesson. Once they have achieved 100% for 2 days in a row, they are ready to move onto the next lesson.
The course does provide a lengthy final exam which pulls words from each phonetic rule. It is suggested that you spot check your child with words from each rule using the cards to help. A scoring guide helps you determine if their grade on the final has them ready to move into the next level or if they need to repeat certain lessons to solidify the rule and spelling words into their brain.
Here's a video of Andrew Pudea explaining how and why of Phonetic Zoo:
Our Thoughts on Phonetic Zoo for Spelling
While we had a focus on spelling in the elementary grades, once my boys have reached high school I let it come off the homeschool agenda. Seeing how they would backslide in competency when having to do a written response without the convenience of spell check in a word processor, I decided my 10th grader needed to have it added back into his school days. Doing so was not an easy task as he quickly sensed that it would be added into his English course for the year which meant another layer of work for him.
When I administered the placement test, I was a little surprised that it had him in level B rather than C (which is what I'd consider high school level.) That surprise was not long lasting as I recalled this is a child who struggled with spelling for years and would misspell words in writing that he got correct in his spelling work. So, I was confident that he was beginning in the right place (having seen a backslide in his ability during our break from formal spelling lessons) and I knew that the auditory approach would be a good fit for him.
We received both a CD set of the audio files and the ability to download them as mp3 files. Within the teacher's guide pdf there was a page to print for the student to record their spelling. For the review period, I was using this with my son. The upside for that printed piece of paper is that they can be kept separate so only a blank sheet is in front of them for the next day's work. While I know my boys do not make a conscious decision to cheat, I suspect that having a notebook with all previous work might prove a source of temptation if they are not working next to me. However, I am planning to give my printer a break and migrate to using a spiral notebook which can be numbered, can save me some money in the process, and helps to keep all of the work in one place.
R experienced a 'win' for the first lesson as he was able to get all of the words correct on the first pass. But, the next lesson stumped him and needed more than one pass through the cycle until he could accurately spell all of the words. He felt discouraged having to repeat the lesson over and over, but I did not let his dismay disturb me. I also pointed out to him that each lesson took him about 10 minutes on average to complete which is not a long time to spend on a skill that is necessary for good written communication. After all, you can not always run your writing through a spell checker before passing it along to someone!
I am now bringing my seventh grader on board with the program and really appreciate the downloaded mp3 files as each boy can load them onto their laptops and I don't have to witness any territorial attitudes about the CDs. And when they complete level B, I just need to purchase the audio component of level C for them to begin as the lesson cards and zoo cards can be used for all three levels. Thank you IEW for not only a great program which is simplistic in application, but also for considering families with multiple kids and ways to keep out of pocket costs down for the long haul!
What ways have you taught spelling in your home?
Is spelling a subject you've stopped formally teaching after elementary school?
Don't just take my word for how we found this to be. Visit the IEW Phonetic Zoo Review post on the Schoolhouse Review Crew website to see what other homeschooling parents thought about this and other self-paced courses.