As much as I love homeschooling my boys, I have reached the point where I enjoy 'outsourcing' some of their work. Online learning is one path that we have begun incorporating into our homeschool. This summer has seen my rising 9th grader and I working together on Veritas Press Self-Paced Omnibus I from the well known Christian Classical company, Veritas Press. All opinions are our own.
This review focused on Omnibus I Primary (history) with the option to add the Secondary component (literature) when purchasing from Veritas Press.
Learning Ancient History with Omnibus 1 Primary
Omnibus is a Latin term meaning "all-encompassing." Omnibus I Primary combines the disciplines of history, theology, and literature with it all being taught through a biblical, Christian worldview. Aside from a 'textbook' with essays on each major topic area, the student reads additional literature selections to provide a well-rounded look at each period of history.
Veritas Press has had their multi-year Omnibus series available in book format for a while now and it has proven quite popular within the homeschooling community for those looking for a Classical Christian approach to education.
Now they have released it as an online learning experience with the option to work at your own pace (hence the name self-paced) rather than with fixed class times. Omnibus 1, the level we reviewed, is geared for students in grades 7 and up and covers history from Creation through the fall of Rome.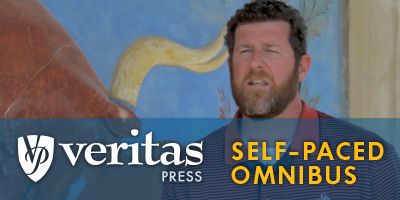 Both the home educator and the student have an account. However, the materials are only accessible through the student account.
Each lesson of the course features video presentations by the lead instructor, Bruce Etter. He also draws from numerous experts on the subject area being presented. The video lessons lead the student through the course with an emphasis on ideas rather than information.
Beyond the video presentations, there are activities woven into the program which help to bring the ideas to life. What they are learning is assessed through online quizzes with the program keeping track of their scores. Each essay from the Omnibus print book is provided as a pdf file to download as it is needed for the course.
The self-paced course requires a decent internet speed for the videos to play well. Sample videos on the site should give you an indication of whether your connection will work. Additional materials needed to complete the class are purchased separately. And, there is the option to add on the complete Omnibus 1 ebook at a discount.
Our Experience with Learning Ancient History with Omnibus 1
R has rather mixed feelings about doing schoolwork during late May and June while his younger brother was enjoying his summer break. So, I ended up working alongside him for this class.
Unlike their textbook, the self-paced Omnibus has you working in sequence rather than being able to jump around as desired. That meant starting with Genesis and working through Exodus before we reached the first ancient history selection, Gilgamesh (which we'll be doing this coming week as R has been away at summer camp.)
I really like a lot about the format of the course. The student is still reading both the Omnibus essays (in electronic format ~ we moved the files to the iPad for portable reading) and the primary sources (e.g. The Bible and literature selections for the time period being studied.) While the print version has students work through discussion questions, the online video presentations and activities tackle this aspect rather well.
Grades from the first attempt of the online quizzes are tracked for you. There is the ability to see for each question what the student answered and what the correct answer was. All of the prep and grading work is done for the homeschool parent (unless you elect to add onto the work with papers, etc.) That is a HUGE time saver in my book.
As for the content, I was really fascinated by many of the video presentations, especially those with 'experts' in the field. I learned a TON in one of the early segments where an expert walks you through the Sistine Chapel and many of the paintings found on the ceiling. Plus, I really appreciated hearing from 3 different individuals their reasoning for why they believe what they believe when it comes to reading The Bible literally or not. There is even a walk through a recreated tabernacle as laid out in detail in the Book of Exodus.
A Few Words of Caution Regarding Veritas Press and Omnibus
This company and their products are Protestant. Their theological viewpoints are considered reformed in nature. That includes the Sola Scriptura–Scripture alone stance which is contrary to Catholic teaching.
I take the approach of exposing my boys to a variety of viewpoints and finding teaching moments to then discuss what the Catholic Church teaches. Not everyone wants that approach nor has the time to sit alongside a child to counter viewpoints different from your own as they arise. However, I find it to be a rich learning environment for not only my sons but myself.
Another area of concern for some parents is the inclusion of reading selections which are sexual in nature. All instances of these are addressed in a parent advisory letter. Personally, I am glad to see them recognizing a child of this age perfectly capable of reading sections of the Bible showing less than virtuous behavior, whether sexual or violent in nature.
How do you approach history with your children?
Do your children prefer to just read a textbook and regurgitate information or read more primary sources and process information into ideas?
Don't just take my word for how we found this online program to be. Visit the Veritas Press post on the Schoolhouse Review Crew website to see what other homeschooling parents thought about this and other self-paced courses.

This post was originally published on Jun 27, 2014 and has been updated.
More History Curriculum Reviews
Below are links to other history programs we have used and reviewed here on Day by Day in Our World.
They are all for middle into high school.
Christian History Studies with Memoria Press
Middle Ages Made Easy with Veritas Press History Omnibus II
History and Science for High School | Stress Free Teaching
Ancient Rome History Made Easy with Classical Education Approach
America the Beautiful from Notgrass Company: Interesting History for Homeschoolers (Middle School)