I have been, or can be if you click on a link and make a purchase, compensated via a cash payment, gift, or something else of value for writing this post. Regardless, I only recommend products or services I use personally and believe will be good for my readers.
Summertime is now in full swing with Memorial Day behind us. Kids are out of school in most parts of the United States. And warmer weather means more picnics and potlucks. Dessert is a MUST for those gatherings and this fluffy Chocolate Orange Cake would be perfect for those summertime gatherings.
Here in Alaska, summertime is full of outings with family and friends. Our parish hosts potluck style picnics for Memorial Day, 4th of July and Labor Day. It's always fun to bring something different when I can and this cake very well might be headed to either the 4th of July picnic or the special Father's Day one where we celebrate the one year anniversary for our associate pastor and deacon's ordinations.
I've long enjoyed the way orange compliments good chocolate. Those chocolate oranges are a staple for stocking stuffers in our family. Now we can enjoy the meld of flavors in a cake!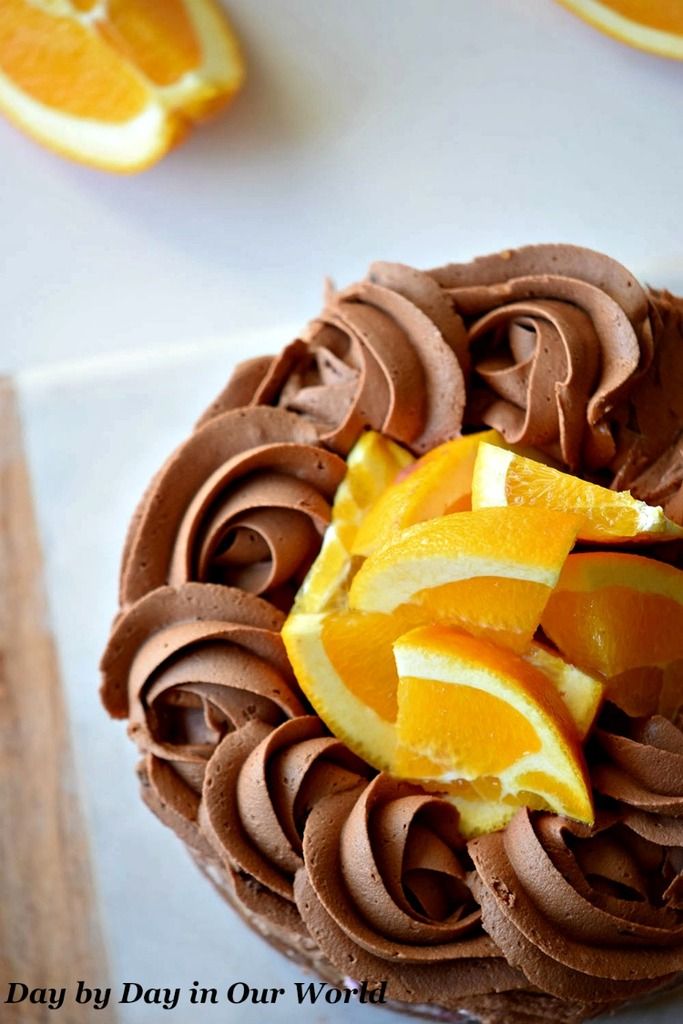 For those who are not averse to using essential oils in their baking, I know that a single drop or maybe 2 of orange essential oil will really help the cake pop. (I highly recommend Young Living Essential Oils & am happy to chat with people about why I work with that particular company! Just send me a message.)
How to Make Chocolate Orange Cake
Make sure you have the 2 round cake pans to bake this layered cake.
Yield: 10
Blissful Chocolate Orange Cake for Summertime Gatherings
Prep Time: 20 minutes

Cook Time: 30 minutes

Total Time: 50 minutes
Ingredients
1/4 Cup butter
1/2 Cup sugar
1 Egg
3/4 Cup flour
1/4 Cup cocoa powder
1/4 Cup milk
1/8 Cup Orange juice
1 Tsp baking powder
For the Frosting
1 3/4 Cups confectioner's sugar
1/2 Cup butter
1/4 Cup cocoa powder
For the Topping
2 Sliced oranges
Instructions
Preheat the oven to 350 degrees F.

In a bowl cream the butter and sugar. Beat in the egg. Then, incorporate the flour, cocoa powder, milk, orange juice, and baking powder. Mix for 3- 5 minutes until there are no lumps in the batter.

Pour the batter into a greased a cake pan.

Take to the oven and bake for 30 minutes or until done.

Make the frosting while the cake still in the oven: place the confectioner's sugar, butter, and cocoa powder in a bowl and mix for 3-5 minutes or until light and fluffy.

Take the cake out of the oven and let it cool down for 15 minutes

Then remove the cake from the cake pan and let it cool for 20 minutes.

Serve, decorate with the frosting, top with the orange slices, and enjoy.

Notes
Double the amount of orange juice to get a stronger fruity flavor. If you are open to using orange essential oil, a single drop will help it really pop!

Top with chunks of extra dark chocolate to get a deeper flavor.



What summertime gathering would you bring this cake to?
Do you love the way chocolate and orange complement each other?
This post was originally published on Jun 4, 2016.
Other Summertime Recipe Suggestions
Looking for other things to make? Here are a few suggestions for summertime gatherings:
Broccoli Bacon Salad with Toasted Pumpkin Seeds