I have been, or can be if you click on a link and make a purchase, compensated via a cash payment, gift, or something else of value for writing this post. Regardless, I only recommend products or services I use personally and believe will be good for my readers.
Helping facilitate the boys in learning a foreign language has been something I struggle with in our homeschool. It has been years since I took Spanish in high school and only little bits and pieces remain in my memory. So, I am constantly looking at what resources are available for home school students to help him learn. While we had dabbled a little with Mango Languages through our local library, I was excited to have the opportunity for our family to review their new Mango Homeschool Edition.
.
What is Mango Homeschool Edition?

Mango Languages is an online program which you can subscribe to for access. The language is learned through repetitive conversation exposure. As the program uses print and audio involved, a younger student could work through the material with assistance (ages 6 through adult.)
Right now, you can get introductory pricing for Mango Homeschool Edition:
1 subscription is $18/month or $125/year total
2 subscriptions is $28/month or $175 /year total
3 subscriptions is $38/month or $225/year total
4 subscriptions is $48/month or $275/year total
5 subscriptions is $58/month or $325/year total
Anything over 6 subscriptions is a special group rate that will depend on the number in the group.
For this review, we were working with Mango in a beta form.
What is currently available on the site:
Over 60 different languages
Progress Assessments
Built-in journals, discussions and wikis
Collaborative learning spaces
eNote messaging /chat rooms
Access to embedded/downloadable content
Support from other community members
Calendars to schedule meetings or study groups
Over the next several months, they will be introducing other exciting features like:
Enhanced Tracking and Progress Monitoring – including seat time (for students and parents)
Goals and Personal Lesson Plans (both stand-alone and tied into Mango courses)
Resume and Portfolio Builder
From the screenshot of their different 'clubs,' you can see that Mango Homeschool Edition offers quite a variety of languages for study. You have to join the club for each language you'd like to learn in order to access the portal.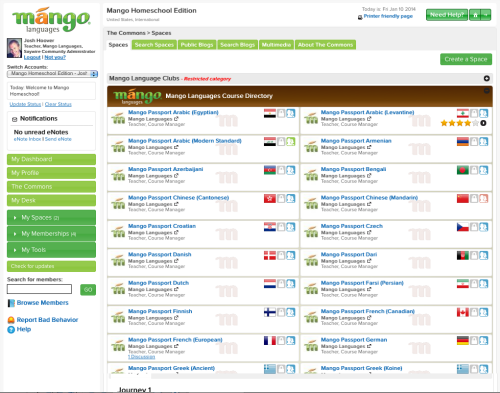 Once you have joined the club for a particular language, you can access the actual online work through that club's page. For some of the more common language choices (e.g. French and Spanish), there are files available for download which contain the transcripts for each section of the journeys.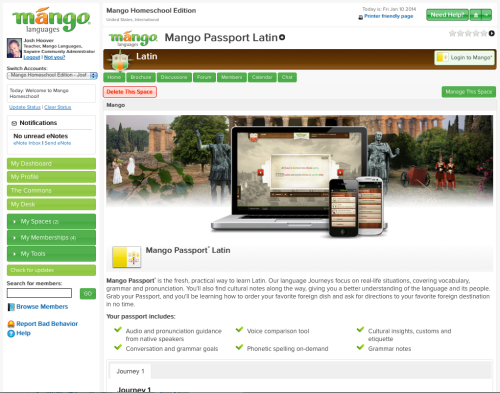 Our Thoughts about Mango Homeschool Edition
As I mentioned, we had dabbled a bit with the version available through our library. So, I was curious how this might compare and what features would make it be a better fit for a homeschooling family. In the beta format we have been using, Mango Homeschool Edition seemed to have very few selling points over the library program. However, coupled with upcoming features it will definitely be something more unique for a homeschool family. For this review, we approached it with Mango being a supplement to other learning for my high school student. The other family members could pick and just have fun exploring.
One of the existing features I do like is that I can link all of the student accounts to my parent account and then log in as the students. That way I can quickly check on their progress through the material by seeing where they last exited the program. And, there is no need for me to remember everyone's log in information to do it!
Another feature that I really appreciated was the downloadable files containing the transcripts of each lesson. This makes it easy to have a child create vocabulary flash cards and for verbal review with a parent. I also used the transcripts to then make comparisons to what my eldest son is learning in his main Spanish program. There was an option to take a placement test when beginning the language,which my eldest son did. He ended up being placed at the beginning as the order of vocabulary learned is different from his other materials.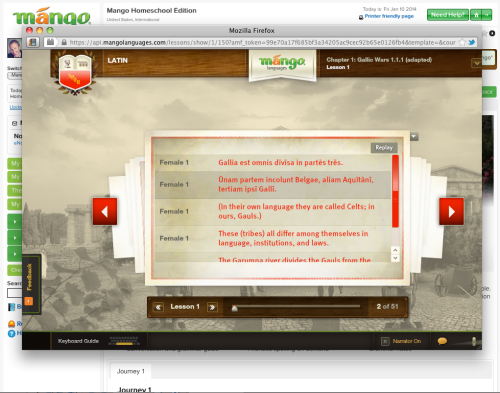 The actual learning component with the repetitive conversations seems to be the same as the library edition we had looked at in the past. There is the opportunity to listen to phrases again if you are not 100% certain about pronunciation. And, in the homeschool edition they have quizzes built into the lesson progression (end of chapters) to assess what you are remembering. Without those check points, it could be very easy for a less motivated individual to quickly skim through lessons and promptly forget what they have 'learned'.
I am looking forward to seeing the new features as they roll out in the homeschool edition. This is especially true for the tracking and progress monitoring as our charter school requires grade submission and it would make it easier for me as the home school parent to not go hunting or relying upon a child to record what they have done. (I do have the eldest son taking snapshots of quiz results, though.)
Don't just take my word for it! Visit the Mango Languages page to see what other reviewers had to say.
What approach have you taken to helping a child learn a foreign language?
Do you speak multiple languages and if so, which ones?