I have been, or can be if you click on a link and make a purchase, compensated via a cash payment, gift, or something else of value for writing this post. Regardless, I only recommend products or services I use personally and believe will be good for my readers.
Time passes so quickly. Spring is here and Mother's Day is upon us. If you haven't quite finalized what you'll be doing to honor your mother or other mothers in your life, then maybe you can find a few great last minute ideas for Mother's Day in this "round up" style post.
Crafty Last Minute Ideas for Mother's Day
Young children love to make things for their family members and mom is no exception! Check out these great ideas for young and not so young children.
Pull out the finger paint and let the kids get a little messy as they create a one of a kind masterpiece which captures a part of them with Handprint Flower For Kids(from Just 2 Sisters) or Fingerprint Flower (from Money Saving Michele).

I love this crafty card for Mom using celery to create the image as featured on Confessions of an Overworked Mom.

Stacie at Simply Stacie featured a neat Family Photo Tree Craft that would make pretty much any mother smile. She also has a great listing of Mother's Day printables found online.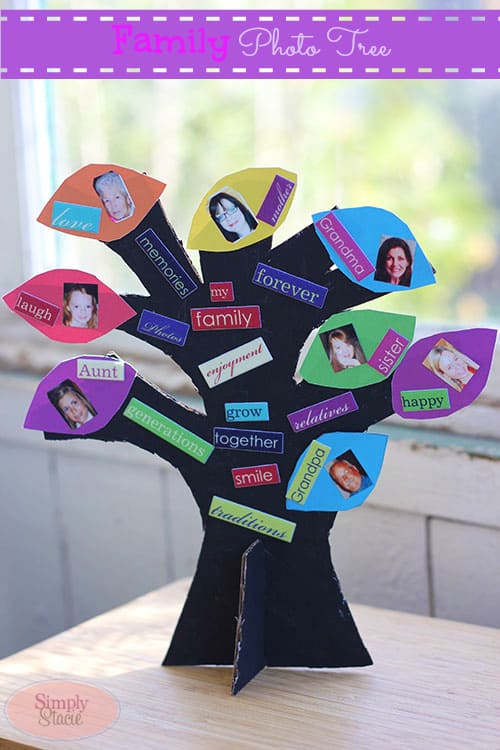 If you have a color printer and frame handy, then you might love one of the Mother's Day Subway Printscreated by Kimberly at Saving More than Me to gift the mother in your life.

You can always run to the local store and pick up a beautiful flower arrangement or plant. Why not make it a bit more personal as shown in this Mother's Day Crafts for Kids Garden Planter shown over at Sassy Girlz? I know that I would cherish the planter for many years to come, regardless of how 'perfect' or 'not so perfect' it was.
Tasty Last Minute Ideas for Mother's Day
Spoiling is something that should happen on Mother's Day. As much as I try to eat super healthy and keep my sweet tooth in check, I would not be one to turn down a tasty treat prepared by the boys for me.
Ellen over at Confessions of an Overworked Mom has a great looking idea for brunch ~Breakfast Bread Pudding with Praline Topping! I can almost taste it just from reading the ingredients and would love something different for brunch.
Does your mom love coffee or maybe a great cup of tea? Pair it with a tasty dessert whether a scone, a few cookies, or a decadent slice of cheesecake. (Okay, I go for a half slice of cheesecake to keep the calories down. But, a little does go a LONG way!) Jennifer at 1 heart, 1 family showcased Chocolate Cranberry Muffins which look simply scrumptious.
I've taken to making my own 'fancy' coffee drinks at home. I do have an espresso machine, but you can modify the following recipe for Salted Caramel Mocha using regular coffee. Of course, in a pinch, you can visit a local coffee house to pick up mom's favorite drink. But, why not try your hand at making one at home!
Salted Caramel Mocha
Yield: 1
Salted Caramel Mocha
Prep Time: 2 minutes

Cook Time: 3 minutes

Total Time: 5 minutes
Ingredients
Double Shot Espresso
2/3 to 1 cup milk
1 Tbsp cocoa powder
1 shot caramel syrup
whipped cream
caramel syrup
Coarse sea salt
Instructions
Prepare a double shot serving of espresso. While this is brewing, mix together the cocoa powder and caramel syrup in the bottom of the serving mug. Add the hot espresso. Heat the milk (either in the microwave to warm or using the frothing attachment of an espresso machine.) Add warmed milk to the serving mug. Top with whipped cream. Garnish the whipped cream with caramel syrup and finish with a small amount of coarse sea salt.
Notes
If you do not have an espresso machine, you can make a small batch of very strong coffee in a press or coffee pot. Alternatively, you can find instant espresso in some grocery stores. The mug I used for these photos is BIG and uses approximately 2/3 to 1 cup of espresso with a similar amount of milk. I found the caramel syrup at a local store, but have not seen it on the shelf recently. I'm investigating how to make it myself. That being said, this particular recipe is quite tasty skipping that garnish and using a chocolate whipped cream instead or regular.
Nutrition Information:

Amount Per Serving: Calories: 116 Total Fat: 6g Carbohydrates: 10g Protein: 7g
What are YOU planning to do for Mother's Day this year?