I have been, or can be if you click on a link and make a purchase, compensated via a cash payment, gift, or something else of value for writing this post. Regardless, I only recommend products or services I use personally and believe will be good for my readers.
We've used a LOT of writing programs over the years of homeschooling. Sometimes the novelty of a new program helped a child get over their fear of writing. However, the novelty wears off and we are left seeking the next best thing to use. After a recent co-operative experience for my younger boys, I was thrilled to have the opportunity to review Institute for Excellence in Writing 's Teaching Writing with Structure and Style Set (TWSS) and Student Writing Intensive Level C Set (SWI) with my high school student.
About Institute for Excelling in Writing & Their Student Writing Intensive Series
For this review, I received the Teaching Writing/ Student Writing value package for Level C (high school) with a retail value of $249.

The Teaching Writing: Structure and Style DVD Seminar is geared for educators, whether homeschool or classroom based. On the DVDs, Andrew Pudewa presents his more condensed version of Dr. Webster's teachings on structure and style in composition as recorded in a live seminar session. Beyond his 'lecturing' on the individual topics, the educator is encouraged to walk through examples of each step.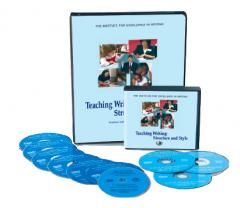 There is a grand total of 10 DVDs in this seminar package. Six of them contain the nine structural models and multiple stylistic techniques with a total viewing time of approximately 10 hours. Right behind the seminar discs, there is a 2-hour 'refresher' seminar titled Tips & Tricks for Teaching Through the Nine Units followed by three discs of student workshops to help with implementation. The final piece of the package is the TWSS Seminar Workbook, which serves as the syllabus for the seminar and contains charts, word lists, sample lesson plans, and more. On its own, the Teaching Writing: Structure and Style DVD Seminar package sells for $169.00.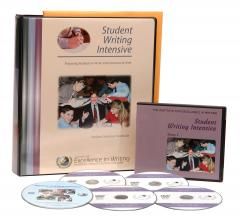 Student Writing Intensive comes in three levels to cover from grades 3 through 12 and provides the ability for students to learn directly from Andrew as he taught the material to a live class. Level A is suggested for grades 3 to 5. Level B is suggested for grades 6 to 8. And, Level C is for high school students.
While some of the topics presented for educators in the Teaching Writing: Structure and Style Seminar are covered in all three levels, some are reserved for the older student. Along with the DVD courses, the set includes a student notebook containing student handouts, a student binder, and daily lesson suggestions for the teacher/parent. On its own, the Student Writing Intensive package sells for $109.
Experiencing High School Writing with Student Writing Intensive in Our Home
While my high school student is not the same boy who would be reduced to tears over writing, he still has a lot of room for improvement. We had tried working through Student Writing Intensive Level A several years ago with his younger brother. He was doing okay with some aspects of it (e.g. keyword outlines) but hit a stumbling block with later units. When the younger brother started melting down over doing the work, I set it aside rather than keep the eldest son on task. I share this in part to say that my 'reviewer' was not completely unfamiliar with the material or Andrew's presentation style.
Fast forwarding 3 years, I presented him with a schedule of lessons for him to complete. He tried to jump to the lesson without watching the video segment. Although his argument that he's seen similar material might have held some weight, I told him to watch the segments as the manner and examples Andrew uses change with the different levels. And, some of the dress ups are introduced more quickly in this upper level. I think he was a little surprised to find that even the work samples used are a bit more complex and require a bit more thought while working the process so you can limit the number of keywords used per sentence.
Now, my involvement in a cooperative learning environment for writing this spring using Level B of Student Writing Intensive helped prepare my mind a little bit in advance of doing this review. However, we only got through about half of the lessons during that time. And, I was trying to reference an older edition of Teaching Writing: Structure and Style which was obtained from a 'retired' homeschooler several years ago. Some pages from the notebook were missing and for whatever reason I never got past watching disc 2. Being part of the Schoolhouse Review Crew group reviewing this incredible bundle forced me to make the time to keep watching the seminar DVDs. And, in the process, I started having more of my 'ah – ha!' moments as things began to click. I'm sure having a completely revamped and pretty notebook to reference helped as well.
As nice as the teacher seminar is to give you the background, the daily lesson suggestions for the teacher/parent is incredibly helpful. You can see the notes from the video lesson in print format and for some lessons there are suggested outlines or approaches to take. There's even a suggested schedule for either 15 or 30 weeks depending on how intense you want the experience to be. (P has been following the 30-week schedule for this review.) IEW does not leave you hanging when it comes to teaching writing IF you use the tools provided.
All of that is to say that using BOTH of these products to teach writing provides an incredibly powerful program in the homeschool. Rather than giving the student an assignment to write without many directions, this program arms both the educator and student with models and structure for how to approach writing. P has not gotten far enough into the program to start doing report and essay writing. However, I am so looking forward to his reaching that point so that even his essay question responses on science tests might better reflect what he knows with detail to support any argument he might be making. College will be here soon enough and I know that he needs this crucial skill in place by then!
For a homeschool parent who is considering using materials from IEW and simultaneously worried about how well they can implement it, I'd highly recommend partnering with another homeschool family. I had been watching the lower level of SWI sit on the shelf collecting dust thinking I'd failed at teaching with it. Joining with a few other homeschool families and supporting each other as we taught kids in grades 3 through 7 in two distinct groups that gave me my conviction that the IEW program was a good route to take. However, it is adding on the use of the teacher seminars that has really bolstered my confidence in being able to teach writing in my homeschool.