I have been, or can be if you click on a link and make a purchase, compensated via a cash payment, gift, or something else of value for writing this post. Regardless, I only recommend products or services I use personally and believe will be good for my readers.
This post on social and emotional learning is made possible from our review of Happy Kids Songs. Our family was sent the Happy Kids Songs Workbook: Hands-on Activities to Build Character, Social & Emotional Skills (paperback, $12.56) as well as digital downloads of Friends & Sharing (Set 1) , Happiness & Attitude (Set 5), and Manners & Character (Set 6). Each set of digital downloads is $4.95.
Educators have known for years that using music to teach can really help in the long run. Set something to a catchy tune and you'll find people remembering that information many years later. You might have to 'sing' the little ditty in your head or out loud. But, you'll have better luck accessing the information.
The "ABC song" set to the same tune as "Twinkle, Twinkle, Little Star" is a prime example. I've seen adults and kids alike humming the tune or muttering the words under their breath as they try to recall which letter is next in the alphabet.
About Happy Kids Songs for Early Elementary Learning
Happy Kids Songs is a company that takes the same approach by setting information to music which will appeal to many different kids. Their products are primarily produced forages 3-8, but children ages 0-9 are likely to enjoy this. The goal is to teach character, social and emotional skills that will help children develop into well mannered members of society.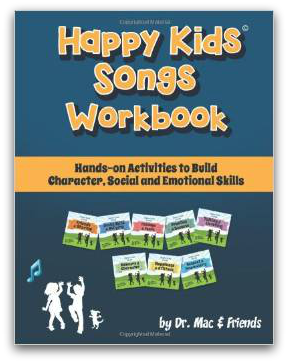 The Happy Kids Songs Workbook: Hands-on Activities to Build Character, Social and Emotional Skills contains 125 pages filled with activities and lyric pages for all 40 songs available from Happy Kids Songs. Some of the activity pages are coloring pages while others do have more of an activity focus.
There are also lessons for teachers or parents to use with their children that reinforce the material presented in each song.
Each set has an overall theme with each song addressing a particular aspect of life in society. They address basic behaviors which children might be struggling with as they mature, but with the use of music it is made a little more fun. The song titles and their particular theme for the sets we received are below.
Friends & Sharing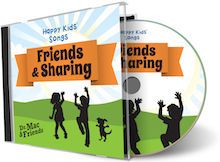 Sailing on the Seven Cs : Ingredients of friendship
Everybody Wants to Find a Friend: Reaching out to others
Sharing Friends: Including others in play
Happy as Happy Can Be: Being happy with a friend
Together: Sharing time/saying goodbye
Happiness & Attitude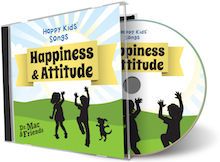 Shake It Out and Dance: From "I can't" to "I can"
Who Knows What's a Kudo?: Giving compliments
I Don't Understand: Handling limitations
Be Good to Yourself: Pathways to happiness
Better Together: Being together and apart
Manners & Character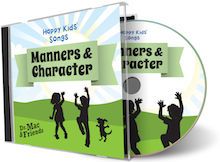 H-o-n-e-s-t-y: The value of honesty
The Magic Word: Learning manners
Quirks: Appreciating differences
The Golden Rule: Consideration for others
Six Little Kids: Honoring other perspectives
Our Experience with Happy Kids Songs for Early Elementary Learning
Well, music is one of those things that can be a little subjective. Everyone has their own personal preferences and tastes for different musical style. Thankfully, Happy Kids Songs does not lock into just ONE style of music for their selections.
We went through each set in different settings. The very first song we heard was Sailing on the Seven Cs from the Friends and Sharing set. Neither of us really loved it. And, that initial pulling back by J made him less enthusiastic to hear other songs. Thankfully, the style of the music used is what had not agreed with him from that particular selection and others did NOT repeat with the same style.
Are these songs that he's already singing to himself? No.
Are they presenting a lot of great information to help him prepare for living amid people? Absolutely!
I am planning to continue integrating these selections as we go into his final year of preschool learning. Thankfully, the paperback workbook provides the ability to copy pages so we can 'redo' them later. And, I can put the mp3 files onto the iPad for travel or create a 'music' CD for him to use while doing errands.
As sampling is always great, you can check out a video of the song "Together" from the Friends and Sharing album.
Do you use music to help with educating your children?
What is an 'educational' song that you recall from your childhood?
Don't just take my word for how we found this to be. Visit the Happy Kids Songs post on the Schoolhouse Review Crew website to see what other homeschooling parents thought about this and other self-paced courses.