I have been, or can be if you click on a link and make a purchase, compensated via a cash payment, gift, or something else of value for writing this post. Regardless, I only recommend products or services I use personally and believe will be good for my readers.
Get Math Help on Your Schedule with CTCMath for review as part of the Homeschool Review Crew. We received a family Membership and homeschoolers can get a free trial.
I am thrilled to be sharing about one of my favorite online math resources, CTCMath. All of my boys have used them at different points in time for math help.
Math Help from CTCMath
CTCMath is a tried and true program which provides math help for grades K through 12. For K through 8th grade, it can be used as a full curriculum. For high school, they consider the program to be more supplemental.
As an online subscription service, a student accesses the program when it fits their schedule. You just need an internet connection and web browser to use it.

Within each grade level (or course if you are in high school), you can select topics to practice. Within each topic are lessons which cover the material.
The program has multiple facets to it. So there are plenty of opportunities for a student to learn and practice.
How Students Receive Math Help
Students first are brought to a tutorial video that explains the information. Typically the tutorial plays for 4 to 9 minutes.
On that same page is a pdf file summarizing what is presented in the video. You can open it in a new page or download for future reference.
After watching the video, students are given the opportunity to work through questions to assess learning of the concept.
These are interactive in that each answer is immediately graded. If it is correct, they see a green checkmark. Otherwise, they see a red x along with what the correct answer is.
For upper-grade levels, there is the ability to print worksheets for additional practice off the computer.
Finally, each larger section has diagnostic assessments. If a student feels they already know the topics, they can do the assessment to show command of the knowledge and skills.
Like the interactive questions for each lesson, each question of the diagnostic assessments is graded as you go through the test.
Parental Access to CTCMath
Parents receive their own master account with CTCMath. On their main dashboard, you access all associated students. In the tools section, parents can browse through the curriculum, print checklists to keep track offline of what is done and export some of the data tracking your students.
If you want to direct the path your student takes, you can assign specific sections or diagnostic tests with a due date. This is done under the tasks tab of the parent dashboard.
Reporting is available in multiple formats when viewing each student profile. You can see what areas have been completed along with a bar tracking how well they have done (as a percentage.)
Additionally, you see the dates they've logged into the system and what areas they worked on during those times.
By clicking from your dashboard, you can also log into your student's account. This is a great feature for the younger student who may struggle with remembering login information.
For a limited time, you can save 60% off & receive 6 months free. Just sign up by November 15, 2017.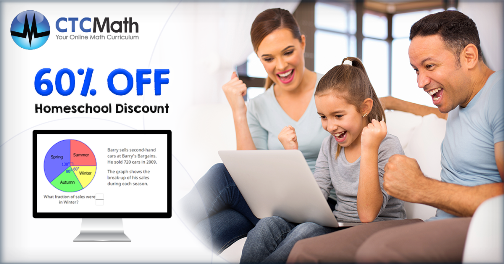 Accessing CTCMath for Math Help in Our Home
For this review, I assigned diagnostic tests to each of the boys. I soon found it to be a mistake on my part as they dreaded the idea of testing only. As the parent, I wanted to see where the holes were off the bat. But, seeing something unfamiliar on a test was not the best approach for them to build confidence.
The way CTCMath is most effective in our house is if the boys log into their account with me present. Then I can guide them to the area that should be explored. Otherwise, I have found certain boys picking a level far below them to get high marks easily.
For my auditory learner, watching the video is helpful. My other boys scan the pdf file and jump right into the questions.
While this program is not meant to be a full math curriculum for high school, it does provide a substantial amount of practice on the key concepts and skills. I find it to be a great way for the boys to review before standardized tests, too.
For the high school courses, working the problems on scratch paper is helpful. Multiple choice formats appear easy. However, mistakes happen if doing it all in your head. I spent time refreshing my algebra and found a few missed problems were from simple mistakes.
In Algebra II, there is a part of polynomials where you enter in the result using an embedded keypad. While the problem was correct on my paper, I accidentally hit a – sign when it was supposed to be a + sign. It took me a minute to see why I got the problem wrong. This experience had me remind the boys to double check before submitting (whether it is on CTCMath or on paper to me.)
See for Yourself in a Video Walkthrough by CTCMath
How do you approach math in your home?
Would this resource be great for someone in your family?
Don't just take my word for how we found this to be. Visit CTCMath review post on the Homeschool Review Crew website to see what other homeschooling parents thought about this book.