I have been, or can be if you click on a link and make a purchase, compensated via a cash payment, gift, or something else of value for writing this post. Regardless, I only recommend products or services I use personally and believe will be good for my readers.
Our family adores pretty much any Disney film we've watched. They just have a knack for great storylines and the entire production process is top notch. I have a blast viewing older Disney films with my youngest son (e.g. Chicken Little this past week.) But, what I find even better is finding ways to engage the boys beyond a more passive act of watching a show. Hence, my excitement about their ability to experience drawing fun and more activities from Disney's Zootopia movie which hit theaters on March 4, 2016.
About Zootopia
The modern mammal metropolis of Zootopia is a city like no other.
Comprised of habitat neighborhoods like ritzy Sahara Square and frigid Tundratown, it's a melting pot where animals from every environment live together—a place where no matter what you are, from the biggest elephant to the smallest shrew, you can be anything.
But when optimistic Officer Judy Hopps (voice of Ginnifer Goodwin) arrives, she discovers that being the first bunny on a police force of big, tough animals isn't so easy. Determined to prove herself, she jumps at the opportunity to crack a case, even if it means partnering with a fast-talking, scam-artist fox, Nick Wilde (voice of Jason Bateman), to solve the mystery. Walt Disney Animation Studios'
"Zootopia," a comedy-adventure directed by Byron Howard ("Tangled," "Bolt") and Rich Moore ("Wreck-It Ralph," "The Simpsons") and co-directed by Jared Bush ("Penn Zero: Part-Time Hero"), opens in theaters on March 4, 2016.
Interesting trivia fact: There are 64 species in Zootopia.
Check out this trailer if you want to see snippets of the movie:
Watching these videos will help you and your family learn how to draw the characters of Judy Hopps and Flash from the film. A bonus for those of us who are home educators is that this can count as art!
How To Draw Judy Hopps from Disney's Zootopia:
How To Draw Flash from Disney's Zootopia:
More Activities for the Family from Disney's Zootopia
Clicking on the images below will take you to the documents for download.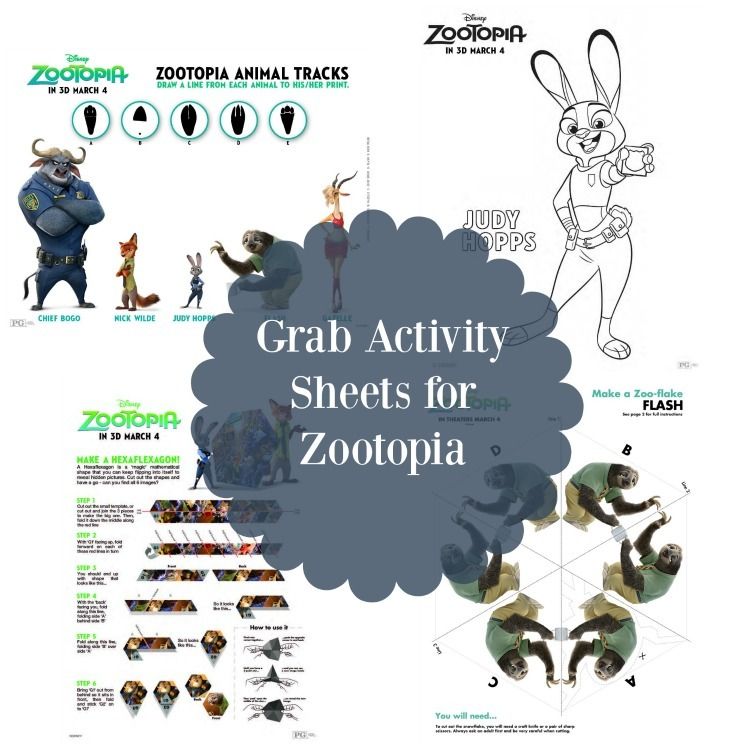 Which of the Zootopia characters do you find most appealing?
Who in your house is excited to see this new Disney movie?