I have been, or can be if you click on a link and make a purchase, compensated via a cash payment, gift, or something else of value for writing this post. Regardless, I only recommend products or services I use personally and believe will be good for my readers.
This post, 3 Ways To Encourage STEM Learning through Play, was made possible with products for review from Lakeshore Learning.
Whether it is in the media, through our school districts, or even just a discussion among parents, the issues of education and preparing our children for careers after high school is likely to come up. One of the topic points of discussion is often the need for more math,science and technology focus for the kids. Even with classes offered, it seems like those graduating fall short when comparing the United States to other countries.
Putting our heads in the sand will not make the need for improvement in these areas. Our lives are more high tech than they were even 20 years ago. Without a new wave of people trained in these fields, life could become interesting.
STEM (Science, Technology, Engineering and Math) is not a new area of emphasis. However, the number of fields in these areas has grown exponentially. Preparing kids for those subject areas is not something that starts in high school. Rather, you need to plant the seeds in early childhood and early elementary education.
The best way to get kids excited about STEM subjects is to encourage learning through play.
After all, play is how young children learn. It IS their work.
I have found that the negative attitudes towards these subjects did not come out of my older boys until they reached the textbook heavy learning stage. Then it was no longer fun, but rather a drudgery to endure.
With my youngest son, I am enjoying the opportunity to make subjects like math and science FUN for him.
3 Ways To Encourage STEM Learning through Play
#1 Math Skills Focused on The Value of Money
Part of the overall subject of math is the understanding of money. A child needs to know what values different coins and bills have. They need to then merge that knowledge with basic arithmetic to calculate the cost of things when shopping and how much change to expect.
I can just about guarantee we have all run into someone at a store who can not handle the simple act of determining change. Rather, many have gotten lazy with their reliance upon the cash register to figure it all out. While the prevalence of credit and debit cards has grown, there are still people paying with cash.
The Real-Working Cash Register we received allows a child to learn these basic skills. There is a built-in calculator and a digital display along with a cash drawer and spot to swipe the credit care. Using the keypad, kids can do all four basic math functions (add, subtract, multiply and divide) while they ring up their 'purchases.'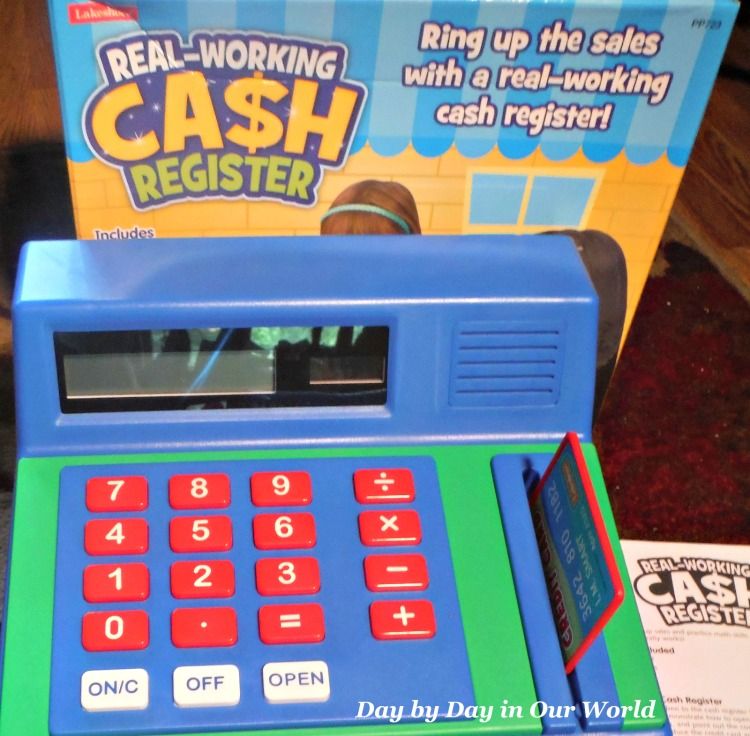 My youngest son has been begging lobbying for one of these registers over the past few years. He is not alone in his love of interacting with money, even if it is not real money. After all, he watches us make purchases at the store all the time and has made the connection that each item has a value. Additionally, he has seen us forgo a purchase because we also have to consider cash flow (how much money we have available.)
Can you tell he was excited to have it arrive in our home?
I will share that there is a little noise involved with this cash register. We've had to put it up at night so he doesn't wake his brother's super early ringing things up.
#2 Science: Physics and Motion
Ah, physics!  This is a particular branch of the physical sciences that most people love when the higher level math is left out.
Considering it is all about how things work in our world, what is there to NOT love? Each of my boys has gotten whisked away for hours tinkering to see how something works or how to put something back together.
With the Create-A-Chain Reaction STEM Kit – Gr. K-2, kids can set up their own 'course' for the balls to follow. Ramps, pendulums, hammers, a switch, a goal box and a few other pieces are included in the starter kit. The concepts they will be discovering include gravity, force, and momentum. There is a guide included to assist you and your child begin traveling the path of chain reaction fun.
It became quickly apparent to my son that this kit does not guarantee a perfect run straight out of the gate. Rather, the child needs to evaluate each test run. Then they can make adjustments in areas like placement, distance and angles of each piece to get the desired result.
I soon found that my 8th grader could not stay away and wanted to join in on the building fun. It has me thinking I should have gone with the kit for grades 3 to 5 and let them just have at it!
Trust me….this kit is like certain building blocks. Get a kit, set it out, and they will have a fun time without recognizing the learning behind it.
#3 Science: A Love of Chemistry!
Chemistry is another aspect of the physical sciences which some people shun as they age. I'm convinced it is the math more than seeing the really cool reactions.  And, that's not just the chemist in me talking!
Chemistry is such an underlying aspect of our lives. And, kids enjoy seeing things pop, fizzle, turn different colors and lots of other awesome experimentation.
The Young Scientist Chemistry Lab contains everything, except 2 AA-batteries for the enclosed black light, that you need for 6 experiments. Each experiment is colorfully laid out on laminated cards. The front side of the card shows all the items you'll need. And, then you open it up to see each step laid out for you.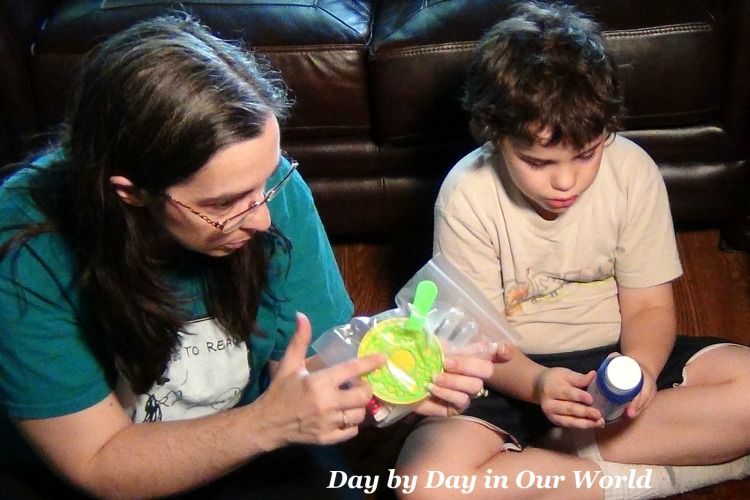 These experiments are easy enough for any parent to work alongside their child. No high-level science instruction is needed!
The bouncing bubbles was a real hit with J. I think he spent a good 30 to 45 minutes running around after the bubbles in our backyard.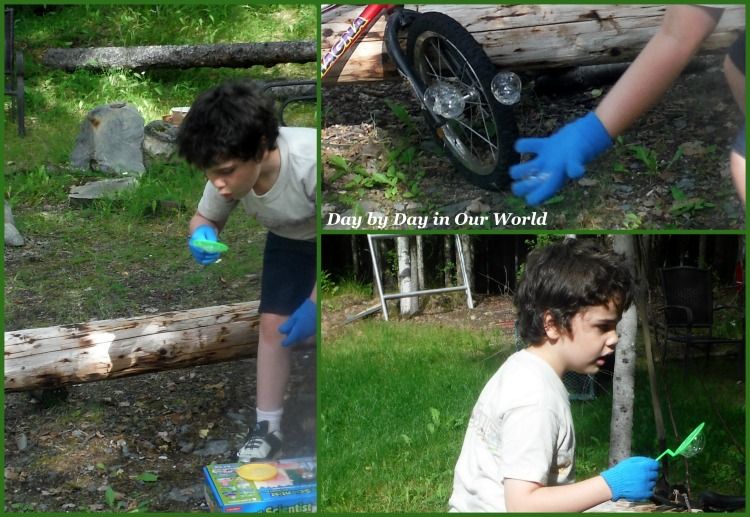 See the Excitement in this Unboxing Video!
For those that want to see more, check out our unboxing video along with a bit of the STEM learning through play fun my son has experienced.
We still have a few more weeks until school officially starts. I plan to have him keep going with these kits even after we are back to more formal learning.
Do you use kits like these to encourage STEM learning through play?
Which of these pieces do you think your kids would most love to use?