I have been, or can be if you click on a link and make a purchase, compensated via a cash payment, gift, or something else of value for writing this post. Regardless, I only recommend products or services I use personally and believe will be good for my readers.
For this year's Valentine's Day themed EntertainmentHOP, I thought it would be fun to showcase some of my favorite romance filled books I've reviewed in the past. During the last few years, I have slowed down on official book reviews here. But, there are quite a few from my first few years of active blogging. I hope you enjoy my 20 Favorite Clean Romance Books reviewed here at Day by Day in Our World!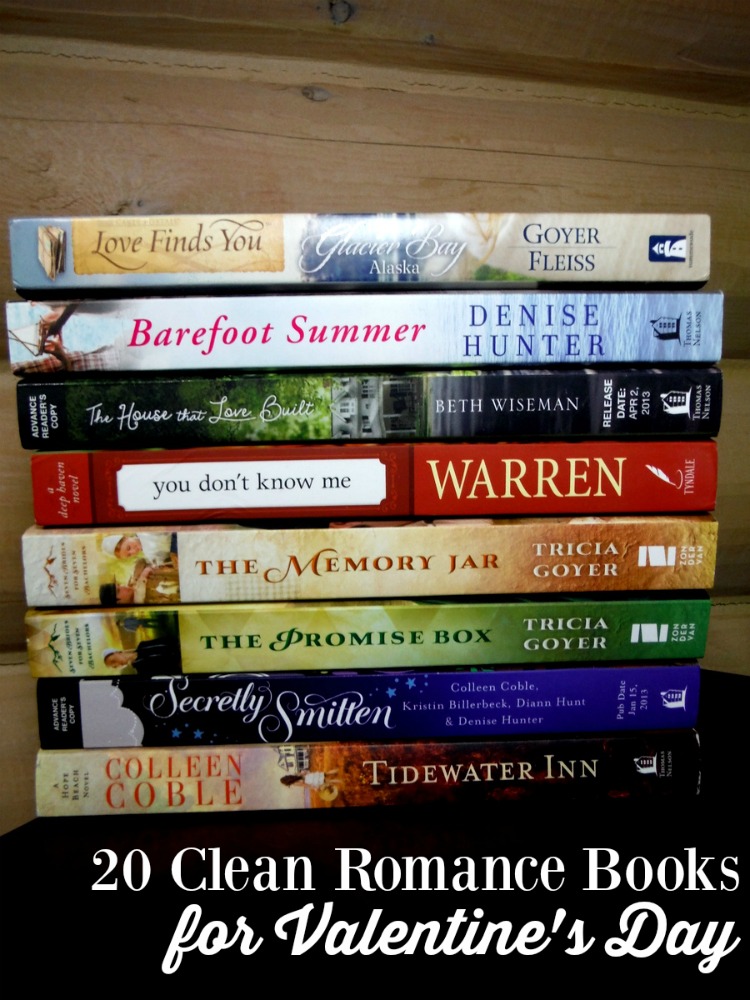 Note ~ I am adding links to my review post. If you are interested in purchasing any of the books (through my affiliate links), you can find all of these clean romance titles (and a few more) in my Amazon Store.
Several of the books I reviewed in the past came through publishing houses specifically for Christian literature. These books are ones that will not have anything racy in them. These are good clean romance books where you do not need to fear a child looking at the cover or reading a snippet from the book.
The Wedding Dress by Rachel Hauck
(review of the book)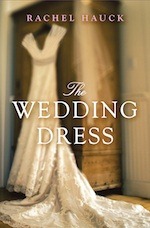 One dress. Four women. An amazing destiny.
Charlotte Malone is getting married. Yet all is not settled in the heart of Birmingham's chic bridal boutique owner. Charlotte can dress any bride to perfection – except herself. When she discovers a vintage mint-condition wedding gown in a battered old trunk, Charlotte embarks on a passionate journey to discover the women who wore the gown before her.
Emily in 1912. Mary in 1939. And Hillary in 1968. Each woman teaches Charlotte something about love in her own unique way. Woven within the threads of the beautiful hundred-year-old gown is the truth about Charlotte's heritage, the power of faith, and the beauty of finding true love.
Wish You Were Here by Beth Vogt
(read my review)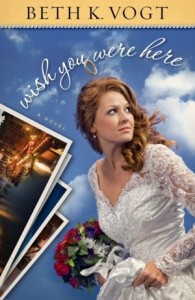 Allison Denman is supposed to get married in five days, but everything is all wrong. The huge wedding. The frothy dress. And the groom.
Still, kissing the groom's brother in an unguarded moment is decidedly not the right thing to do. How could she have made such a mistake? It seems Allison's life is nothing but mistakes at this point. And pulling a "Runaway Bride" complete with stealing, er, borrowing her best friend's car doesn't seem to solve her problems.
Can Allison find her way out of this mess? Maybe she just needs to stop orchestrating everything. Allison prefers being the one in control, and giving it up is not going to be easy. But to find her way again, she will have to believe that God has a plan for her and find the strength to let Him lead.
Blue Moon Promise by Colleen Coble
(read my review)
A love like Lucy and Nate's only comes along once in a blue moon . . .
Lucy Marsh's worldly resources are running out, but she's fiercely determined to care for her younger brother and sister. When she discovers that their father's recent death was no accident, Lucy is eager to leave town. She accepts a proxy marriage she believes will provide safe refuge. But trouble follows her to Texas where her new husband is surprised to suddenly have a wife and children to care for.
Nate Stanton always hoped he'd marry someday, but running the family ranch meant he had no time for romance. When his father deposits Lucy Marsh—a city girl—on his doorstep, with two siblings in the bargain, he expects ranch life will send her running on the first train out of town. But Lucy is made of tougher stuff than Nate imagined. When danger moves in, Nate finds he'd give anything to protect Lucy and the children he's grown to love. Even if it means giving up his ranch.
The Shadow of Your Smile by Susan May Warren
(read my review)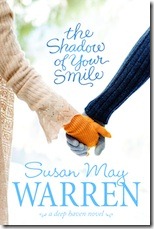 A beautiful blanket of snow may cover the quaint town of Deep Haven each winter, but it can't quite hide the wreckage of Noelle and Eli Hueston's marriage.
After twenty-five years, they're contemplating divorce . . . just as soon as their youngest son graduates from high school. But then an accident erases part of Noelle's memory. Though her other injuries are minor, she doesn't remember Eli, their children, or the tragedy that has ripped their family apart. What's more, Noelle is shocked that her life has turned out nothing like she dreamed it would. As she tries to regain her memory and slowly steps into her role as a wife and mother, Eli helps her readjust to daily life with sometimes-hilarious, sometimes-heartwarming results. But can she fall in love again with a man she can't remember?
Will their secrets destroy them . . . or has erasing the past given them a chance for a future?
A Cowboy's Touch by Denise Hunter
(read my review)

Wade's ranch home needs a woman's touch. Abigail's life needs a cowboy's touch.
Four years ago, rodeo celebrity Wade Ryan gave up his identity to protect his daughter. Now, settled on a ranch in Big Sky Country, he lives in obscurity, his heart guarded by a high, thick fence.
Abigail Jones isn't sure how she went from big-city columnist to small-town nanny, but her new charge is growing on her, to say nothing of her ruggedly handsome boss. Love blossoms between Abigail and Wade–despite her better judgment. Will the secrets she brought with her to Moose Creek, Montana separate her from the cowboy who finally captured her heart?
The Accidental Bride by Denise Hunter
(read my review)

Shay Brandenberger has built her entire life on the shifting sands of what others think. Constantly seeking the approval of others, she has struggled through a rocky childhood, a failed marriage and single parenthood. Now it looks like she's losing the ranch that has been in her family for three generations, a surefire way to mark her as a failure in the eyes of the community.
When Travis McCoy, the high school sweetheart who very publicly broke her heart fifteen years before, returns to Moose Creek, she is less than pleased. Not only does his re-appearance dredge up a deluge of painful memories, it also reminds everyone in town that it was he who left her, not the other way around. To make matters worse, Shay and Travis are unwittingly paired to play bride and groom in the annual Founder's Day wedding re-enactment where, much to her chagrin, she discovers he still has the power to take her breath away.
A Billion Reasons Why by Kristin Billerbeck
(read my review)

There are a billion reasons Kate should marry her current boyfriend.
Will she trade them all to be madly in love?
Katie McKenna leads a perfect life. Or so she thinks. She has a fulfilling job, a cute apartment, and a wedding to plan with her soon-to-be fiance, Dexter.
She can think of a billion reasons why she should marry Dexter…but nowhere on that list is love.
And then in walks Luc DeForges, her bold, breathtaking ex-boyfriend. Only now he's a millionaire. And he wants her to go home to New Orleans to sing for her childhood friend's wedding. As his date.
But Katie made up her mind about Luc eight years ago, when she fled their hometown after a very public breakup. Yet there's a magnetism between them she can't deny.
Katie thought her predictable relationship with Dexter would be the bedrock of a lasting, Christian marriage. But what if there's more? What if God's desire for her is a heart full of life? And what if that's what Luc has offered all along?
Hurricanes in Paradise by Denise Hildreth
(read my review)
When Riley Sinclair stepped into her new job as director of guest relations at a posh resort on Paradise Island, she felt the final pieces of her once-broken life coming together.
But the waters become choppy when Riley discovers that some who come to the Atlantis Hotel are accompanied by paralyzing secrets and overwhelming fears.
Riley and three guests are in desperate but unknowing need of each other, eventually forging unlikely yet powerful friendships. With a hurricane headed straight for the island, together they embark on a journey of laughter, heartache, and healing.
Barefoot Summer by Denise Hunter
(read my review)
Madison's heart has been closed for years. But one summer can change everything.
In the years since her twin brother's tragic drowning, Madison has struggled with her ability to trust God–or anyone else, for that matter. It was her brother's dream to win the annual River Sail Regatta in their small harbor town of Chapel Springs, Indiana. And Madison's determined to honor his legacy by making his dream her own. Maybe then she can finally find closure.
But learning to sail means learning to swim. And her instructor is Beckett O'Reilly, a man who already has two strikes against him in Madison's eyes. Being on the water terrifies Madison. But Beckett's calming presence and unwavering confidence eases her fear. And as much as she'd like to deny it, the chemistry between them is electrifying.
As her feelings for him grow, a fledging faith begins to take root in her soul, as well. With Beckett, Madison feels alive for the first time in years–carefree and confident she can win the regatta, maybe even find love.
But Beckett harbors a secret that will test the limits of their love and the depth of Madison's faith. Will their love survive summer's challenge? And will achieving her brother's dream give Madison the peace she desperately seeks?
The House That Love Built by Beth Wiseman
(read my review)

Brooke has only loved one man, her late husband. Owen's rebuilding after a painful divorce. Can a mysterious house bring them together for a second chance at love?
In the charming town of Smithville, Texas, Brooke Holloway is raising two young children on her own, supporting them by running the family hardware store. The last thing on her mind is falling in love. But she's intrigued when a stranger moves to town and buys the old Hadley mansion. She's always heard that house holds a secret-maybe even a treasure-and she can't wait to see inside. When she meets the new owner and they spend time together, she can't deny the attraction. Could God be giving her another chance at happiness? Or is she betraying her late husband's memory by even thinking that way?
Owen Saunders bought the Hadley place to spite his cheating ex-wife. She'd always wanted to restore an old house in Smithville. Now he's going to do it without her. But if anything needs restoration, it is Owen's heart. Then he meets Brooke and her kids and finds himself tempted by love. Can he bring himself to trust a woman again?
Throw an eccentric uncle into the mix, along with the town's teenage troublemaker, and even a finicky cat-and one thing becomes clear: God is bringing them all together for a reason.
Seven Brides for Seven Bachelors: The Memory Jar by Tricia Goyer
(read my review)
Every year, 30–40 young Amish men descend on the cozy little town of West Kootenai, Montana, arriving in the spring to live there for six months and receive 'resident' status for the hunting season in the fall. They arrive as bachelors, but go home with brides!
Sarah Shelter has lived in West Kootenai for the last ten years and wonders if she will ever fall in love. Since the tragic death of her best friend, she carries her memories in a jar along with the small items connected to them. For just as long, she's also been carrying around her emotions instead of allowing them to penetrate deep into her heart. Now she's met a kind and gentle man who may be able to break down the wall.
But can Sarah risk her heart to finally achieve her dreams?
Safe in His Arms by Colleen Coble
(read my review)
Born and raised on sprawling Texas land, Margaret O'Brien prides herself on her competence as a rancher. But her father believes she's made for more than just dawn-to-dusk work. He wants her to have the love of a good man, to raise children, to build a life. But Margaret gave up such dreams years ago. She's convinced no man would have her, that the ranch is her life now.
So when Margaret's father hires Daniel Cutler as a new foreman, she's frustrated and suspicious. Then an overheard conversation links him with a gang of bank robbers, and she's downright worried. Daniel swears he's not involved, but Margaret's not convinced. She knows the man still has secrets. But would a criminal be so kind and talk so convincingly of his faith? As a series of tragic "accidents" threatens all she holds dear, Margaret must decide what to trust: her own ears, her best judgment . . . or what her heart keeps telling her.
Secretly Smitten (4 authors!)
(read my review)
Summer, fall, winter, spring-Smitten, Vermont, is the place for love . . . and mystery!
There's a secret in Grandma Rose's attic-a forgotten set of dog tags belonging to her first love. But David Hutchins was killed in action and never returned to Smitten. How did the dog tags end up in the attic?
The mystery intrigues Rose's three granddaughters-Tess, Clare, and Zoe-and they decide to investigate, though their mother, Anna, warns against meddling. But as the seasons turn and the mystery unravels, the three young women and their mother encounter some intriguing mystery men of their own. Has a sixty-year-old puzzle sparked something new for this close-knit family of women?
Join popular romance novelists-and real-life BFFs-Colleen Coble, Kristin Billerbeck, Diann Hunt, and Denise Hunter for four delightful intertwined tales of mystery and sweet intrigue.
Love Finds You in Glacier Bay, Alaska by Tricia Goyer & Ocieanna Fleiss
(read my review)
Singer Ginny Marshall is one signature away from the recording contract of her dreams—a deal that would guarantee success for the former foster child, who still struggles to bury the memories of her painful childhood.
But Ginny needs advice from the one person who will look out for her best interests—her former fiancé, Brett Miller. She travels to the remote town of Glacier Bay, Alaska, where the town's colorful characters and stunning scenery provide respite from LA's pressures.
In Glacier Bay, Ginny discovers a box of old letters and is swept up in the love story between Clay, an early missionary to Alaska Territory, and Ellie, the woman who traveled there to be his children's governess. When Ginny is reunited with Brett in Glacier Bay, will she discover—as Ellie did—that healing and love are sometimes found in the most unexpected places?
You Don't Know Me by Susan May Warren
(read my review)
Sometimes the secrets we keep to protect ourselves can be our undoing.
To all who know her, Annalise Decker is a model wife and mother. She's a permanent member of the PTA, never misses a sporting event, and is constantly campaigning for her husband's mayoral race.
No one knows that Annalise was once Deidre O'Reilly, a troubled young woman whose testimony put a dangerous criminal behind bars. Relocated through the Witness Security Program to the quaint harbor town of Deep Haven, Deidre received a new identity and a fresh start, which began when she fell in love with local real estate agent Nathan Decker.
Twenty years later, Annalise couldn't be more unprepared for her past to catch up with her. When Agent Frank Harrison arrives with news that the man she testified against is out on parole and out for revenge, Annalise is forced to face the consequences of her secrets. Will she run again, or will she finally find the courage to trust those she loves most with both her past and her future?
The Reluctant Bachelorette by Rachael Anderson
(read my review)
Unknowingly cast as the bachelorette for her town's charity event, Taycee Emerson wants out. Especially when she discovers her old teenage crush, Luke Carney, is one of the bachelors and it's up to the viewers–not her–to decide which bachelors stay or go.
Coerced into participating, Taycee does what any self-preserving girl would do. She launches a subtle attack on Luke's good name with the hope of getting him voted off the show.
Unfortunately, Luke's an eye-for-an-eye kind of guy, and when he discovers what she's up to, it means revenge. But when their pranks go south, will they screw up any chance they have at a future together, or will they be able to forgive and forget and prove that love really does conquer all?
The Selection by Keira Cass
(read my review)
NOTE: This is book one in a series. I highly recommend reading the subsequent books!!
For thirty-five girls, the Selection is the chance of a lifetime. The opportunity to escape the life laid out for them since birth. To be swept up in a world of glittering gowns and priceless jewels. To live in a palace and compete for the heart of gorgeous Prince Maxon.
But for America Singer, being Selected is a nightmare. It means turning her back on her secret love with Aspen, who is a caste below her. Leaving her home to enter a fierce competition for a crown she doesn't want. Living in a palace that is constantly threatened by violent rebel attacks.
Then America meets Prince Maxon. Gradually, she starts to question all the plans she's made for herself—and realizes that the life she's always dreamed of may not compare to a future she never imagined.
The Promise Box (Seven Brides for Seven Bachelors) by Tricia Goyer
(read my review)
Every year, young Amish men descend on the cozy little town of West Kootenai, Montana, arriving in the spring to live there for six months and receive 'resident' status for the hunting season in the fall. They arrive as bachelors, but go home with brides! In The Promise Box, the second book of best-selling author Tricia Goyer's Seven Brides for Seven Bachelors series, Lydia Wyse, a book editor from Seattle who grew up Amish, returns to the small community of West Kootenai to give comfort to her father after her mother's death. She is drawn back to the familiar Amish ways after finding her mother's most precious possession, a Promise Box of prayers and scripture. What her publisher sees, though, is an opportunity for a sensational 'tell-all' book about the Amish. Lydia soon finds herself falling in love with Amish bachelor Gideon Hooley. She wants nothing more than to forget her past and look forward to a future as an Amish bride. But will the pain of her childhood—and her potential betrayal of her community—keep her from committing her whole heart?
Tidewater Inn by Colleen Coble
(read my review)
Welcome to Hope Beach. A place of intoxicating beauty . . . where trouble hits with the force of a hurricane.
Inheriting a beautiful old hotel on the Outer Banks could be a dream come true for Libby. The inn cries out for her restorer's talent and love of history. She's delighted to learn of the family she never knew she had. And the handsome Coast Guard lieutenant she's met there on the island could definitely be the man of her dreams.
But Libby soon realizes that the only way she can afford the upkeep on the inn is to sell it to developers who are stalking the island. The father who willed her the inn has died before she could meet him, and her newfound brother and sister are convinced she's there to steal their birthright. Worst of all, her best friend and business partner has been kidnapped before her eyes, and Libby's under suspicion for the crime.
Libby's dream come true is becoming a nightmare. Her only option is to find her friend and prove her innocence, or lose everything on the shores of Hope Island.
The Dublin Destiny by Jill Twigg
(read my review)
An ugly duckling story beginning with Rylee running for her life from Ireland to America.
She marries a family friend Patrick, to stay hidden and while she is waiting for a chance to return to her homeland, she becomes a beautiful swan.
A charming romance filled with intrigue, humor and fun weaved with a message of faith, trust and divine love that is sure to leave you yearning for more.
Do you enjoy romance novels that are considered 'clean' with the absence of steamy scenes?
What's a favorite novel you've read?
For more Valentine's Day entertainment ideas, visit a few of my favorite bloggers: