My boys are big on meat. One of their favorites is meatballs. Instead of the regular red sauce, I decided to try my hand at making Crock-Pot Swedish meatballs they would love.
Product suggestions are affiliate links. Purchases through them help to support this site at no cost to you.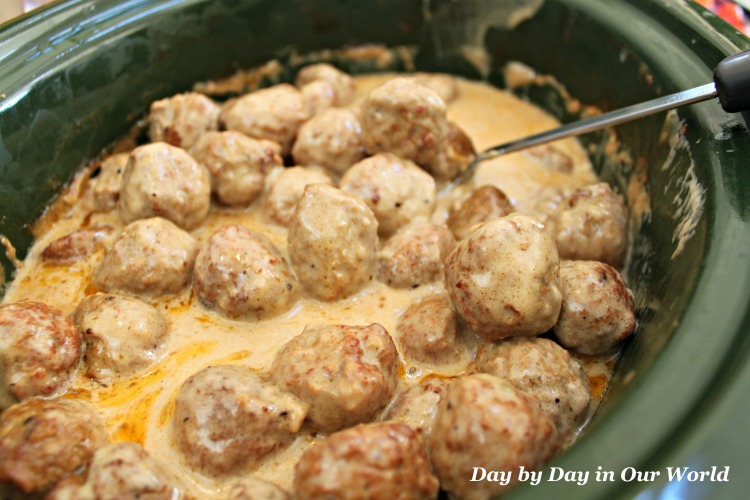 The first time I made this was for my eldest son's Eagle Scout Court of Honor.
A crock full of meatballs should be plenty for the small group, I thought.
But, I underestimated how tasty the meatballs would be.
And, I forgot that teen aged boys will eat a ton of food if left unchecked.
We came home with an empty crock….
Since then, we have made these a few times for dinner.
Saturday night is a busy time with Mass at 5:30 p.m. We get home close to 6:45 p.m. and need food ready to serve and eat.
Guess what's on the menu this coming Saturday???
Yep! Swedish Meatballs will be all ready to go along with cooked egg noodles.  A few minutes to warm up mixed vegetables and we'll be chowing down before the clock hits 7 p.m.
FYI…another family Crock-Pot favorite is my Red Beans and Rice.
I don't make it only on a Monday as is Southern tradition. And, I get serious thumbs up from everyone who's had it.
Items You'll Want When Making Crock-Pot Swedish Meatballs
A crockpot is a staple in our house. We actually have more than one crockpot as each meets a different need for our family of 6.
Crock-Pot SCCPVL600-R Cook' N Carry 6-Quart Oval Manual Portable Slow Cooker, Red
I used a programmable 6-quart crockpot for this recipe. A smaller one needs you to cut the recipe in half.
Mine is an original model from years ago in white which came with a second, divided crock.
Soon, I plan to order a new one: a 6-quart programmable cook n carry so we can take it on the road.  The lid locks into place for transport.
This will make our annual Soup dinners at our church less messy compared to a crock that lets it all slosh around.
&
PanSaver Slow Cooker Liners with a Sure Fit Band, 4 Count
If you want a quick clean up of your crockpot, grab a crock pot liner before adding the ingredients. 
These are wonderful for when dish patrol comes around. And, for some dishes like my Red Beans and Rice, it means no staining of my white crockpot.
Some liners just get folded over your crock, but the Pansaver Slow Cooker Liners with Sure Fit Band will not slip around!
&
Hamilton Beach Travel Case & Carrier Insulated Bag for 4, 5, 6, 7 & 8 Quart Slow Cookers (33002)
When it comes to transporting your awesome Swedish meatballs, you need a way to do it.
No one wants to put have some of your wonderful dish end up sloshing around in the car or getting cold.
Even if you have a locking crockpot, a Crockpot carrier will help insulate everything.
Plus it is a lot easier to hold onto the carrier than just the crockpot.
I have used a travel carrier just like this one and love how well it helps keep my dishes together.
Jokari Hands-Free Baggy Rack Clip Food Storage Bag Holder, 2-Pack
Finally, be prepared to put your leftovers (IF you have any!) into bags using these Jokari Hands-Free Baggy Rack Storage Bag Holders.
Whether it is leftovers or if you are prepping freezer meals, these are a super 'handy' tool to have in the house.
I know that holding a bag open on my own is one of the challenges when pouring food into it. Usually, I end up with several bites on the counter and a mess on the side of the bag.
That's not a problem when using these holders. Get leftovers into freezer bags quickly and with little or no mess!
&
Looking for Game Day Food Ideas?

Making Crock-Pot Swedish Meatballs
This is the recipe I am using for now.
My boys do not mind the small bits of mushroom in the cream of mushroom soup. If they enjoyed mushrooms, I'd be adding about 1 cup of sliced mushrooms to this recipe.
Since they complain, I just leave them out for now.
NOTE: Here are some suggestions to the recipe based on comments.
(1) If mushrooms are not for you at all, you can use Cream of Celery or Cream of Chicken Soup instead. I've tested both. The final flavor is a little different, but I've still seen the batch disappear quickly.
(2) Homemade meatballs are absolutely fine!  Just shorten the time in the crockpot if they are warm when you start. So, 2 hours on high versus 4.
(3) You can set this up early in the morning, using the low heat for 8 hours.

Laura
Yields 6
Crock-Pot Swedish Meatballs
10 minPrep Time
4 hr, 30 Cook Time
4 hr, 40 Total Time
Ingredients
1 (103/4 ounce) can cream of mushroom soup
2 cups beef broth
1 teaspoon garlic powder
1 Tablespoon Worcestershire Sauce
2 tablespoons Steak Sauce
1/2 teaspoon paprika
1/2 teaspoon salt
1/2 teaspoon pepper
1 (28 ounce) bag frozen homestyle meatballs (this is about 1 3/4 pound of meatballs)
1 cup sour cream
Instructions
In the crock pot or a large bowl, mix the cream of mushroom soup and beef broth with a whisk.
Add remaining seasonings and stir in the frozen meatballs.
Cook on high for 4 hours.
Add the sour cream, mixing it well, and allow to cook for another 30 minutes.
For a meal, serve over egg noodles.
Notes
Yes, you can use homemade meatballs. Just shorten the cooking length to 2 hours on high or 4 hours on low to allow the components to meld into the wonderful sauce.
7.5
99
http://daybydayinourworld.com/2016/07/crock-pot-swedish-meatballs/
Have you made Swedish Meatballs in a crock-pot before?
Is this the kind of dish your family would love?