Welcome to the 121st edition of The Christian Home Magazine, a weekly Blog Magazine posted (normally) every Monday.  
While I thought July was crazy, it seemed like the last 2 weeks were even crazier between out of town quests and my 'temp' job revving up to almost 40 hour weeks.  The big event for work is over and now I can breathe a bit easier for that schedule.  However, this is 'back to school' week which brings it's own challenges.  I'll be sharing how it goes later as we are becoming a hybrid homeschooling family with one boy going TO school starting on Wednesday.
 Articles are submitted by various Christian Blog authors. I hope you enjoy the articles submitted for this week's 'double' article issue for a few contributors as last week was skipped. Don't forget to leave a comment here about your favorite article and give the author some comment love on their blog!
Gardening & Flowers
Featured Columnist –Linda fromLinda's Lunacy shares a new Saturday on the Farm – The View From My Front Porch. You can see how her butterfly bush is blooming as well as other views from her front porch.
Linda's also sharing Saturday on the Farm – Garden Tour. I'm so jealous of all the harvest and flowers in her garden right now. 
The Godly Home
Featured Columnist – Mrs. Sarah Coller from Hope in Every Season is sharing My Annoying Habit. I love her take on what can be considered annoying by some and how we can have a great attitude in the process. Awesome post!
She's also sharing Hanging Out with the Wrong God.   This is a great article which addresses something that many can fall victim to in their marriage ~ making their spouse into a god.
Hospitality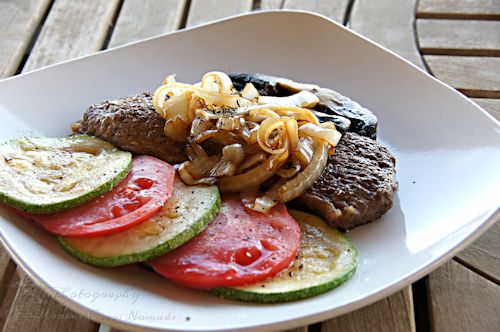 Featured Columnist–
Heather from
Marine Corps Nomads
back soon with Embracing the Local Markets. I wish I had local markets with the same variety that she does. Yum!
Laura from

Day Day in Our World

  shares how she's making a Shamrock Shake for her boys as a special treat.  The peppermint flavor is wonderful and they like to add some cocoa powder to make a chocolate peppermint shake at times, too.
Design and Decorate
Featured Columnist
Deanna from
Home Haven Ministry
shares about some great finds in her recent trips with DECORATING ON THE PRAIRIE: IS DECORATING A SIN?. I love how she revamped the parlor using items already in her house.
Modest fashion
Featured Columnist –Caroline from The Modest Mom blog shares her Modest Monday and a Link Up post for this week.  Her outfits are lovely as usual. And there is a darling photo of her with her husband, too.
Gentle Humor
Featured Columnist
–
Alana from
Lightly Salted
is back with Date Night Nightmares. I think we can all look back in our life and shake our heads
.
Movies and Music
Featured Columnist –
Laura O from
Day Day in Our World
  is taking a break from movies and will be back soon.
I am looking for featured
columnists and/or submissions for the Finance,  Fitness, Home Business, Homekeeping, Parenting and Young Adult Columns.  The young adult columnist needs to be an established teen or young adult blogger.
Thank you so much for reading! To submit your work for consideration, or to find out more about The Christian Home magazine, just visit the
about page
.
As the carnival site is acting wacky,
submissions can be email directly to me at daybydayinourworld at gmail dot com or via the
contact form
on this blog. 
While we have featured columnists for many of the columns,

any Christian author

can submit for inclusion in the magazine in all of the different columns.