I have been, or can be if you click on a link and make a purchase, compensated via a cash payment, gift, or something else of value for writing this post. Regardless, I only recommend products or services I use personally and believe will be good for my readers.
Reading is such a fundamental skill that needs to be learned and learned well before a child can fully unlock their potential in academic pursuits. Thankfully, there are many resources out there for educators and parents to utilize when trying to help kids acquire this skill. Reading Kingdom is an online subscription service that provides early readers with activities to build reading skills. Thanks to being on the Schoolhouse Review Crew, our family has had the opportunity to review this program.
About Reading Kingdom

Reading Kingdom is an online subscription program that is geared for ages 4 through 10 which covers beginning reading skills through a grade 3 reading level.
Rather than relying upon only phonics, Reading Kingdom incorporates six different skills into their program: sequencing, writing, phonics (phonemic awareness), meaning, grammar and reading comprehension.
Each child begins their journey with Reading Kingdom in Reading & Writing Skills Part 1. The program assesses whether they need to spend time in Seeing Sequences and/or Letter Land. Seeing Sequences has 3 levels to complete which have them learning visual sequencing skills if they do not 'pass' that initial assessment. Letter Land has 4 levels to complete which has the child learning keyboard skills.
If they pass this initial assessment, they move into Reading & Writing Skills Part 2 with a skills survey. Once through the skills survey, they go into the different Levels which contain books with word exercises.
Below you can see a few example screen shots for the program: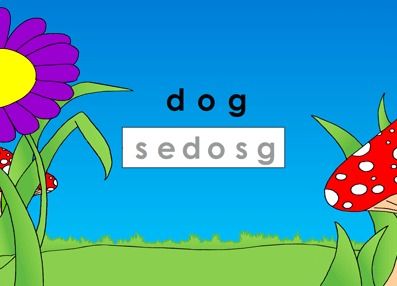 When you sign up for the Reading Kingdom, you receive a free 30 day trial. After that, subscriptions to Reading Kingdom are $19.99/month (with no monthly minimum), or $199.99 per year (20% off). Additional children in your account get 50% off ($9.99/month or $99.99/year). >You can cancel your subscriptions at any time.
Our Thoughts on Reading Kingdom
This was in some ways a challenging review to complete. J is just getting ready to turn 4 and is at the lower end of the recommended age range. Meanwhile, D is at the upper end of the age range but has been reading above grade level for a while.
We found that J needed to have an older sibling alongside him to help with the tasks presented as he's naturally more inclined to click randomly like he would for some of the video games he plays. It makes for a challenge to not want to direct his responses to the correct one when you see him ready to click an incorrect key. So, he did not get very far into the program during the review period. His attention span was rather short for the work (3 to 5 minutes per day.) He is currently in the reading & writing part 1 of the program with work to be done in both Seeing Sequences and Letter Land. While he might not have gotten far into the activities, I can see potential and plan to have him revisit Reading Kingdom at regular intervals throughout this upcoming school year while we have an active subscription.
As much as D enjoys an excuse to be on the computer, he kept commenting that the work was babyish and too easy for him. And, I don't question that for someone who's been reading for a while they would perceive the work too simplistic. We were a bit surprised when after the reading assessment it placed him at a lower level than I'd have expected. What I am not sure about is whether he was goofing during the assessment which generated the placement in book 1 versus later in their program OR if he really has been struggling with certain skills such as spelling. Another possibility is that the progression is the default for Reading Kingdom. I didn't realize for a while that you can request a child be moved to a different level, so we'll have to see whether bumping to Level 5 does more to engage him in learning and solidifying the skills he possesses.
I think this would have been a perfect program for him during kindergarten and 1st grade when the foundation for reading was being laid. So, I am eager to see how J does over this school year as he becomes more ready for formal learning.
Click to read more reviews from the Schoolhouse Review Crew.