I have been, or can be if you click on a link and make a purchase, compensated via a cash payment, gift, or something else of value for writing this post. Regardless, I only recommend products or services I use personally and believe will be good for my readers.
This post, Visual Learning Systems: Science Education through Videos and Activities, was made possible with the chance to review Digital Science Online: Elementary Edition (Grades K-5) and Digital Science Online: Secondary Edition (Grades 6-12) (each level is $99 for one year of access under their homeschool pricing policy) as part of the Schoolhouse Review Crew.
With both parents in the house possessing science degrees, you would expect a fair bit of science to enter into our days. To a degree it does. However, I am constantly looking for something that is balanced in approach to science education. A plain textbook can be boring for some students and I honestly do not have the time to arrange for mostly hands on learning. Visual Learning Systems is an online program that helps to bridge the gap for us right now.
About Visual Learning Systems: Science Education through Videos and Activities
Just looking at the name, you can guess that Visual Learning Systems is going to make use of our sight. They do this by having a short (approximately 20 minutes) video per topic presented. Teacher materials for each topic include pre and post learning assessments of the student's knowledge as well as different activities for them to complete. Depending upon the grade level and subject matter, this could include actual experiments to perform which provide the hands on learning which can be so critical for understanding concepts.
The platform is broken down into 2 main levels of material: Elementary (grades K – 5) and Secondary (grades 6 – 12.) The elementary level is broken down further so that primary (K – 2) is separate.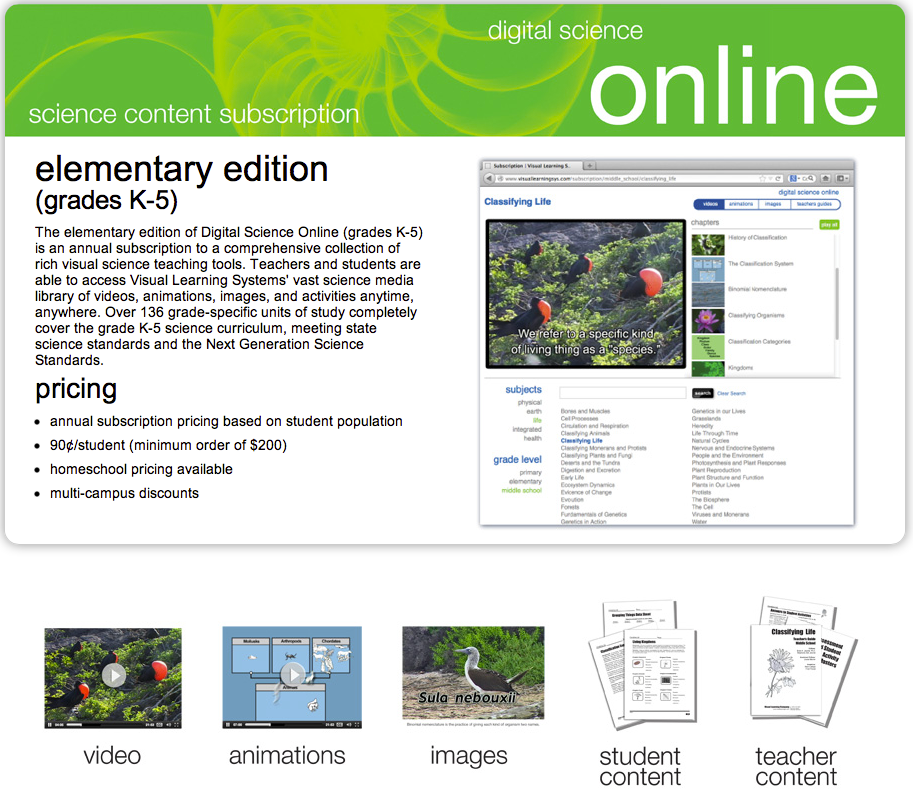 Our Thoughts about Visual Learning Systems: Science Education through Videos and Activities
For this review, my primary user was my pre-K student. He has loved going through many of the life science topics (e.g. What is a mammal?) with me. As he is not currently reading, I did the reading for him. We did skip some of the printed material which was often geared towards an older student. However, he usually did very well on the assessments. What he learned was further reinforced by sharing with dad who is a huge science buff, especially when it comes to the life sciences.
My older boys did not get a pass from some exposure to the program. My 6th grader currently attends a local school, but benefited from watching and working through the Science Fair Project topic. He was struggling with selecting a project to do and his fixation was on tests that did not really fit a good scientific model. This video helped to illustrate what a good science fair project would include and how the scientific method is used in the project.
My 9th grader used some of the basic chemistry lessons to help reinforce what he is learning in his physical science class. Although Visual Learning Systems markets the material for through grade 12, I found that every lesson we completed was marked as middle school level. This was fine for a survey course like he is currently doing, but I would have been disappointed if trying to use this with my 12th grade son who is taking chemistry.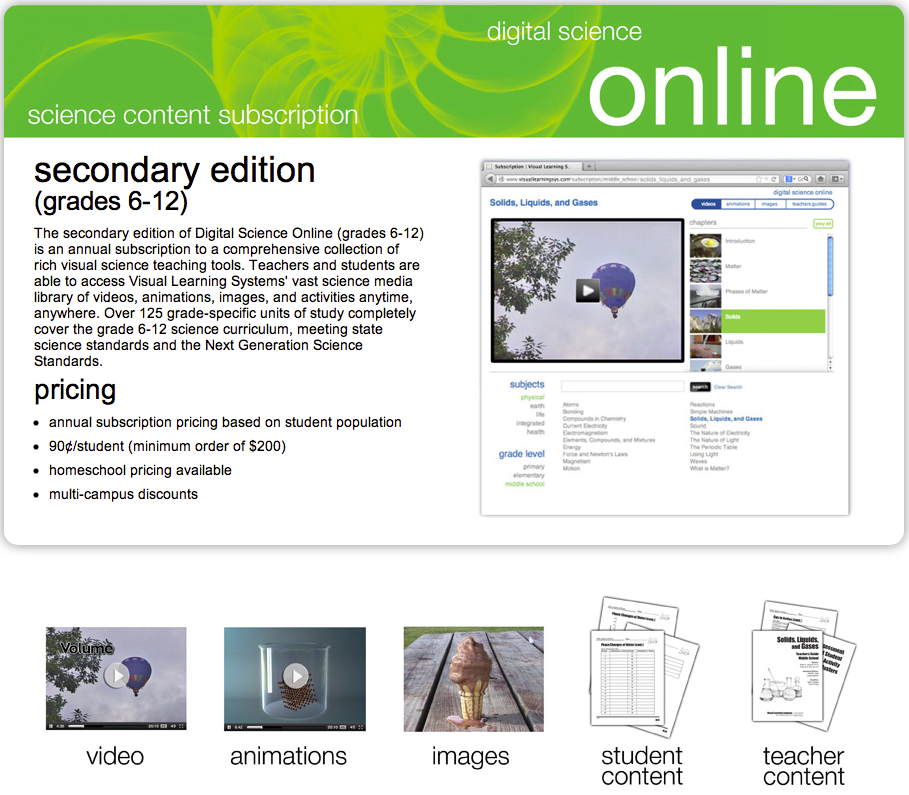 The older boys had less appreciation for this program than my 5 year old. While they enjoy documentary style programs for learning, they commented that the overall presentation was basic and dry compared to some programs they have seen. I found the videos to be straight forward in presentation of the material. The printed materials work well in concert with the videos to help assess what is learned as well as occasionally going a bit deeper on the topic. I also liked that suggested answers are provided in the teacher material.
Overall, I found Visual Learning Systems to be a great supplemental program for the older grades and potentially a curriculum source for elementary grades.
.
How do you approach teaching science in your homeschool?
Do videos play a part in science education for you?
Don't just take my word for how we found this to be. Visit the Visual Learning Systems post on the Schoolhouse Review Crew website to see what other homeschooling parents thought about this and other self-paced courses.