I have been, or can be if you click on a link and make a purchase, compensated via a cash payment, gift, or something else of value for writing this post. Regardless, I only recommend products or services I use personally and believe will be good for my readers.

Last year, we had the opportunity to review three different levels of Math Mammoth's Light Blue Series. You can find that review here. This year, two of the boys are working with different levels of the Light Blue Series (grades 2 and 5) and one is using a topic driven workbook (Introduction to Fractions) from the Blue Series.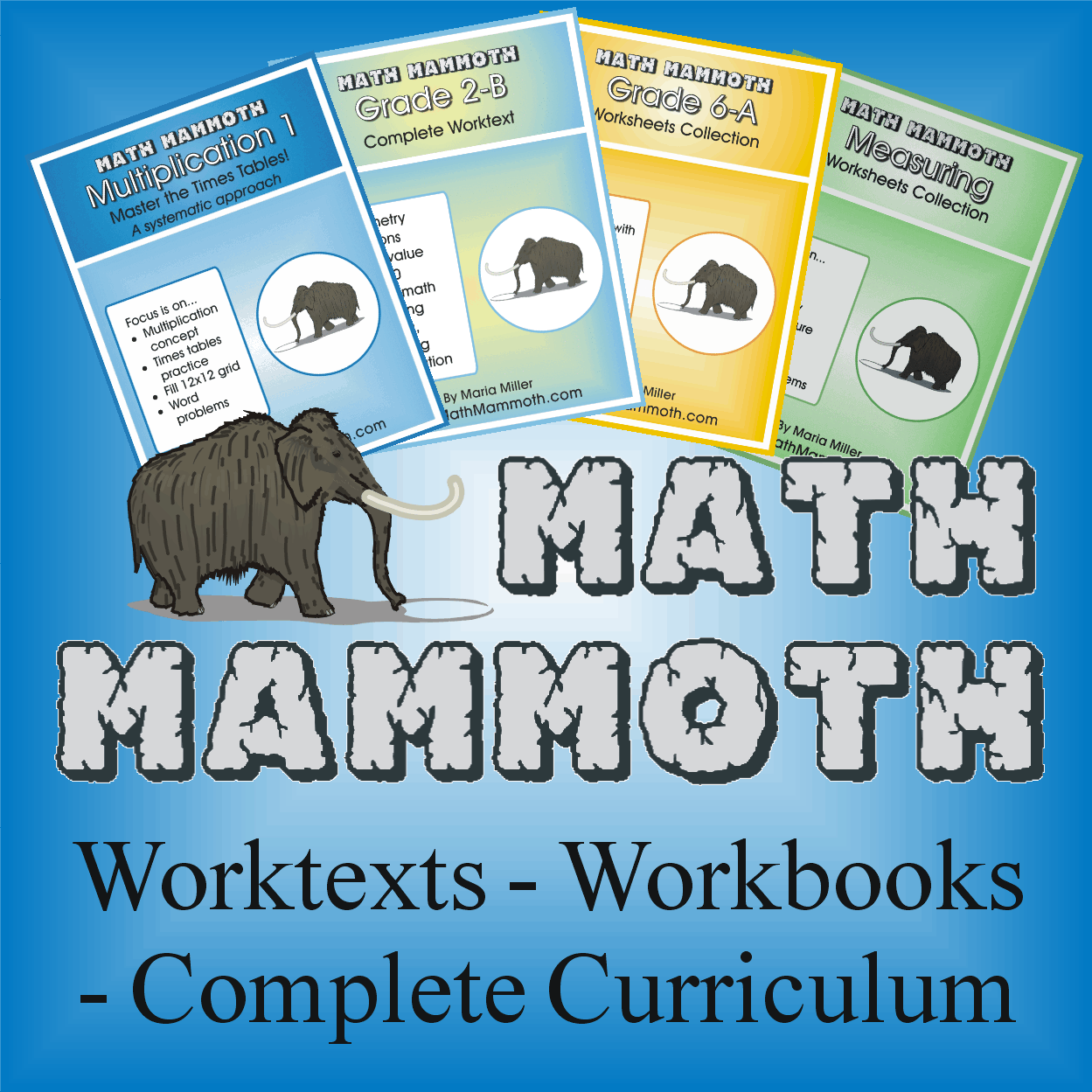 I continue to be impressed with Math Mammoth as an option to either serve as a full curriculum in the elementary grades with the Light Blue series or as a way to help reinforce particular areas where a student needs more practice or a different presentation to help it 'click.'
Since the boys are using a math program that does not follow the typical scope and sequence compared to most school districts, I have found that there are topics in grade levels below theirs which they have not covered. So, we've used the ebooks from Math Mammoth to help bridge those gaps.
What I REALLY appreciate is that the copyright allows me to use the materials with all of my boys when they are ready for that particular product. For a homeschool family on a budget, this can be a great cost-saver compared to purchasing pre-printed workbooks.
If you have not had the opportunity to view Math Mammoth before, you can download a selection of sample worksheets in one BIG package from the website. It's a great way to see what the ebooks are like before spending the money.
The Light Blue series of ebooks come in two parts. One part costs $15.50 and includes the answer key. Both halves of the year costs $29.70 for the download. You can purchase everything pre-printed as well (pricing listed on the individual grade page.) The cost of the Introduction to Fractions ebook we received is $4. The Blue Series products range in cost from $2 to $7. You can purchase a bundle of these in one of two package deals (either $70 to download ALL of the Blue Series or $40 for all the ones for grades 1 to 3.)
As always, you can read what other TOS Crew mates are saying about the different products from Math Mammoth on the TOS Homeschool Crew page. Our family was provided with downloads of the ebooks in exchange for our review. No other compensation was provided to me and the opinions expressed in the review are my own.