I have been, or can be if you click on a link and make a purchase, compensated via a cash payment, gift, or something else of value for writing this post. Regardless, I only recommend products or services I use personally and believe will be good for my readers.
This post, The Climbing Knights: One of the Educational Games from SimplyFun, was made possible with The Climbing Knights game which we were provided to review from SimplyFun.
If our homeschool was full of nothing but textbooks and workbooks, I'd have a seriously bored family. While that style of learning has its place, I find that with the younger boys I need some hands-on learning fun. We were tickled to receive The Climbing Knights, one of the new educational games from SimplyFun, as it promised to be a great tool for teaching some strategy to my youngest son.
About The Climbing Knights & SimplyFun Educational Games
SimplyFun is a company that has been around for several years, winning multiple awards for their products. They have the goal of connecting families through play while also providing ways to help kids learn skills that can last a lifetime. Play is an important part of learning and life. SimplyFun seeks to make it easier.
I'm reviewing The Climbing Knights, one of four of SimplyFun new releases..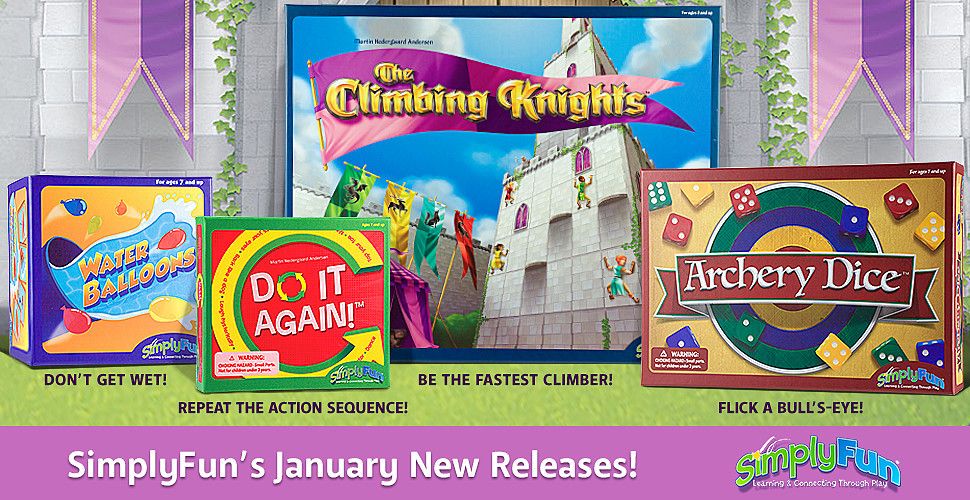 In The Climbing Knights, game players are at the King's tournament. The challenge is to have their knight climb the tower without being spotted by the guard's. At the top, you can retrieve your coats of arms. There are 2 of them for each of the 4 knights, so you need to successfully navigate the tower twice to claim your place as the tournament winner.
But, you can't just climb at will! Rather the roll of 3 dice determines where the 2 guards move (or even if they are going to sleep!) and how many spaces your knight can move. Moves can only be horizontal or vertical (not diagonal.) Look out as where the guard lands determines which knights he can and cannot see from his spot on the tower. If spotted, down you go to the next level or possibly all the way to the bottom.
This game focuses on a few key skills to build through game play, specifically Spatial Reasoning, Strategy and Fine Motor Skills.
Inside the Climbing Knights box, you will find:
1 Castle (Requires assembly)
4 Magnetic Knights (Each contains a flat magnet)
2 Guard Pawns
8 Coats of Arms
3 Dice
1 Rules Booklet
Our Thoughts on The Climbing Knights
Fun, fun, fun!
That's what my youngest son will tell you he thinks of this game.
Of course, the magnetic knights was the first draw. Seeing that they 'stuck' to the castle was a bit exciting and means no run away pieces during play.
But, he soon saw that it was a real challenge to climb to the top following the rules. Playing with the more patient older brother meant he could start to get wheels turning in his head about what he wanted to do for each move based on where the guards are located and where they might land at the next turn.
Something to note for families… this is not a small game. Everything does fold neatly into the original box for storage. However, the castle tower is tall! We found it too tall for placement on our kitchen table. Instead, we set it up on the ground and some of us older folk used pillows as cushions for sitting.
Putting the pieces together takes almost no time to do after you've done it once. And, the same can be said for dismantling for storage.

If my youngest had his way, we'd have a permanent castle in our living room!
As a homeschool parent, I like that there is both a bit of strategic planning needed as well as the development of spatial reasoning. You have to be paying attention to several things and looking a the side of the castle to determine the best route up which also offers some protection from the guards.
All in all, this has been a great addition to our house for both the fun and educational factor. Just don't tell my boys they are learning while playing! Rather, I like to have them consider it more fun school with no mention of what they are gaining by playing.
Do you use educational games in your homeschool?
Are you familiar with SimplyFun? If so, do you have a favorite game?
Don't just take my word for how we found this to be. Visit the SimplyFun Review post on the Schoolhouse Review Crew website to see what other homeschooling parents thought about this and other self-paced courses.