I have been, or can be if you click on a link and make a purchase, compensated via a cash payment, gift, or something else of value for writing this post. Regardless, I only recommend products or services I use personally and believe will be good for my readers.
Welcome to the 87th edition of The Christian Home, a weekly Blog Magazine posted every Monday. Articles are submitted by various Christian Blog authors. I hope you enjoy the articles submitted for this week's issue. Don't forget to leave a comment here about your favorite article and give the author some comment love on their blog!
The Godly Home
Featured Columnist – Mrs. Sarah Coller from Hope in Every Season is back with No Matter Who is President, Jesus is King. I love the way she is focusing on the bigger picture while still keeping the need to vote responsibly as part of her post. I have been praying for the election and hope that all of my US readers are going to vote tomorrow (if you didn't already do early voting.)
Hospitality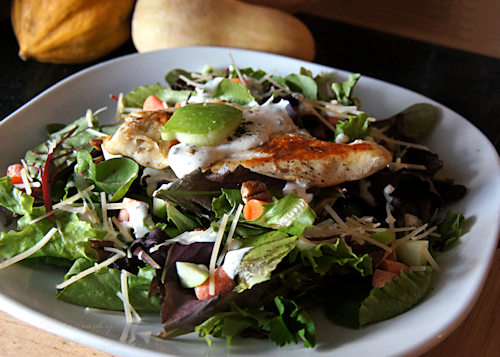 Featured Columnist–
Heather from
Marine Corps Nomads
presents Using the Bountiful Baskets Veggies. I wish we had Bountiful Baskets up here in Alaska as it looks like some fantastic produce coming to their house. I love salads and the one above looks wonderful.
Modest fashion
Featured Columnist – Caroline from The Modest Mom blog is back with another Modest Monday & A Link Up!. I love the mix of denim with a print in her outfit. She looks comfortable and playful while maintaining her modesty.
Homekeeping
Featured Columnist
–
Karri presents

Fall Decorating over at
My Life's a Treasure
.

Thank you, Karri, for sharing a glimpse at the decorations in your house. I love the dining table scape, too.
Health and Fitness Check-in
Featured Columnist
–
Annie Kate presents

Fit Mommy Friday: A Major Change in Lifestyle

posted at

Tea Time with Annie Kate.

She shares about the shift from being active in her chores to a more sedentary activity (homeschooling.) I can so totally relate to that!
Design and Decorate
Laura shares past holiday decorations in Decorating for the Holidays. I can only hope that plans for this year can come to fruition. (Don't miss the link up for that post at the bottom and visit other Schoolhouse Review Crewmates' posts on decorating.
Movies and Music
Featured Columnist
–
Laura O from

Day Day in Our World will be back next week with another recommendation.
I am looking for a featured columnists and/or submissions for the
Gentle Humor, Finance, Gardening & Flowers, Home Business, Parenting and Young Adult Columns. The young adult columnist needs to be an established teen or young adult blogger.
Thank you so much for reading! To submit your work for consideration, or to find out more about The Christian Home magazine, just visit the
about page
.
As the carnival site is acting wacky,
submissions can be email directly to me at daybydayinourworld at gmail dot com or via the
contact form
on this blog.
While we have featured columnists for many of the columns,

any Christian author

can submit for inclusion in the magazine in all of the different columns.