Enjoy Streusel Topped Gingerbread Muffins for the Holidays has been compensated by Collective Bias, Inc. and its advertiser. All opinions are mine alone. #SplendaHoliday #CollectiveBias
I love celebrating holidays throughout the year. However, the time from Thanksgiving through New Years is my absolute favorite. Visions of time with friends and family dance through my head. Of course, there is plenty of food around and I do my best to sample the items I really want while maintaining a decent overall diet. Yet, I still want to have some of the classic tastes of the season with an eye on keeping my sugar intake in check. Of course gingerbread is right up there with something I love to both smell in my kitchen and eat for a snack.
A few months ago, I started seeing a bit online about the SPLENDA® SWEET SWAPS™ Initiative where you are substituting SPLENDA® products for your sugar to save calories. And, the holiday season is a great time to try this out as sugar laden goodies seem to surround everyone. The last thing my body needs to to be consuming almost three times the amount of sugar recommended by nutritionists. (For those that like trivia, a cup of sugar has 774 calories in it. So a recipe with 1 cup of sugar which serves 12 means that about 65 calories in your serving are just from sugar. I don't know about you, but I like to trim calories where I can while still enjoying favorite foods.)
SPLENDA® has a variety of products that can be used in your favorite recipes to help reduce the amount of sugar they contain. I had the idea of combining a streusel topping with a basic gingerbread flavored quick bread for the base. This could be made in a regular loaf pan, although I have started favoring a muffin tin as it is much easier to serve when they are already individual serving sized.
On a recent visit to my local Walmart, I found just what I needed on the shelf: SPLENDA® Sugar Blend and SPLENDA® Brown Sugar Blend. Seeing the nearly empty shelves at our local store, I'd guess there are a lot of people embracing the SPLENDA® SWEET SWAPS™ Initiative here in Alaska! Both of the blends contain some regular sugar which I knew would make the final result be spectacular and easy to share with my boys who usually can tell if I've tried to ditch the sugar completely.

When you are using either the SPLENDA® Sugar Blend or SPLENDA® Brown Sugar Blend, you need to adjust the amount of product used compared to straight sugar. The basic proportion is to use 1/2 of the amount of sugar blend compared to the regular sugar. So, if the recipe calls for 1 cup of sugar, you would use 1/2 cup of the SPLENDA® Sugar Blend.
How to Make My Streusel Topped Gingerbread Muffins
In the basic batter recipe, I made a few changes. First, the amount of oil required was reduced by using homemade unsweetened applesauce. The sugar content was brought down by using the SPLENDA® Sugar Blend instead of straight sugar. Finally, I used a blend of whole wheat pastry flour and all purpose flour.
The streusel topping is sprinkled (about 1/3 Tbsp per muffin) on top of the batter and then a small pinch of oats are tossed on top for additional texture.
Yield: 18
Streusel Topped Gingerbread Muffins
Prep Time: 10 minutes

Cook Time: 20 minutes

Total Time: 30 minutes
Ingredients
2 cups unsweetened applesauce
2/3 cup dark strap molasses
1/3 cup vegetable oil
3 eggs
1 1/2 cup whole wheat pastry flour
1 1/2 cup all purpose flour
1/2 + 2 Tbsp. SPLENDA® Sugar Blend
2 tsp. baking soda
1 tsp. baking powder
1/2 tsp. salt
2 tsp. ground ginger
1 1/2 tsp. cinnamon
1/2 tsp. ground cloves
Streusel Topping:
1/2 cup softened butter
1/3 cup SPLENDA® Sugar Blend
1/3 cup SPLENDA® Brown Sugar Blend
1 cup all purpose flour
1/2 cup whole wheat pastry flour
1 Tbsp. cinnamon
1 to 2 Tbsp of uncooked regular oats
Instructions
Preheat your oven to 350 degrees and prepare your muffin tins or loaf pans by spraying with a nonstick spray.
In a large mixing bowl, crack the 3 eggs and lightly beat them. Add the applesauce, oil and molasses and stir to blend.
In another mixing bowl, combine all of the dry ingredients for the batter (flours, SPLENDA® Sugar Blend, baking soda, baking powder, and spices) , mixing until they are well homogenized.
Add the dry ingredients to the wet ingredient bowl and mix to fully incorporate so there are no large pockets of flour.
If making into muffin tins, use a ladle to transfer batter into the openings adding enough for them to be approximately 3/4 full. Sprinkle approximately 1/3 Tbsp per muffin of the streusel topping along with a pinch of oats.
Bake in the preheated 350 degree oven for 18 to 20 minutes for regular sized muffins or about 25 minutes for mini loaf pans. Check by inserting a toothpick and make sure it comes out clean.
Cool in the pan for a few minutes before transferring to a wire rack to fully cool.
Notes
If you want to use exclusively whole wheat pastry flour, consider sifting for additional lightness.
I made my own applesauce by blending 4 apples cut into quarters and partially skinned in a blender.
The original recipe was for cake made in a bundt pan. Cooking time is 50 to 60 minutes for that sized vessel.
While you can eat them cool or warm, we preferred the muffins warm with or with out a pat of butter.
Instead of the Streusel topping, you could serve with a lemon curd or whipped topping.
Nutrition Information:
Serving Size:
1
Amount Per Serving: Calories: 4134 Total Fat: 143g Saturated Fat: 45g Cholesterol: 169mg Sodium: 4933mg Carbohydrates: 680g Sugar: 277g Protein: 63g


My streusel topping calls for both regular and brown sugar. I used both the SPLENDA® Sugar Blend and SPLENDA® Brown Sugar Blend (1/3 cup of each) cut into a stick of butter and 1 1/2 cups of flour. This makes a LOT more than required for a batch of muffins. Once made, you can store it in the freezer for a few months and use as desired.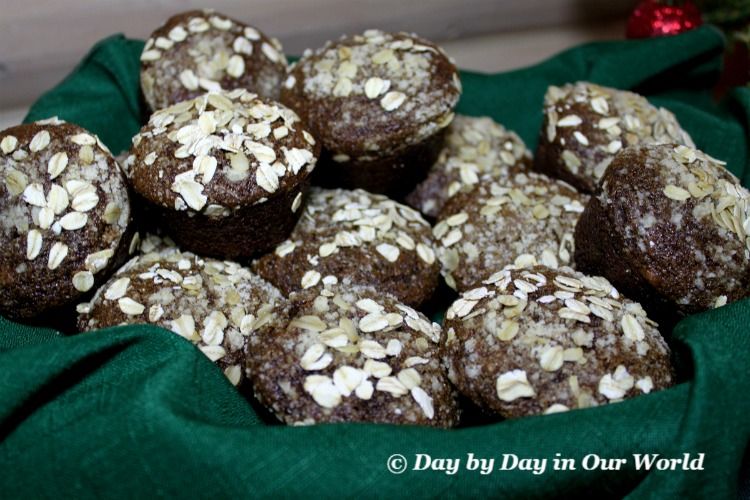 The entire upstairs of my house smelled fabulous after a few minutes of baking. Okay, truth be told, the spice blend made even the uncooked batter smell wonderful.
Having made the Streusel Topped Gingerbread Muffins using the SPLENDA® sugar blends, I am eager to try it in cheesecake next. I'm glad our local Walmart stocks these blends as I am about ready for new bags after making a few batches of these muffins. Although, I'll admit they pair nicely with a homemade gingerbread latte.

For inquiring minds, my skeptical college student ate one muffin with trepidation about how it would taste. After eating the one muffin, he promptly asked for another.
Be sure to check out more delicious recipes using SPLENDA®.
What are some of your favorite holiday dishes that could use SPLENDA® instead of sugar?