I have been, or can be if you click on a link and make a purchase, compensated via a cash payment, gift, or something else of value for writing this post. Regardless, I only recommend products or services I use personally and believe will be good for my readers.
February might have just started, but I know that the month will fly by in a flash leaving us in March before we know it. Have you considered how you will wear green this St. Patrick's Day?
Last year, I shared an outfit I pulled together which had tiny bits of green in the skirt and a lovely green sweater that would ensure no one trying to give me a pinch.
This year, I thought I'd talk about a few sneaky ways (or some might say subtle) that you can add a bit of green on your person without having it ON your clothes.
Of course, the old 'sneaky' way when I was growing up was to say you had some green on your undergarments. When I attended a Catholic school, there weren't too many people who'd demand to see visual proof. Thankfully, there aren't too many adults who are so adolescent to go around pinching you if they don't see some green on your person.
Sneaky Way #1 to Wear Green this St. Patrick's Day: Accessories
Not everyone likes to have large splashes of green in their clothing. I'll admit to being surprised I'd bought that particular sweater and must have had St. Patrick's Day in mind when I found it on the clearance rack at Kohl's.
However, I DO have accessories with green in them. This could be a necklace, earrings, a pin, or something that goes into your hair.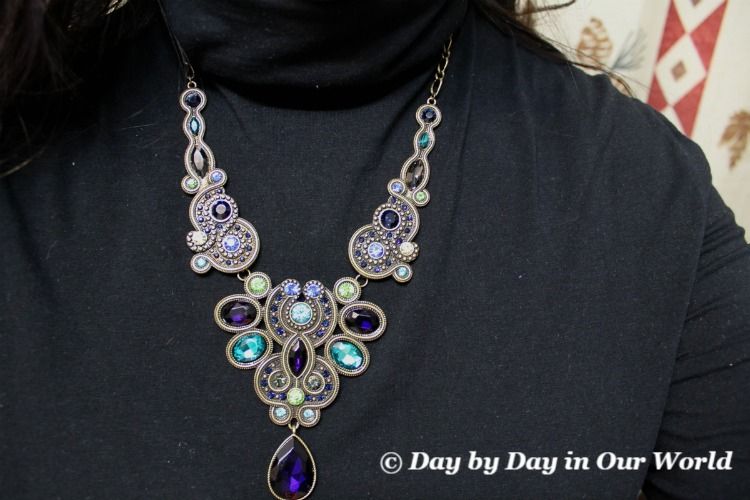 Sneaky Way #2 to Wear Green this St. Patrick's Day: Makeup
One of my smaller eye shadow containers has a lovely deep green paired with a neutral brown that I adore. It's older and needs to be replaced, but, for now, I can add a small splash of green to my eyes and proclaim it good.
Sneaky Way #3 to Wear Green this St. Patrick's Day: Paint Your Nails
Depending upon your work situation, green polish on your fingernails might be a no-no. In that case, paint your toenails and offer to show anyone who doesn't believe you've got some green on to honor the patron Saint of Ireland.


Of course, if you have a piece of clothing with green, you can combine all of these ideas with that outfit as well.

I still love how I feel when I wear my outfit from last year's StyleHOP post and just might be sporting it again. It is definitely much better suited for attending Mass on St. Patrick's Day this year than my animal print skirt.
For more St. Patrick's Day posts, visit a few of my favorite bloggers:
This post has been linked up to Cooking and Crafting with J & J, Trend Spin Linkup, Turning Heads Tuesday, Style Me Wednesday, What I Wore,