I have been, or can be if you click on a link and make a purchase, compensated via a cash payment, gift, or something else of value for writing this post. Regardless, I only recommend products or services I use personally and believe will be good for my readers.
Recently, Mystie Winckler from (affiliate links in post) Simplified Pantry sent several of us on the Schoolhouse Review Crew ebook copies of Simplified Dinners, Simplified Dinners Gluten Free/Dairy Free, and Paperless Home Organization. These products were created with the busy mom in mind who still needs to manage family information and feed the crew, but wants to do it with minimal effort or mess. These products seek to bring the cumbersome process of home management to its simplest form.
Home Management of Essential Information with Paperless Home Organization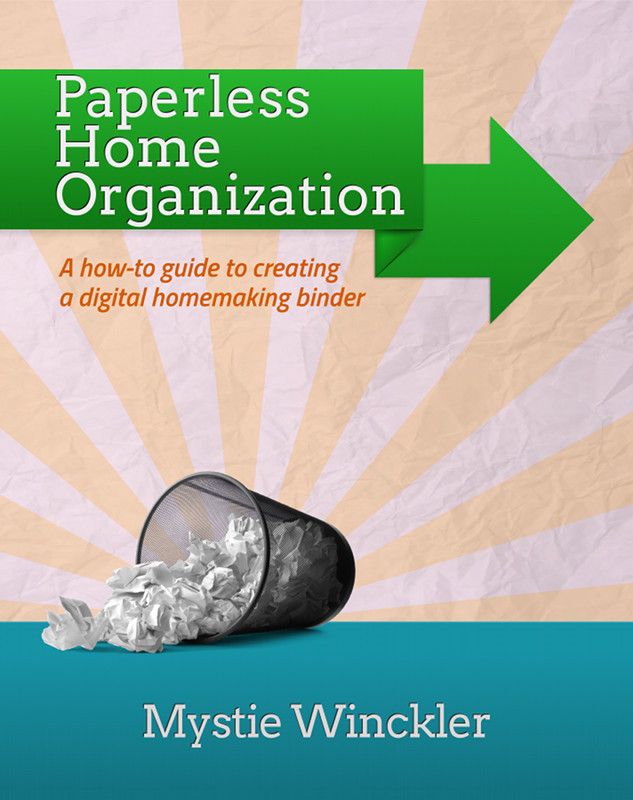 Home management binders are popular and if you visit a site like Pinterest you will find quite a variety of them. Mystie took the concept and made it digital. This ebook walks you through using free, web-based applications that sync with free apps on both Apple and Android devices. The upside is that there's no more paper to be lost.
The three primary programs she focuses on are Gmail (which I use for blog and business related emails already), Google Calendar (which I had not really tested before now), Remember the Milk (which I had never heard of before reading this ebook), and Evernote. Between those 4 programs, you can maintain those to do lists (Remember the Milk), keep you thoughts and dreams organized (Evernote), never forget an appointment (Google Calendar), and manage your contacts (Gmail.)
I have to admit that I loved the opportunity to delve into more digital information management. My only hesitation is that without a smart phone it is more cumbersome to access the information on the go as I am at the mercy of free wi fi hot spots or bringing a mi fi with me. Otherwise, I love that I can input things on my computer with full keyboard, yet check on things while on the iPad or Kindle Fire.
The key is remembering to USE the programs. Of course, that's the crux of any organization effort ~ if you don't use it as set up then you'll never reap the benefits. As I'm a check box kind of gal at heart, the ability to mark tasks complete on Remember the Milk is very satisfying. But, with so many pockets of time in the last few months without internet access, I have fallen off that bandwagon.
At $3.99, this ebook is priced well for those moms who want to have an easy 'how to do it' book which gets them started on the path of maintaining a digital home management 'binder.'
Home Management: Feeding the Family with Simplified Dinners
Dinnertime can bring dread to the busy mom, especially if there isn't a plan in place. As much as I love the concept of freezer cooking, I rarely carve out the time needed to do it. Mystie's Simplified Dinners (either regular or gluten/dairy free) pulls from her years of tweaking recipes that are easy to pull together while being both tasty and family friendly. Rather than your typical cookbook, this is a method of pulling together and inspiring dishes to grace your dinner table.
Mystie has a well stocked pantry list in the ebook as well which will enable the cook to make the various dishes in Simplified Dinners. I was pleasantly surprised to see that I had pretty much everything on the list minus the beer and wine for cooking.
Meals included in the eBooks:

Slow-Cooker Roasts

Slow-Cooker, No-Defrost Chicken Pieces

Chicken-in-a-Pot

Skillet Cutlets with Pan Sauces

Marinades for Grilling or Broiling

Foil-Packet Fish

Stovetop Pasta

Bean Pots

Fajitas

Quesadillas

Taco Bar

Burritos or Enchiladas

Taquitos

Frittata

Oven Omelette

Pizza

Simple Stir-fry

Potato Hash

Baked Potato Bar

Bean Soups

Stews

Blended Vegetable Soups

Quick Soups

Main Dish Salads

Vegetable Side Dishes

Side-Dish Salads

Starchy Side Dishes
While some of the recipes are similar to ones that I was already making, I loved many of the suggestions throughout the pages. The boys weren't sure what to expect when we made pork chops one night and I pulled out balsamic vinegar to make one of her suggested pan sauces for meat cooked in a skillet. They loved the chops and the flavoring was mild enough that I could dice up the leftovers and use them in a stir fry later in the week.
You can download a sample of either Simplified Dinners or Simplified Dinners Gluten Free/Dairy Free. Both ebooks retail for $12.99. This would be a great resource for the busy parent as well as for someone who is not so adept in the kitchen. While I was the sole user for the review period, I plan to integrate into basic food prep experiences for my older boys.

Want more help than an ebook can provide? Check out this ecourse offered by Mystie:
More posts to help you get organized in life: