I have been, or can be if you click on a link and make a purchase, compensated via a cash payment, gift, or something else of value for writing this post. Regardless, I only recommend products or services I use personally and believe will be good for my readers.
This shop has been compensated by Collective Bias, Inc. and its advertiser. All opinions are mine alone. #StouffersHoliday #CollectiveBias
With Thanksgiving just over a week away, things are getting busier by the moment. The calendar is filling up with different activities and parties. This can leave even the best of us a little frazzled and wanting some simple dinner solutions for feeding the family.
When things get busy one of a few things can happen in our house. We can start eating out more often, allowing take out to take over the house. We can go for quick meals like a grilled cheese sandwich with tomato soup that never seem that satisfying as a dinner option. I can lose hours of sleep trying to fit everything into my day, including meal preparation.
The more practical option and the one that I like the most is to find simple dinner solutions that are satisfying and allow our family to gather at the dinner table for a short respite between the frenzy the holiday season often brings.
For years, I have found STOUFFER'S® to be a great solution to the dinnertime dilemma. It was easy to find the NESTLÉ® STOUFFER'S® Family Size Entreés in the frozen foods department of my local Walmart. One dish that my family loves is lasagna. However, making it 'from scratch' takes me hours to do. Through 12/31/15, the family size Lasagna with Meat Sauce is on rollback making it great time to pick a few up for the freezer so they are ready to go when you need them.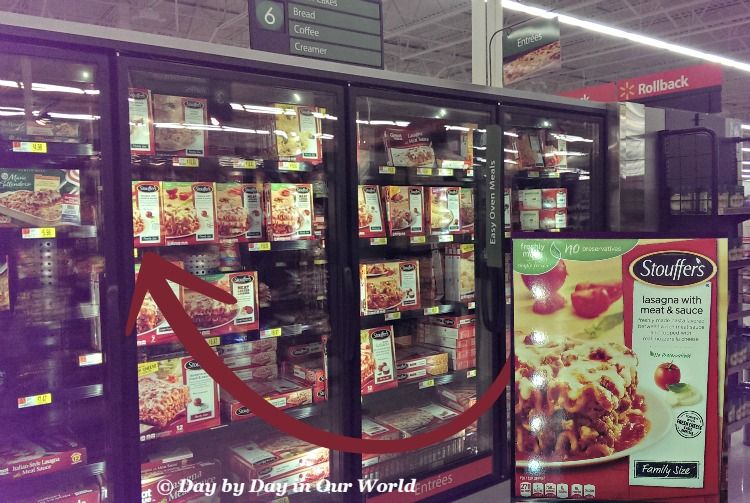 Instead of 70 minutes in the oven, the lasagna was ready in 30 minutes using my microwave oven. Instructions for this alternative cooking method are on the package. I then transferred it to the toaster oven for a few minutes to quickly brown the cheese a bit.

Rather than do my old stand-by of a tossed salad to accompany the Lasagna with Meat Sauce, I decided it would be great to have a Vegetable Medley with Garlic Butter Sauce. I found a wonderful vegetable medley that contains cauliflower, broccoli, and two types of carrots in just the perfect proportions to not have any one vegetable take over the others. While it is delightfully steamed with nothing on it, the cooler temperatures of late fall and winter have me wanting more depth of flavor for my food.
Taking the vegetables to the next level was as simple as dicing up several pieces of garlic and sautéing everything with butter. Just make sure to operate on a lower temperature so you do not accidentally burn the garlic and butter. Adding the lid to cook the vegetables with a little steam action helps them cook at that lower temperature.
Yield: 6
Simple Dinner Solutions: Vegetable Medley with Garlic Butter Sauce
Prep Time: 2 minutes

Cook Time: 10 minutes

Total Time: 12 minutes
Ingredients
1 pound package of "California" or "Normady" vegetables (broccoli, carrots and cauliflower)
olive oil
2 Tbsp butter
6 to 8 cloves of garlic, diced or sliced
Instructions
In a skillet over a medium - low heat, warm a bit of olive oil.
Add the garlic and saute for a few minutes until turning a light golden brown.
Add the frozen vegetables and 1 Tbsp of butter. Stir to melt the butter, then put a lid on the skillet.
Check every few minutes, stirring the vegetables until they are cooked.
Add the other Tbsp of butter, stirring to melt and coat the vegetables.
My boys all enjoyed the different approach to the vegetables alongside their slices of STOUFFER'S® Lasagna.
Best of all for me, the entire meal took just over 30 minutes to pull together when you cook the NESTLÉ® STOUFFER'S® Family Size Entreés in the microwave oven.

The second bonus is that this meal is easy enough to prepare that my teen-aged sons can make this dinner for the family, too. Regardless of who's cooking in the kitchen, the end result is a delicious meal and a lovely time for the family to reconnect at the dinner table.
Be sure to check out more delicious recipes to pair with STOUFFER'S® Lasagna at the Flavorful Moments Pinterest board. I'd love to hear about your favorite side dish recipe!
What are some ways that you make meal time preparation easier during the holidays?
What's your favorite from the NESTLÉ® STOUFFER'S® Family Size Entreés product line?