I have been, or can be if you click on a link and make a purchase, compensated via a cash payment, gift, or something else of value for writing this post. Regardless, I only recommend products or services I use personally and believe will be good for my readers.
For anyone who has read this blog for a while or personally knows my boys, then you'd already know that they tend to like doing 'fun' schoolwork on the computer.
Reading Eggs is one of the newest (to us) programs we've had the opportunity to test out in our house.
At first glance, I only saw the Reading Eggs side geared for children still learning to read. However, they have an entire other side (Reading Eggspress) to help decent readers expand their abilities, including with comprehension. The older side is where I'll have my focus.
For our review, I had planned to use it with D as he is my younger reader in the house. And, he was thrilled to have something new to try instead of some of his regular book work.
Then R glanced over D's shoulder and began lamenting that he wanted to try it, too.
Thankfully, Reading Eggs offers a short-term (14 day) free trial so he could be happy and get his chance to check it out.
Their initial pleasure in doing Reading Eggs has held firm for a few weeks, although I can not say how enthusiastic D would be after a few months.
What does Reading Eggs offer?
Once logged into their account, the child finds a floating island through which activities are selected by entering different buildings like the stadium and library shown below.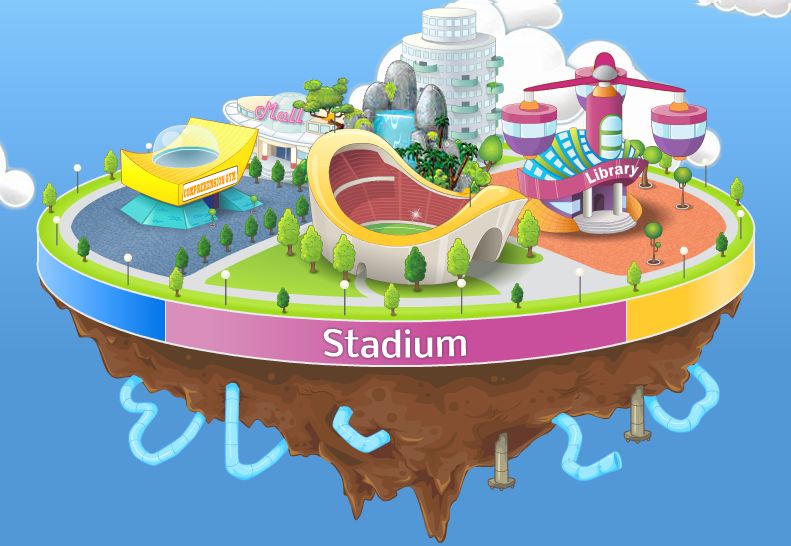 Comprehension Gym offers a daily game (e.g. linguist limbo) that can be selected upon entry into the gym. Or, the student can enter the cycling class where they pick a title to read and be quizzed for comprehension.
The Library showcases books of the day, or the child can select titles by categories to read online.
The Stadium is where the students can play games against another child or the computer. There are four games (Spelling Sprint, Grammar Skating, Vocabulary Pursuit, and Freestyle Usage) to choose from with a total of 5 different levels of difficulty.
Apartment and Mall is where the video game addicts lovers like my boys can purchase things and deck out their digs. They also have 'brain games' here as well. Think of this area as the place where the kids cash out 'rewards' for doing the work in the other areas.
There is also the ability to hit targets and collect golden eggs. While this would not appeal to me as much as others, I can say that earning things or meeting a challenge seems to help motivate the boys at times.
Both a reading age and comprehension age are calculated based upon the work they complete. What surprised me was that there is not much difference in the results between R and D, even though they are 3 years apart in age. However, I suspect it is due in part to R wanting to earn lots of 'stuff' quickly and choosing easier levels to get there faster.
Reading Eggs offers a few different options for pricing. You can purchase month to month ($9.95/month) or pay for 6 ($49.95) or 12 ($75) months up front. If you have multiple children, they do offer a 50% discount for subsequent family members. I'd highly recommend doing the 14 day trial to see if the program will work for your situation.
Disclaimer ~ Our family was provided with access to Reading Eggs for the purpose of completing this review. No monetary compensation was provided and the opinions expressed are our own. You can read what the other TOS Homeschool Crewmates had to say about this title on the TOS Homeschool Crew blog.