This post on achieving good oral health is sponsored by Smile Health Dental Plans. All opinions are my own.
When people talk about going to the dentist, they often think about having healthy teeth and gums as well as a fantastic smile. Basically, they don't want to be hiding their teeth from others.
However, good oral health is important for your entire wellness. That's because dental health affects all parts of the body.
It's true. It's not only what we put in our mouth that matters but how we take care of it, that leads to a healthy heart, mind and body. Good oral health can limit your exposure to heart disease, stroke and memory loss. This is why it's so important to start taking care of your oral health early, a healthy mouth equals a healthy you!
Our Family's Quest for Good Oral Health
From a young age, I remember learning the importance of seeing the dentist and taking care of my teeth. While I wasn't born with a perfect smile, good habits and years of orthodonture have provided me with a smile that shines. Seriously, I get compliments all the time about my smile and how it brightens the day for others.
I've taken oral health serious as an adult and parent. Routines to establish good dental health have been set in motion. Sometimes that meant helping them even in elementary school with doing a good job brushing. Amazing how they can miss so much on their teeth or avoid brushing the gums.
While the last few years of bouncing around meant going off schedule, other years had us visiting the dentist every 6 months like clockwork. Preparing the boys for the dentist sometimes meant quelling fears. Although, my youngest had no problems with his first visit to the dentist. The fear set in when he got his first cavity and needed a filling.
8 Tips To Have Good Oral Health
Your Smile Health = Your Body Health PDF from Smile Health Dental Plans features 8 tips to save your smile and your life.
These tips will help you maintain good oral health which can help with your overall health.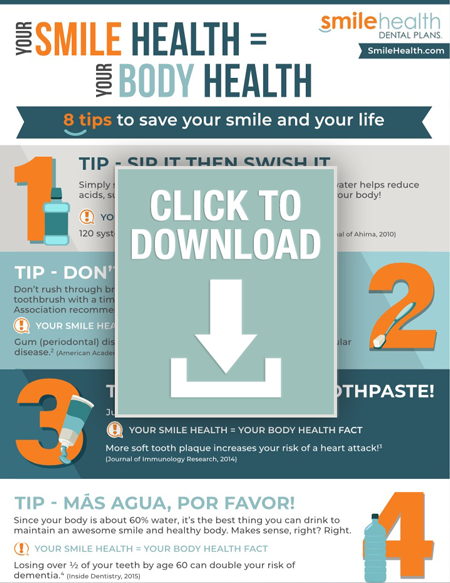 About Smile Health Dental Plans
Smile Health Dental Plans are an affordable alternative to traditional dental insurance.
Members pay an annual fee to receive discounts all year long. And with Smile Health Dental Plans there are no hidden costs, just savings of 20% or more on many preventative, restorative and cosmetic dental treatments. You get immediate benefits, no health restrictions, no waiting periods, no claims, no maximums, and more!
Win a "Your Smile Health = Your Body Health" Care Kit
One lucky Day by Day in Our World will win a Your Smile Health = Your Body Health" Care Kit.
Oral B Vitality Electric Toothbrush
Crest Pro-Health Toothpaste Travel Size
Oral B Glide Floss
Crest Pro-Health Multi-Protection Oral Rinse
Smile Health = Body Health PDF pamphlet
Each household is only eligible to win "Your Smile Health = Your Body Health" Care Kit via blog reviews and giveaways. Only one entrant per mailing address per giveaway. If you have won the same prize on another blog, you will not be eligible to win it again. The winner is subject to eligibility verification.
Enter via the Gleam form below by June 3, 2019. The selected winner will have 24 hours to claim their prize after email notification.