I have been, or can be if you click on a link and make a purchase, compensated via a cash payment, gift, or something else of value for writing this post. Regardless, I only recommend products or services I use personally and believe will be good for my readers.
When it comes to digging deeper into your spiritual growth this Lent, you can find several online resources to help you. It is times like this when I am in love with all the internet can offer.
Online Resources for Lent
Resources Geared Towards Adults
I have a print copy of The Word Among Us for Lent but have visited their website for the daily reflection in the past. You'll see the day's reflection at the top of the main page. There are also select articles available for free.
Between reading the Scripture for the day and then the daily reflection, I spend less than 10 minutes using The Word Among Us. If I attend daily Mass, then I just read the reflection later in the day.
I was introduced to The Pray More Lenten Retreat at the MOMS group at our Alaskan parish. This is free (with the option to donate to support the ministry) to use and you can go at your own pace.
At the mini-retreat for our MOMS group in preparation for Lent, we watched the videos for two of the sessions: Renewing Our Covenant with God This Lent & Embrace the Awkward: Deuteronomy and the Foundations of Prayer. It was a great way to kick off the season of Lent this year and I am eager to use this resource.
Best Lent Ever by Dynamic Catholic is back again. I did not watch all the videos last year, but did like the ease of each day landing in my inbox.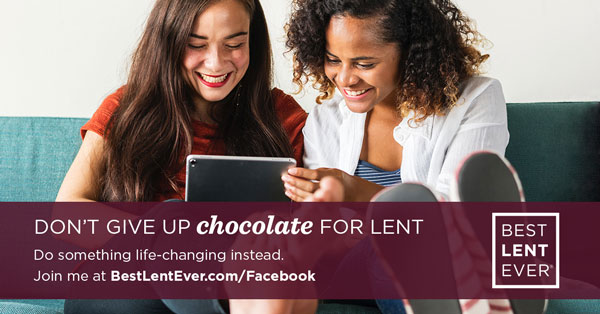 You can find more Lent Resources on Ignatian Spirituality. I am going to be checking out some of them, but at this time have no idea what they are like.
Additionally, The Upper Room has a daily reflection on its website, too. This ministry is geared for all Christians regardless of denomination.
Resource Geared Towards Kids
Holy Heroes offers a daily reflection for kids (and parents!) during Lent. While they are Catholic, I've had several non-Catholic friends tell me how much their kids enjoy this resource. When you register, they begin sending you emails the day before the day you'd use the materials.
Something that makes it such a hit with some kids is that the daily videos are of the family's kids. They also have downloads that include activities or coloring pages along with 'quizzes' to help you see if the kids are picking up the important details.
Lenten Activities for Children at Catholic Icing is full of ideas. Definitely check out Lacy's Lenten Planning Pages if you have preschool or elementary aged kids. Just look at the graphic below to see all the fun things you can do.
40 Days of Seeking Him Sampler
If you have been reading the blog for a while, then you might recall that this link up started in 2011 as a daily one. I didn't always participate in the link up but have made an effort to do it as often as possible. We switched to a weekly link up format which means at least one anchor post per week here.
I decided to pull together a 'sampler' as a free ebook to subscribers. If you are already a subscriber, just open up a recent weekly newsletter and click over to the appropriate "subscriber only" page.
If you are not currently a subscriber, you can get your copy when you sign up.