I have been, or can be if you click on a link and make a purchase, compensated via a cash payment, gift, or something else of value for writing this post. Regardless, I only recommend products or services I use personally and believe will be good for my readers.
Nonfiction High School Writing from Sharon Watson was made possible with an ebook copy of The Power in Your Hands: Writing Nonfiction in High School, 2nd Edition (both student and teacher) from Writing with Sharon Watson for review as part of the Schoolhouse Review Crew.

Writing is one of the subjects that I sometimes struggle with teaching.
It isn't that I have a poor command of the written word. Rather, I have a decent grasp of it.
Instead, the challenge is teaching my boys to write well when they "hate" writing and they find my critiques too "critical."
Add to it the dread of not knowing what to write and it is a serious challenge.
We have dabbled with a variety of writing programs in the past looking for something that clicks. Sharon Watson is one that my eldest son and I visited a few years back when we reviewed Writing Fiction in High School. The creative in me loved that program. The busy homeschool mom appreciated how simply it was laid out.
While writing fiction is something I aspire to do, I know it isn't a skill needed by my boys. Rather, the need to write nonfiction is paramount for anyone entering the workforce. Even my husband, who is not keen on writing and other language arts, will admit to the boys that he has to write daily.
The Power in Your Hands is focused solely on the art of nonfiction writing.

High School Writing with Sharon Watson: Student Materials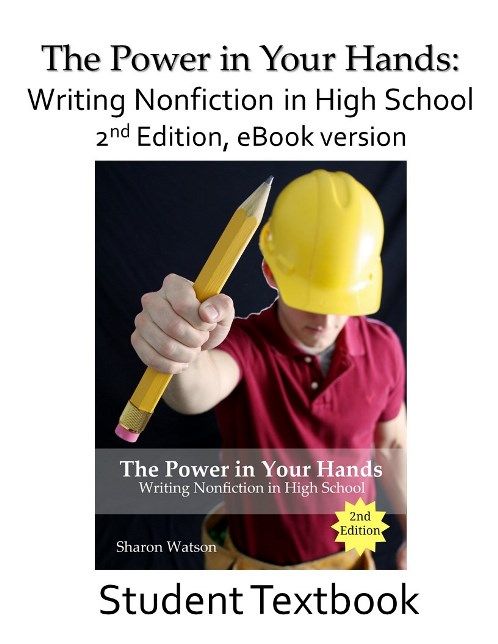 Ms. Watson has written the student book for self-guided instruction with little teacher preparation needed. The material is broken down into 117 suggested daily lessons across 23 chapters. When they are finished, the student will have written a total of 21 assignments spanning the different modes of nonfiction writing.
Main Topics Covered Include:
Before Your Write where the student considers the need to think & plan before you begin as well as basics of hooking your readers and how an essay is structured.
Persuasion covers how to write so that you can both present your point of view on a topic and bring the reader to see how that point of view is quite possibly the best option. There are tools to help you get there along with more detailed diving into particular styles of persuasion (compare & contrast, emotional, logic, and moral.)
Proofreading is a key skill for any writer and Ms. Watson dedicates 2 chapters to this topic. While some might decide to not use proofreading marks, the section on common grammar mistakes is helpful for everyone.
Exposition is the type of writing where many adults find themselves actively writing, especially basic correspondence via e-mail and letters. The student also works through position papers, devotionals, newspaper writing, biographies, more compare and contrast, literary analysis and the definition essay.
Descriptive Essays are then covered in a single chapter which delves into how to describe people, places, and things.
The final section before a great reference 'tool box' covers narration over 3 chapters. While some might wonder why narration is in a nonfiction writing course, this section covers the important skills of adding a personal testimony or interview into your narrative. This includes your own story.
High School Writing with Sharon Watson: Teacher Materials
You still have a teacher guide which explains the approach as well as offering a lot of tools to help you with grading your child's work. The Grading Toolbox adds significant value to this resource with examples of different grades (A, B, C, D and F) from students. The contents of the Student's Toolbox are included so that you can easily see what information they already have at hand.
The 14- Minute Power Surges Program provides you with writing prompts for ungraded writing. These suggestions are organized by month where they are broken down into 4 days per week. As most are not tied to a particular season, you can always mix and match as desired.
Along with the Grading Toolbox, this section adds significant value to the program as it provides either a 'break' from the textbook or a second year of writing with no additional expense.
A Few Thoughts on Nonfiction High School Writing with Sharon Watson
While Ms. Wason has written in a conversational style for the student, this program still is poised to prepare students for college courses and entering the professional world. I really like that she makes the course applicable to students who are at the beginner level all the way up to the accomplished writer. My high school son has some practice under his belt from the last 2 years, but when it comes to some areas presented in this program he is a novice.
The inclusion of professional writing helps both the student and parent know what to set as a goal. Within the teacher guide, the grading grids and examples of student writing graded are extremely helpful.
No more wringing my hands wondering how to guide my boys to improve their skills while worrying that I'll hurt their feelings in the process!
What I really appreciate is that the program is easy for my high school son and I to integrate into our homeschool days. The lessons are not long. Reading the ebook from an iPad or tablet means we can take it on the road with no added weight to our luggage. Yet, since the ebook is pdf format I can print checklists as needed. And the bits of humor integrated into the text make it more enjoyable for my son who is a reluctant writer.
As someone who blogs on a regular basis, I know that integration my personal story into posts that are informative is how I can better personalize things. People are drawn to stories that show how something solved a problem.
With more people entering the world of content creation (whether as a professional blogger, ghost writer for someone, or even generation content for sale), I find this course provides a solid basis for me to improve my skills. If you are a homeschool parent in a similar situation (blogging for money or freelance writing), walking through this course alongside your child could be immensely helpful. Don't let the title confuse you, there is a lot in this high school writing program which could benefit adults as well!
How do you approach high school writing in your homeschool?
Does The Power in Your Hands: Writing Nonfiction in High School appeal to you?

Don't just take my word for how we found this to be. Visit the Writing with Sharon Watson post on the Schoolhouse Review Crew website to see what other homeschooling parents thought about this title and other grade level ones.