I have been, or can be if you click on a link and make a purchase, compensated via a cash payment, gift, or something else of value for writing this post. Regardless, I only recommend products or services I use personally and believe will be good for my readers.
Welcome to the second week of the 2017 Virtual Curriculum Fair!
This week's theme is Playing with Words: the Language Arts which includes phonics, reading, writing, grammar, spelling, speech, literature, etc., etc., etc. Latin and foreign language studies could also go here. I'm going to share a glimpse of what my boys are doing this year in language arts. I've got quite the gambit as my eldest homeschooled child is in high school and the youngest is in 1st grade this year.
Note ~ Most of the links go to past reviews as we are primarily using curriculum we have tested through the Schoolhouse Crew. However, a few are affiliate links for products we love and highly recommend.

Language Arts: Reading
I have shared some of this in past years. However, there are some key components to repeat as well as adding updates.
When it comes to early elementary ages, I am a firm believer in the basics. There is no need to overwhelm a child with busy work just to say you are getting school done.
One of the skills that is a prime focus in those early days is reading. And phonics is the key to helping them learn how. Just keep in mind that some kids are ready earlier than others. While I had one son pick it up quickly when he was 5, my youngest just wasn't there. Thankfully, he is my 3rd to mentor through the learn to read process. So, I wasn't as panicked as if he was my first.
Phonics Opens the Door to Reading
My youngest started with Horizon's Kindergarten Phonics & Reading Set in the summer of 2015. While he was excited to do 'real school' with me, things were not sticking. Now, we are doubly fortunate that the correspondence school we are enrolled with has contact teachers willing to chat with you on areas of concern. Our current contact teacher spent around 15 years teaching preschool through 1st grade, so she has a lot of hands-on experience with emerging readers.
Now, we are doubly fortunate that the correspondence school we are enrolled with has contact teachers willing to chat with you on areas of concern. Our current contact teacher spent around 15 years teaching preschool through 1st grade, so she has a lot of hands-on experience with emerging readers. She is familiar with Horizon's program and assured me that we had 2 options for using it. We could go fast like a classroom teacher knowing that there would be lots of review in the 1st-grade curriculum. Or, we could take it slow and spread things out over 2 years to get mastery.
We went with option 2: mastery.
Here we are 1 1/2 years in and he is in the last section of the kindergarten material. And, I have the 1st grade set in the house now awaiting him.
More encouraging to me is how excited he is to read. After all, I not only want my boys to have the technical skills of reading. I also want them to LOVE to read for both education and pleasure.
He now comes home from the library with a ton of books to read on his own. Some of what he is reading is not in the beginning reader section, either. He plowed through The Beginner's Bible in under a week, including his stopping to ask questions or share what he was reading.
The moral of this story is worth repeating from last year.
Remember that each child is unique and that includes when they will be ready to do something! Also, just because a curriculum says it is a one year program does not mean that you have to use it as such.
Literature Studies
For my older boys, I do have them doing a lot of reading. Thankfully, they usually enjoy the literature selections being given to them.
I probably have more literature studies in the house than I can shake a stick at, but that's because I find the approach works better for us. When I tried a textbook with snippets of novels, the boys almost always asked for the book. They couldn't fathom why you'd only read one chapter from a novel.
Literature from Middle School Civics Studies
My 8th grader has a mixture of novel studies from Memoria Press and the suggested reading from Notgrass' Uncle Sam and You.
American Literature
My high school son is doing American Literature this year. We are primarily using Sonlight Core 100 which I purchased several years ago for my eldest son. The guide has a TON of comprehension questions for each selection they read. For some, I have him do all the questions. For others, I pick and choose.
So far, he has mostly typed up his answers. However, I am considering going to the discussion method instead. Not only might it be quicker, I know that orally answering a question is often more complete. Or, it leads to further discussion.
So far his favorite book has been Peace Child. It was one of my eldest son's favorites, too. It is a little different than many of the selections, but a great glimpse into the life of missionaries in a part of the world that operates so differently than we do. I'll admit that I still need to read it myself, especially hearing how powerful it is.
Language Arts: Mechanics
When you are covering language arts, there is a grouping of subjects that all fit into the mechanics component. This includes handwriting, grammar, spelling and writing.
Handwriting
This is something my boys have struggled with for years.
They fight me on taking the time to do it.
The boys complain that it is painful to put pen or pencil to paper. (I honestly wonder if it is a boy thing.)
Yet, you need to have legible handwriting in life. And, honestly, I think you need to have cursive in the mix so you can read it!
We haven't done much with it this year.
My youngest has to go neatly on his phonics material. So, it is integrated for now. However, I am thinking we might get a Handwriting Without Tears book to do.
My 8th grader started 5th grade with okay print and little cursive. His teacher (as he attended a school for 5th and 6th grade) required all work be done in cursive. By the end of the first semester, he had beautiful handwriting. After all, when your grades depend upon it and you want to impress…you'll get it done.
His approach was given to him by his teacher. One page per day of a single letter, both lower and uppercase. After you complete the alphabet, start over. And, look back at where you started to see how much improvement there has been.
Spelling
I have to admit that this year I have taken a break from spelling for a while. My 8th grader does well on spelling in his written work and I sometimes wonder if it is too late to help my 11th grader build up this skill.
However, I do have a few resources for spelling that I am quite partial towards:
All About Spelling: this is a teacher-led program that scripts it all for you. My problem speller was able to spell correctly, although I noticed he was not transferring the correct spelling to his other work. I plan to begin Level 1 with my 1st grader this spring. (Read a past review of All About Spelling.)


Phonetic Zoo: My older boys both tested this out. The 11th grader would get discouraged as he struggled with some lessons rather than flying through. My 8th grader flew through them. I'm considering getting the next level in the house for him to work on this spring. (Read our review of Phonetic Zoo.)
VocabularySpellingCity: This is an online service with the option for free or paid. I found it helpful to provide additional practice when needed and for delivering a 'test'. When my 3rd born attended a local school, his teacher required weekly use of it for their spelling work. (Read a past review of VocabularySpellingCity.)
Grammar Studies
Now, grammar is something that is key to being a good writer. We've tried a variety of curriculum with differing results. What I find works the best is something integrated.
My 8th grader has some grammar included in his continued use of the 7th-grade program from Memoria Press. But, he fights doing it all.
When we have done a grammar only approach, we used Analytical Grammar. Junior Analytical Grammar is perfect for 4th or 5th grade. Even though there is diagramming involved, my boys did not grumble on that level. The full-fledged Analytical Grammar for upper middle school or high school is something I have not completely finished with the boys. We've only gotten through the first 2 sections before they start questioning why they need to diagram things out.
Writing
This is the bugaboo area of language arts for my boys. They love to read. They will even answer some comprehension questions without too much complaining. But, the idea of writing terrifies them all.
My 8th grader has very begrudgingly been working through Writers in Residence from Apologia.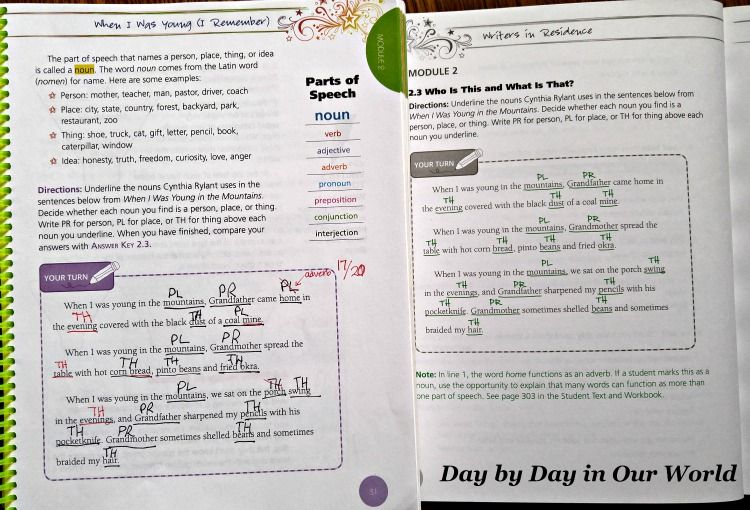 While he initially liked the workbook format, the mere thought that he has to write anything beguiles him. I'm making him trudge through anyways. And, he sometimes tries his best to find work arounds to avoid doing the work himself. Such as asking his younger brother to 'write' a little to his future children instead of doing it himself. (Read our review of Writers in Residence.)
What have we used in the past?
Language Arts: Foreign Languages
This year has my high schooler studying Spanish. He isn't thrilled about it, but I told him until he knows he will not need to have it on his transcript for future studies, I'd prefer that he have 2 years under his belt. This is year one.


He is doing his studies online with Middlebury. It is an immersion approach with many different points of 'grading' being used. I'm still trying to figure out how it takes him so long to get through a lesson. (Read our review of Middlebury High School Spanish 1.)
For my younger son, we are going to work on finishing a Spanish program we reviewed this past year. Foreign Languages for Kids by Kids presents key vocabulary through cute videos and uses tools to reinforce the learning.
We have some others in the house that can help to expand our studies. Like Speekee which he was addicted to watching as a toddler. (Read our reviews of foreign language programs.)
Language Arts: See What Other Bloggers are Sharing
Please visit my fellow homeschool bloggers who are writing about Playing with Words this week:
All posts will be live by Monday, January 9th at noon EST.
Delight Directed High School English by Susan @ Homeschooling Hearts & Minds
Act Your Part Well- 2017 VCF by Lisa @ Golden Grasses
The Search For Language by Michele@Family, Faith and Fridays
Our Top Picks for Language Arts by Amanda H @ Hopkins Homeschool
Multiple Approaches to Language Arts in 2017 by Laura @ Day by Day in Our World
How We Cover the Language Arts in Our Homeschool by Joelle @ Homeschooling for His Glory
Use Your Words by Laura @ Four Little Penguins
The Art of Perfecting Macarons by Jennifer @ A Glimpse of Our Life
Loving Languages Every Day by Jen K @ A Peace of Mind
Speech Therapy & Elementary Latin by Yvie @ Gypsy Road
The Readin' and Writin' Part of Homeschool by Shecki @ Greatly Blessed
Children Who Love Books by Lizzy @ Peaches At Home
Customizing High School Language Credits by Christy @ Unexpected Homeschool
A Poetry Feast by Sarah @ Delivering Grace
Teaching Language Arts without Curriculum by Brittney @ Mom's Heart
I know your pain and it is worth it! by Kim @ Good Sweet Love
Language Arts: Our Style by Annette @ A Net in Time
Words! Words! Words! by Lisa M @McClanahan 7
10 Wonderful Word Games (+1) by Lori @ At Home: where life happens
Finding the Right Words by Kym @ Homeschool Coffee Break
What About Reading Comprehension? by Kristen @ Sunrise to Sunset
Teaching Grammar and Writing Through Discussion by Chelli @ The Planted Trees
Have a related post on Language Arts in the homeschool to share? It can be an overview or a specific item or review.
Link them up here: